While Stevie Wonder, Ashton Kutcher, and other toasted former President Bill Clinton at a mega-concert a mile down the 101 at the Hollywood Bowl Saturday, Spike's annual curtain call for all things horror, fantasy and sci-fi opened with fireworks, the Goodyear blimp, and a human-version of the arcade "stuffed animal crane game" dropping a model from 50 feet in the air into a ring of fire.
And that was just to introduce Colin Farrell, Robert Downey Jr., and a three-minute clip of "Sherlock Holmes: A Game of Shadows."
"These are holy s—, God bless America fireworks," Downey said backstage as he reviewed the prompter and waited to go on for the show's first segment.
"We're not subtle," MTV Networks executive VP Casey Patterson told TheWrap. "It's not a hard sell. Downey and (George) Lucas and all the guys that come know these fans and love them for how loyal and passionate they are," she said.
Also respecting the fan-boy loyalty: mega sponsors like Geico and Taco Bell.
J.J. Abrams, Darren Anofsky, Zoe Saldana, Dylan McDermott, Rainn Wilson all took the "Moulin Rouge" via the "Carnivale"-meets-rock-concert set built over Falls Lake on the Universal backlot on Saturday night (a 10-day load in).
A few minutes before showtime, Lucas strolled backstage, tailed by Darth Vader, on hand to promote next year's beginning of the "Star Wars" 3D re-releases.
Nearby, Bradley Cooper hustled for the stage with his plus-one (a guy buddy), and "True Blood's"
Joe Manganiello chomped down on a burger on his way to his front-of-house seat. "They said his (last) name right," his publicist commended while watching a backstage monitor minutes later. (For the record, it's "MAN-guh-nell-oh".)
The night after Downey asked Hollywood to forgive Mel Gibson, he was back on stage, greeted by a sea of placards parodying the iconic Obama "Hope" photo, but with Downey's face and the caption "Hero."
Let's "hope" they cleared this with both artist Shepherd Fairey and the AP, who just this year settled out of court on a long running legal battle over the original Obama image.
"It's a Halloween treat extraordinairre to be here with Quentin Tarantino," Nicolas Cage said as he saddled up to the director, creating the human equivalent of two jumper cables both plugged in to postive voltage.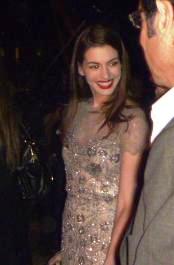 Anne Hathaway and Joseph Gordon-Levitt were glued at the hip in the green room (a speakeasy-esque black tent); the duo that will be increasingly visible as they hype Christopher Nolan's "The Dark Knight Rises" next summer.
With all the film talent that routinely lines up for Spike's shows (Brad Pitt, Anthony Hopkins, Tim Burton, Sandra Bullock, Arnold Schwarzenegger, Leonardo DiCaprio), is there anyone they can't get to come out on a Saturday night?
"We really wanted Gaga. She's right here (simultaneously in Hollywood at the Clinton event). It's painful, We really thought that she would respond to the theatre of this show," Patterson told TheWrap in the green room. Patterson and her team considered moving the show's time to accommodate the singer, but the logistics couldn't work out.
"We were this close," she said.
MTV Networks president Doug Herzog appears to be following through on his comments at TheWrap's media leadership conference "The Grill" last month. There, he suggested "closing the window" between taping and airing these tweet-worthy specials. The Scream Awards premieres within 72 hours, this Tuesday night on Spike.
ALSO READ: MTV's Herzog at TheGrill: Ratings Are a Lot More Important to Us Than Tweets
Meanwhile, a few blocks over on the Warner Brothers lot, Justin Timberlake took home an
honor at the Enviornmental Media Awards.
While the "Entourage" guys always hogged the spotlight and attention spectrum, the ladies of the male-bent show hosted the night: Perrey Reeves, Emmanuelle Chriqui, and Constance Zimmer. (Yes, it's Mrs. Ari and Dana together.)
Another highlight of the evening: The post-show EMA bazaar, where guests go "shopping" at eco-friendly booths for freebies from Brita, Stila, and Border Grill. As expected, Hollywood's preferred statement car maker, Prius manufacturer Toyota, took a leading role in the night.
Clooney's going back to TV … or at least the TV Academy.
He surprised his "Oceans 11," "Oceans 12," and "Oceans 13" co-star Carl Reiner (and the sell-out auditorium) during a tribute night to the TV legend at the Academy's North Hollywood HQ Thursday night.
Dick Van Dyke, Bonnie Hunt, Gary Shandling, Lily Tomlin, and Paul Reiser were amonst the well wishers.
On Sunday, it was all eyes on the revamped Hotel Bel-Air (version 2.0). Sidney Poitier, Fred Savage, James Caan capped the inaugural L.A. Food & Wine weekend with a Wolfgang Puck Sunday brunch.
After a weekend at L.A. Live Downtown that included a Saturday night concert by Train, and Thusday night gala where Randy Jackson deejayed, even Laker legend Pat Riley and Chef Nobu Matsuhisa ("Nobu") dodge the Aids Walk L.A. street closures to get in to Bel-Air.
The event and silent auction benefitted St. Vincent's Meals on Wheels program.
The day before, another fundraiser shook the tree Downtown. Like Wily Wonka, Rob Dyrdek opened his "Fantasy Factory" to the public for only the second time on Saturday afternoon. Will.I.Am and Far East Movement performed for the crowd to support Dyrdek's foundation and its ongoing work to build legal skate plazas across the country.
No shirt, no shoes, no snow, no problem. It was 85 degrees in October last week in L.A., which makes a pool party totally appropriate even if it was for a holiday themed event.
Synchronized swimmers "The Aqualillies" dove in at the Guess by Marciano Holiday Collection preview with Vogue at the new Mr. C hotel in Beverly Hills. (AMC had their post-Emmy trophy shining party there last month.)
The women from "Pretty Little Liars", (including Shay Mitchell, pictured) and "Friday Night Lights'" Aimee Teegarden were the head turners at the poolside fashion show and party.