The night before Jennifer Lopez's film "The Back Up Plan" opened blandly, she partnered with Us Weekly to celebrate the magazine's Hot Hollywood Style Issue. Thursday night's party may have proved more popular than the film.
Sheryl Crow, Anna Kendrick, Alyson Hannigan and Dr. Dre helped Lopez front the star-studded symbiosis between the hot talent and the popular weekly that covers them.
As a semi-annual barometer of current buzz, the cast members from "Glee," David Boreanaz and Kelly Osbourne drew the second most attention from the crowd, when they weren't chasing down the trays of Absolut Berri Acai and Sony digital cameras that were up for grabs at Drai's on Thursday night.
Editor Mel Bromley hosted guests on the patio as her minions of reporters (and five roving photogs) covered assigned zones to capture every morsel of gossip generated on their home turf. (Photo, left, by Startraks)
Earlier in the day, the "Avatar" stars reunited for one of the first times since the Oscars for "Earth Day." Similar to last week's "Idol Gives Back," James Cameron decided it was time for "Avatar" to give back. He and wife Suzy Amis Cameron partnered with public speaking competition "Words That Shook the World" to screen the film for 4,500 Los Angeles-area school children (and Mayor Antonio Villaraigosa) at LA Live.
After the film, students competed in Earth Day-themed speeches for an all-"Avatar" judging panel: Michelle Rodriguez, Giovanni Ribisi and Joel David Moore. There were no vote-offs, just scholarships awarded by the competition's founders, Richard Greene and Magda Rod. (Photo, right, by Michael Buckner/Getty Images)
MTV's new job-search documentary series "Hired" encouraged some serious navel-gazing at its Cinespace launch party last Tuesday. Reveille Productions (the TV producers) is rumored to be featured in a "looking for a job in TV" episode, while American Rebel PR publicized the bash before starring in the May 17 premiere itself: "Looking for a job in PR."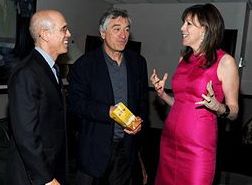 Meanwhile, everyone from Johnny Knoxville to Queen Noor of Jordan headed to NYC to kick off the Tribeca Film Festival. In addition to the four leads from "Shrek Forever After," DreamWorks Animation CEO Jeffrey Katzenberg caught up with the festival's godfather and godmother, Robert De Niro and Jane Rosenthal, backstage at "Shrek's" premiere last Wednesday night.(Photo, left, by Getty Images)
In contrast to Mike Myers or Cameron Diaz, Ice Cube is more of a festival newbie. The one-time gangster rapper got face time with the silver screen gangster at the premiere for Cube's film "Straight Outta L.A." (Photo, right, by Getty Images)
Finally, for those not getting straight outta L.A., Jessica Alba gave Angelenos their own taste of Tribeca with a local kick-off event within the Gotham-esque confines of the patio at Station Hollywood inside the W last month.