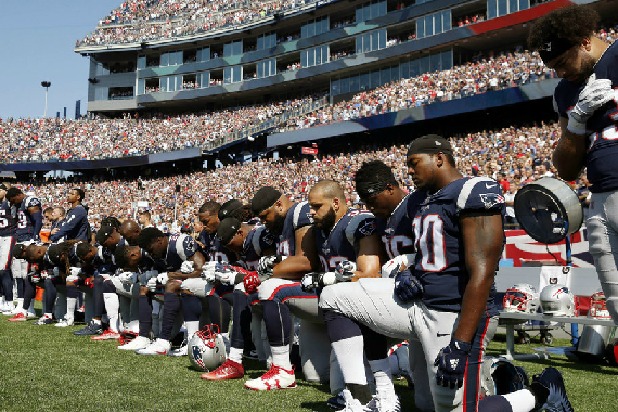 Pittsburgh Steelers left tackle Alejandro Villanueva has the most popular jersey on the NFL shop after being the only player from his team to enter the field and stand for the national anthem on Sunday, TheWrap has learned.
The player's number 78 jersey was the top-seller over the last 24 hours, which it was not prior to Sunday's game.
Villenueva broke with his teammates on Sunday when he unintentionally stood during the national anthem. The Steelers were one of several teams who pledged to remain in the locker room ahead of the game in light of President Trump's comments about NFL players who knelt during the national anthem to protest the treatment of African Americans.
Also Read: Sarah Huckabee Sanders Says NFL Players Should 'Protest Officers on the Field,' Instead of American Flag
Villenueva, a military veteran, stepped out of the tunnel to get a better vantage point to see the flag during the ceremony and inadvertently went too far. He later explained in a press conference that it wasn't his intention to make it appear as though he was setting himself apart from the rest of his team.
"When everybody sees the image of me by myself, everybody thinks the team, the Steelers, are not behind me, and that's absolutely wrong," Villanueva said. "I made Coach [Mike] Tomlin look bad, and that is my fault and my fault only. I made my teammates look bad, and that is my fault and my fault only."
Also Read: Trump Slapped With Ethics Complaint Over Call to Fire NFL Players Who Protest Anthem (Exclusive)
Trump inspired a wave of protests over the weekend when he said players who protested during the anthem should be fired at an Alabama Rally. On Saturday, he tweeted "If a player wants the privilege of making millions of dollars in the NFL,or other leagues, he or she should not be allowed to disrespect our Great American Flag (or Country) and should stand for the National Anthem. If not, YOU'RE FIRED. Find something else to do!"
His remarks were in reference to NFL players like former San Francisco 49ers quarterback Colin Kaepernick who kneel during the national anthem to protest police brutality. In response, several NFL teams chose to remain in their locker rooms or kneel during the song before the NFL games on Sunday.