One of the pleasures of getting older as a moviegoer — besides never having to sit through "High School Musical" or its spawn — is the privilege of watching the full arc of an actor's career.
Sometimes it's a bittersweet pleasure. Wasn't it just yesterday that X-actor or Y-actress was dewy fresh, a bright young thing making his or her debut? And now there they are on screen, fuller of face and figure, popping up as a matron or a grandfather. If one ever needed a reminder that the years are whizzing by, it's right up there, bigger than life.
Of course, to have this reaction, you have to be getting on in years yourself. Back in 1976, when I was 20 and saw "Network" for the first time, William Holden barely registered with me. He was just this old guy­ — he would have been 58 at the time, not that much older than I am now — who I knew had been a big movie star way back when my mother was younger.
I'm guessing 20-year-olds now regard Tom Hanks (now 54) in the same way. For them, Robert Redford (74) and Harrison Ford (68) must seem impossibly old. Even Tom Cruise at 48 must seem like their mother's movie star, that old guy who — ick! — married Katie Holmes.
Fewer women stars even get a chance to age on screen. If they're working at all once past 45, it's likely in brief supporting roles, or on TV. Meryl Streep, of course, is the glorious exception.
Which brings me to another exception — Catherine Deneuve, and her latest film, a delightful comedy called "Potiche." The French star, now 67, has been acting in movies since 1957 and became an international star in 1964 with the success of the enchanting musical, "The Umbrellas of Cherbourg" (pictured above).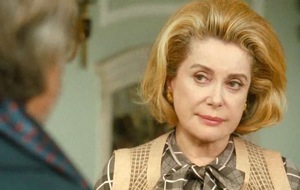 She starred in a few Hollywood films (including "Hustle," opposite Burt Reynolds in 1975, and the vampire classic, "The Hunger," in 1983), but mostly she has worked — often and with distinction — with European filmmakers. Fans stateside have had to work to seek out her movies, which showed mostly either at arthouses or film festivals.
It has been worth the effort. Deneuve may be an icon, but she's also a terrific actress, adept at both comedy and drama. These skills, along with her still handsome looks, have kept her a leading lady. Directors tailor stories to her talents, building movies around her rather than slotting her into supporting roles to prop up newer and younger stars.
In "Potiche," she is again working with director Francois Ozun, for whom she appeared in the 2002 musical romp, "8 Women." Potiche is French slang for trophy wife, and that's what Deneuve plays in the movie, though it would seem in France that the expression implies a gleaming, polished helpmate who's kept on the shelf rather than a hot young, new wife decorating an aging mogul's arm.
Deneuve plays Suzanne Pujol, the fiftysomething, longtime, put-upon spouse of a factory owner (Frabice Luchini) — a womanizer and an authoritarian tyrant, both at home and at the plant. When an illness puts him out of commission, Suzanne takes over running the factory, with great success. She must then decide whether to return to her old life when her husband's health improves; give in to the wooing of the town's Communist mayor (Gérard Depardieu, now as wide of girth as Orson Welles), who's also a former swain; or embark on some new path.
It's all great fun, and Deneuve is clearly having a blast playing a woman who turns out to be way smarter than any of the men in her life. There's a twinkle in her eye and a spring to her step; this is a delicious role and she's going to savor playing every scene of it.
The movie is set in the 1970s, and the costumes and settings, not to mention Suzanne's adult daughter's Farrah 'do, are period perfect. Even "Potiche's" first shot, of a middle-aged Denueve jogging in a two-piece, bright red knit tracksuit, is evocative of an era.
But what adds considerably to the pleasure of the film is hearing and seeing the echoes of past Deneuve movies in this one. Her factory makes umbrellas? Ah, yes, "The Umbrellas of Cherbourg." Suzanne may have led a double life? Ah, yes, "Belle de Jour." She and Depardieu's character have a history? Ah, yes, "The Last Metro," "Changing Times" and a handful of other films in which they have co-starred over the last 30 years.
One doesn't have to be familiar with Deneuve's body of work to enjoy "Potiche," but it sure adds to the experience if you are.