"Green Street" and "Punisher: War Zone" director Lexi Alexander claimed on Wednesday to have created the widely circulated "S—-y Media Men" list, a crowdsourced Google spreadsheet detailing accusations of sexually inappropriate behavior by men working primarily in New York City-based media.
But she didn't actually create it — she was covering for the spreadsheet's actual author, writer Moira Donegan, who came forward Wednesday night in an op-ed published by The Cut.
Also Read: Real Author of 'S---y Media Men' Comes Forward: 'Life Has Been... Frightening Ever Since'
"S—-y Media Men" became known to the public through a November BuzzFeed article, but re-entered the news on Tuesday when n+1 magazine editor Dayna Tortorici wrote on Twitter that an unnamed "legacy print magazine" was preparing to run a story that would out the list's creator. Harper's Magazine later confirmed it was publishing the story, by writer Katie Roiphe, in its March issue.
This sparked a backlash, leading "Full Frontal With Samantha Bee" producer Ana Breton to launch a campaign inspired by the ending of "Spartacus": "Idea: if we ALL say we wrote the list they can't attack one specific person. So what I'm saying is that I wrote the list, and so did you," Breton wrote.
The show's official account later shared the tweet with the caption "We wrote the list." This was followed by numerous other women also claiming to have authored it. Alexander, who announced in December she would be taking a break from Twitter during 2018, reactivated her account late Wednesday to join the campaign. Screenshots of her tweets can be seen below.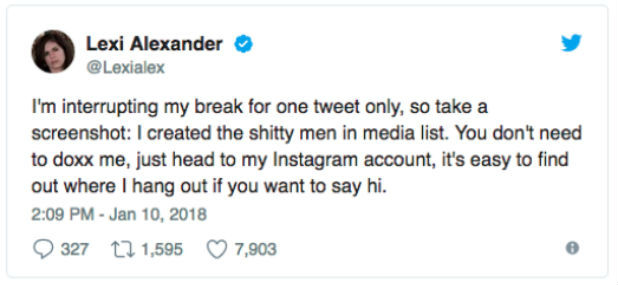 Just hours later, Donegan outed herself. Alexander subsequently returned to Twitter to share the link — and to castigate people who took her claim of authorship at face value:
Also Read: Fox News Reporter Was Ousted After Sexual Harassment Accusations (Report)
On Wednesday, Roiphe for her part told the New York Times that she would not name the creator — she also claimed not to know the true creator's identity at all.
"I am looking forward to talking about what is actually in the piece when it actually comes out," she said. "I am not 'outing' anyone. I have to say it's a little disturbing that anyone besides Trump views Twitter as a reliable news source."
"I would never put in the creator of the list if they didn't want to be named," Roiphe added.
In her op-ed, Donegan says she received an email a Harper's fact checker who told her that "Katie identifies you as a woman widely believed to be one of the creators of the S—y Men in Media List."