Sarah Palin's appearance on NBC's "Today" yielded a small bump in viewership, as 5.5 million people — about 100,000 more than normal — tuned in Tuesday.
According to preliminary ratings numbers, NBC was up Tuesday from its seasonal average of 5.4 million total viewers. ABC's "Good Morning America," in the midst of a week featuring Palin's "lamestream media" nemesis Katie Couric — was also up Tuesday. It had 5.14 million viewers, up from an average of 4.9 million viewers this season.
Also read: Can Oprah Winfrey, Katie Couric and Sarah Palin Change the Morning News Race? Nope
"GMA" also narrowed the gap in its ratings with those of the first-place "Today." "GMA" lagged by 356,000 total viewers Tuesday, while it is usually half a million viewers behind.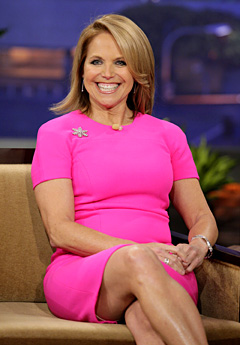 In the viewers 25 to 54 demographic most important to news advertisers, "Today" was slightly down from its normal 2.0 rating with a 1.8 Tuesday, while "GMA" retained its typical 1.6. "Today" had 2.21 million viewers in the demo and "GMA" had 1.92 million, a difference of 292,000 viewers.
Also read: Couric Doesn't Close 'GMA' Ratings Gap With 'Today'
On Monday, "Today" and "GMA" were both down from their seasonal averages, despite former "Today" anchor Couric filling in for "GMA" anchor Robin Roberts, and Couric's "Today" replacement, Meredith Vieira, returning for the day after departing the show last year.
NBC brought in Palin as a guest host Tuesday to counter Couric's "GMA" appearance. Couric memorably interviewed Palin when she was John McCain's running mate in 2008, and the then-Alaska governor struggled with a question about what newspapers she read.
On Tuesday, she jokingly recalled the moment by sitting on a "Today" couch surrounded by stacks of newspapers.
No numbers were immediately available for "CBS This Morning," which is typically far behind "GMA" and "Today" in the ratings.