Maybe it's not just the subpar contestants sucking all the energy out of "American Idol" this season. Nor is it Ryan Seacrest's snippy new attitude or Simon Cowell's short-timer's disease.
It might just be "Glee."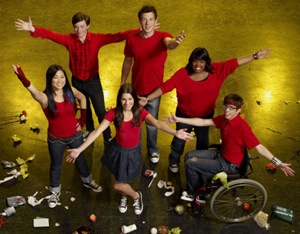 Week after week, the members of New Directions are showing up the "Idol" contestants — on screen, on iTunes, on Twitter – just about everywhere but the ratings.
It's still early … but the "Glee" club is growing fast.
For Fox, putting the shows back-to-back on Tuesday nights looked, on its face, like a stroke of genius. With the Tuesday night "Idol" performances providing TV's strongest lead-in, "Glee" has achieved its highest ratings ever, including total viewers and in key demos.
Here's the problem: Next to "Glee's" supercharged vocals, over-the-top choreography and radiant glow of professionalism – not to mention white-hot record sales of late – those kids struggling away on "Idol" are starting to look kinda … lame.
The most cringe-worthy example of this: the "Idol" group-sing, a weekly staple of the results show that was once a harmless time-filler.
Stuck against "Glee," it's become a saddening flameout of crappy lip-synching and contestant eye-rolling (you know who you are, CASEY JAMES). All of this performed to "choreography" that includes walking around and, when they are really inspired, more-vigorous walking around.
On "Glee," cheerleaders do zany stunts on stilts, the glee club trampolines around a mattress store in pajamas and the football team scores a game-winning touchdown by performing Beyoncé's "Single Ladies" dance.
All of this, done to a soaring soundtrack that's topping the iTunes charts and, if predictions hold, the Billboard charts as well.
When singing and dancing to canned music is made to look and sound this good, what, exactly, is "Idol's" excuse?
That it's easier to pull off when it's been edited? Please. Roll the contestants' latest Ford commercial, and do the math.
What's really at play here is that our decade-long national obsession with amateur, "undiscovered" talent may finally be showing its cracks – at least in the face of outsized professional singing/dancing talent, packaged in a fresh, entertaining way.
It also shows the weakness of the "Idol" model of attempting to unearth the best talent from hundreds of thousands of hopefuls. Given how quickly contestants are shuttled in and out in the earliest stages of selection, it's easy to imagine that for everyone who makes it through, a dozen brighter lights are sent home before the judges even arrive in town.
(Example: Hillary Scott, lead singer of Lady Antebellum – whose second album was just certified double platinum after 12 weeks on the charts – has famously said she tried out for "American Idol" twice, and was twice rejected. The country trio performs, ironically enough, on Wednesday's elimination show).
It would be folly to sound a death knell for "Idol" here, as TV's highest-rated show is holding up well this season, ratings-wise.
While still in decline overall – about 9 percent among adults 18-49 over last year – the Fox show's ratings recession has been slowing, and "Idol" has actually widened its margins over all second-place comers, according to the network.
But look outside viewership alone, and it's easy to see the scales tipping between the two Fox hits. "Glee" was a trending topic on Twitter nearly all of Monday – even though it was a day away from airing.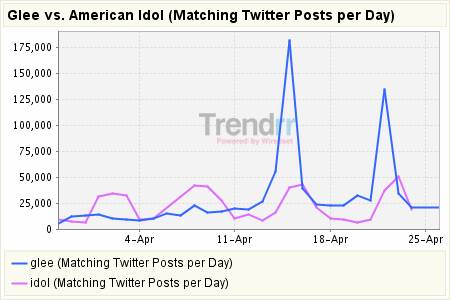 "American Idol" was nowhere to be found. (At left, Twitter mentions for "Idol" vs. "Glee" since the latter returned, courtesy of social-media tracker Trendrr.)
The No. 1 album on iTunes of the moment? "Glee: The Music – The Power of Madonna," a collection of eight songs from last week's themed episode.
Singles from the cast recording topped the charts in the U.K., Canada and Ireland. (Billboard numbers on the album sales were still due as of this posting, but experts were predicting it would debut at
No. 1, a first for the show, with as many as 170,000 units moved).
There was a time when seminal performances on "Idol" became instant iTunes hits – remember Adam Lambert's "Mad World," or Kris Allen's game-changing "Heartless" from last season? See if you can name a similarly sought-after instant single from this season's wan wannabes.
Nope – we're too busy buying the "Glee" cast's "Hello" (debuted number 19 on Billboard) or "Hello/Goodbye" (number 27) to pay much mind to the latest from Crystal Bowersox.
Which almost isn't fair.
Lea Michele, the ostensible lead in the ensemble cast of "Glee," is a professionally trained, Broadway-tested singing machine – she is American Television's Shiniest New Object, and she's been surrounded by a show that's edgy, current, and kitsch-cool.
What's more, the musical numbers are really just a vehicle for storylines that are more than a little naughty, and characters who are more than a lot funny.
Meanwhile, "American Idol" is making its ninth pass through the talent pool with a format that seemed fresh and edgy — in 2002. Its contestants consist of kids who couldn't cut it in the professional slip-stream, and those who never really tried to.
The storylines they bring with them are sounding more repetitive by the season.
And let's not even get into "Idol's" occasional awkward stabs at humor (a-HEM George Lopez).
In the end, "American Idol" still wins – it's a long way down from its 20 million-plus weekly viewers to "Glee," which still hovers in the low teens (good enough for fourth place two weeks ago, according to Nielsen).
But Glee's "highest-rated new scripted series among adults 18-34" title has a ring to it that Fox has to like – even if it's making the golden goose look a little … tired.
Follow Josh Dickey on Twitter: @JoshDickey
Also read: All-Madonna 'Glee': Like a Rich Virgin