When it comes to reality shows, the second string has now entered the game.
"America's Got Talent" (i.e., "American Idol" with more variety and less impact) begins its new season on Tuesday. "So You Think You Can Dance" ("Dancing with the Stars," minus celebrities) started last week, right around the time that spring's lineup of heavy hitters — "Idol," "DWTS," "Survivor," "The Amazing Race," "Celebrity Apprentice" — wrapped up their seasons and crowned their champions.
And it's that first batch, by and large, that will find themselves competing for Emmy Awards this August — if, in fact the reality-show field at the Emmys is any kind of competition at all.
So far, it hasn't been. We know that Emmy voters have the habit of rewarding the same shows year after year, but the Reality-Competition Program category has taken habit to a whole new level.
The award has been given out for seven years. The winners were, in order, beginning in 2003: "The Amazing Race," "The Amazing Race," "The Amazing Race," "The Amazing Race," "The Amazing Race," "The Amazing Race" and "The Amazing Race."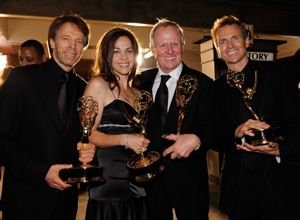 Not only has the Elise Doganieri/Bertram Von Munster show, from Jerry Bruckheimer Television, won every year of the category's existence, but the last three years have seen exactly the same slate of nominees: "Amazing Race," "American Idol," 'Dancing With the Stars," "Project Runway" and "Top Chef."
(Photo of Bruckheimer, Doganieri, Von Munster and host Phil Keoghan by Devork Djansezian/Getty Images.)
The 35 nominations over those seven years have been shared by a total of 10 shows. "American Idol" has been nominated every year, "Project Runaway" five times, "Dancing With the Stars" and "Survivor" four times each.
The others: "Top Chef" three times, "The Apprentice" twice, plus single nods for "Last Comic Standing" and, the first year, two shows that hardly seem to qualify: "AFI's 100 Years … 100 Passions" and "100 Years of Hope and Humor."
The dominance of "The Amazing Race" has obviously gotten under the skin of some other competitors. In the press room at last year's Emmys, after he won the award for Reality Show Host for the second straight year, "Survivor" host Jeff Probst suggested, "Maybe 'Amazing Race' should do what Oprah did and pull itself out of competition." (Probst photo by Devork Djansezian/Getty Images)
And when his shows "The Apprentice" and "Celebrity Apprentice" were passed over, a characteristically humble Donald Trump told the Hollywood Reporter, "Instead of shows that deserve to win, they pick 'Amazing Race.' It's a very sad commentary."
"Amazing Race" has now finished its 16th season since 2001 (two a year), with a season that seemed to be business as usual. If that left an opening for an upset in the category come this August, several competitors recently made their cases with high-profile finales – though if you treat those shows as pleas to the Emmy voters to look somewhere other than "Amazing Race," results were probably mixed.
"American Idol," for instance, aired a grand, over-the-top finale on Wednesday, with an extra emotional component to it because it marked the last show for judge Simon Cowell, in many ways the face of the show.
The Cowell sendoff might well have been enough to sell the show to Emmy voters if it weren't for one thing: The actual competition this year was widely viewed as the weakest in "Idol" history. If Cowell's exit had coincided with last season's wildly entertaining contest, in which glam-rocker Adam Lambert lost to the cuddlier Kris Allen, "Idol" might well have broken the "Amazing Race" stranglehold. But without a strong season to precede it, the sentimental farewell likely won't have as much impact with voters. (Cowell photo by Ian Gavan/Getty Images)
"Survivor," on the other hand, just brought down the curtain on what was widely viewed as one of its strongest seasons. The show's 20th season boasted a cast full of past players, some memorable faceoffs (Russell vs. Boston Rob, Coach vs. reality, Colby vs. age) and a truly great villain in Russell Hantz.
But was the ending satisfying enough to make people reconsider the show? It had a strong villain, sure, but also a seemingly by-default winner in Sandra Diaz-Twine. If "Survivor" looks like a show where you can win not because of what you do, but because people hate the other guy more than you (not fair to Diaz-Twine, but that's the perception), it may not be able to overcome the "Amazing Race" juggernaut.
Frequent nominee "Dancing With the Stars" crowned its champion the night before "Idol," after a season featuring what the judges insisted was the highest level of dancing ever. Still, attention during the season focused mainly on contestant Kate Gosselin, who was more of a sideshow than a strong competitor; and on the fact that winner Nicole Scherzinger may have had an unfair advantage, since her day job in the Pussycat Dolls requires lots of intricate dancing and choreography.
"DWTS" set ratings record for its season, but not its finale.
That leaves "Project Runway," whose seventh season ended in April without much ado; "Top Chef," which ended its last season way back in December; and a slew of other reality shows ("The Biggest Loser," "The Bachelor") that would be lucky to land a nomination, and for whom a win would likely be out of the question.
And then there's the Donald. "Celebrity Apprentice" might play more like a stunt than a true competition, but it's undeniably entertaining, and this season had an irresistible story in winner Bret Michaels' return for the final episode after suffering a brain hemorrhage and a stroke. (Trump photo by Andrew H. Walker/Getty Images.)
With "The Amazing Race" finishing a season that didn't stand out, it's not inconceivable that there could be an upset here. It seems unlikely that voters will take Trump's product-placement dog-and-pony show seriously enough to make it the series that does the upsetting – but if it does win, Mr. Trump can certainly thank the guy who hides his thinning hair under a scarf (Michaels), not the guy who swoops it into a gravity-defying comb-over (himself).