The bombshells are back!
Yes, we're still mourning the loss of the Housewives of Atlanta (Oh, NeNe, how I'll miss your bralessness!) but Bravo didn't waste any time getting us back on track. We went straight from the Atlanta reunion show into the Season 5 premiere of "The Real Housewives of Orange County."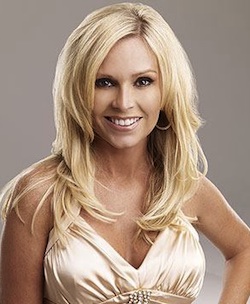 While collagen and catfights have been staples in every version of the "Housewives" franchise, some would say that the OC "ladies" (I use the word loosely) do it best because they did it first. Sure, Atlanta provided us with lots of wig-centered drama this season (and I got a great new ringtone in "Tardy For the Party"). But on what other show can you find a guy (Slade) who's "bagged" three of the Housewives? Dwight certainly hasn't, penile implant or not.
In the premiere, the drama focused mainly on the beefbetween lookalikes Gretchen and Tamra. At the heart of the issue is Tamra's disgust over Gretchen cheating on her now-deceased sugar daddy, Jeff, last season. (But I think that, really, she's still jealous over Gretchen's pink motorcycle.) Ever the class act, Tamra is also appalled at Gretchen's nude internet photos, but mainly because one featured a vibrator with a cord. (Retro is totally in, but seriously, how old is that thing?)
The main event took place at Lynne's luncheon to show off her tacky overpriced cuff bracelets. It was a big deal, of course, because everyone knows that Gretchen and Tamra hate each other. But it was also the first time in months that Vicki and Jeana (my favorite Housewife) were in the same room. You see, it seems that Jeana asked Vicki for a loan and was denied. (It's a recession, ya'll!) We also learned that Jeana has been taking financial advice from her son. (Tactic number one: beg for money!)
It is no wonder Vicki turned her down, despite her seemingly booming business. She has always been the bitchiest of the Housewives. I think this is her way of compensating for the fact that she's also the most unattractive of the Housewives.
Yes, Lynne's cuff bracelets WERE gaudily awful
(www.lynnecurtin.com). But Vicki pretty much said so in her confessional and then commended herself for not "being mean" to poor Lynne's face. Anyone could see the jewelry was tacky. But at least the other Housewives had the tact to keep their mouths shut. Then again, their taste DOES come into question when you think about that whole quarrel over the pink motorcycle.
Once the cuff bracelets were on and the wine started flowing, Gretchen and Tamra had some heated words. When Tamra brought up Gretchen's racy photos, Jeana came to her defense stating that, "She's single; she's allowed." I would expect no less from a former Miss November. Like the merged tribe ganging up on the arrogant Erik on last night's "Survivor," Gretchen finally stood up for herself and told Tamra to shut the f— up!
The episode then ended with a "…To Be Continued."
I'll be back next week to "watch what happens." Will you?