(Fifth in a series of Studio Report Cards)
Also read:
WARNER BROS.: With Biggest 'Potter' Yet, Studio Just Shy of Its Record 2010
PARAMOUNT: Studio Set to Grab the Global B.O. Crown Following Huge Year
SONY: Sony Bats for Solid Average
FOX: Low Risk, Low Reward
DISNEY: Studio Moved to Cut Costs With Fewer Films
UNIVERSAL
C+
The studio passed the $1 billion mark and got out of the market-share cellar on the strength of hits like "Bridesmaids," but the year still featured too many flops
After two tough years during which its domestic box office revenue finished under $1 billion and the studio came in last in North American market share, Universal rebounded in 2011.
The studio had some big hits, including the franchise film "Fast Five" grossing $626.1 million worldwide, and R-rated chick comedy "Bridesmaids" becoming a breakout smash with a $288.4 global theatrical performance. "Hop" ($184 million in global box office on a $63 million budget) and "Johnny English Reborn" ($158.4 million on $45 million) were also quite successful.
Worldwide revenue is up — to $2.24 billion through last week — compared to a 2010 that topped out at $2.1 billion.
But Universal still had a series of outright flops – mostly mid-range comedies and dramas.
The Ron Howard-directed buddy comedy "The Dilemma" endured controversy, with some of star Vince Vaughn's dialog perceived as anti-gay. The film's $69.7 million worldwide gross couldn't offset a $70 million production budget plus prints and advertising costs.
The teaming of Jason Bateman and Ryan Reynolds in "The Change-Up" — which took in $71.4 million worldwide on a $52 million budget — was another dud, and so was the ensemble comedy "Your Highness," which finished with just under $25 million in global revenue on a $50 million negative cost.
And what about that star vehicle "Larry Crowne," with Tom Hanks and Julia Roberts? We almost forgot about it too. It cost $30 milion to make, and took in a measly $52 million worldwide. (Universal was a distributor on the movie for Vendome Pictures.)
Also read: Report Card 2010: Universal Grows Some Green Shoots
The most embarrasing failure, though, was the Steven Spielberg-produced "Cowboys & Aliens," which barely made back its $163 million production cost in worldwide box office ($174 million). Universal only had a 25 percent financial stake in production, but its team was responsible for marketing and distribution. Ouch.
Credit studio president Ron Meyer for not whistling in the dark — in a moment of un-Hollywood candor, he told students at the Savannah Film Festival in November, "We make a lot of s—ty movies. Every one of them breaks my heart."
Also read: Ron Meyer Re-Ups at Universal Until 2015
The studio remains profitable, insist its executives, who also say they were in the black even during the bleaker times of 2009 and 2010. But they also say they are committed to learning from mistakes, and shifting gears.
"What happened this year kind of represents the turning point for our film group — quite frankly this is just the beginning," said Universal distribution president Nikki Rocco. "I just can't wait to get into 2012."
In a vote of confidence to the management team, Comcast signed new contracts with Meyer, Universal Pictures chairman Adam Fogelson and Universal Pictures co-chair Donna Langley.
In addition to those re-ups, Comcast increased Universal's resources, giving the studio the wherewithal to release one of its most ambitious film slates ever next year.
Universal executives are enthusiastic about a 2012 slate that kicks off with thrillers "Contraband" starring Mark Wahlberg and "Safe House" with Denzel Washington and Ryan Reynolds, and winds through Christopher Meledandri's next animated film, "Dr. Seuss' The Lorax" and the next "American Pie" movie, "American Reunion," before hitting the mega-budgeted summer tentpole "Battleship" (right).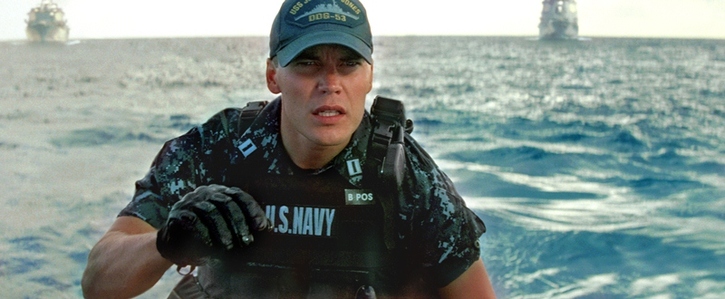 Universal's summer will also include "Snow White and the Huntsman" with Kristen Stewart, and the next "Bourne" film, "The Bourne Legacy," with Jeremy Renner stepping in for Matt Damon.
The studio's late-year calendar, meanwhile, will feature Oliver Stone thriller "Savages," the Keanu Reeves action film "47 Ronin" and a big-screen musical adaptation of "Les Miserables."
"We've hit on areas that are fresh and invigorating," Rocco said. "We have amazing support from Comcast, and the investment in us and the slate is an incredible vote of confidence."
For its positive momentum to continue, Universal will need to significantly improve on its still- troubling hits-to-bombs ratio.