The post-Labor Day box office was a futuristic wasteland, with a band of undead summer holdovers looking to cannibalize a few theatrical dollars.
Enter Sony's "Resident Evil" franchise, which has gotten pretty used to this post-apocalyptic marketplace.
Part four of the studio's Milla Jovovich series, titled "Afterlife" and shot in 3D, managed to exceed its pre-release tracking on what is typically the lowest overall box-office weekend of the year, grossing an estimated $27.7 million over the three days, according to studio data.
That's far and away the best opening of the four "Resident Evil" movies, dating back to 2002.
With "Afterlife" the only new wide release, no other film even finished close, with Sony's three-week-old crime-drama holdover "Takers" taking second place with $6.1 million and dropping just 47 percent week-to-week.
Ovferall, the domestic box office was down 16 percent year to year, with the post-Labor Day weekend typically the worst movie-going segment of the release calendar, anyway. Here's the complete top 10 (box office report continues below chart):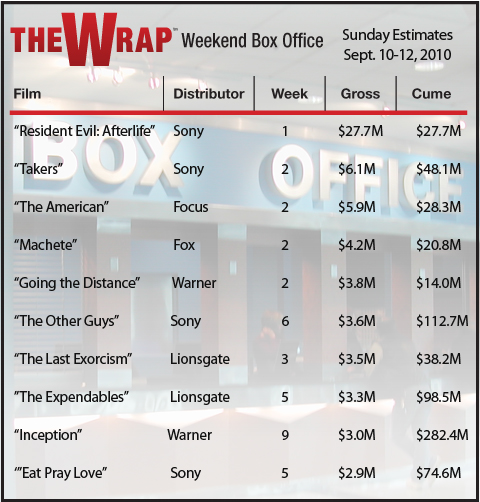 Last weekend's No. 1 film, Focus' George Clooney thriller "The American," finished third with $5.9 million, dropping 55 percent — an OK fall-off, considering its D-grade Cinemascore exit polling.
Fox's low-budget Robert Rodriguez-directed pick-up "Machete" finished fourth, grossing $4.2 million in week two, a drop of nearly 64 percent.
With Sony's Screen Gems unit paying producers Constantin Film, Davis Film and Impact Pictures $52 million for rights to distribute "Afterlife" in North America, as well as most key foreign markets, the new "Resident Evil" movie also grossed $45 million abroad.
"You have to pick your moments in regard to what you're going to be doing in 3D, but this picture lends itself well to the format," noted Sony worldwide distribution head Rory Bruer.
Yielding a B-minus grade from movie-goer exit-poller Cinemascore, "Afterlife" — directed by Paul W.S. Anderson and shot for $60 million — opened at 3,203 domestic locations, two-thirds of which presented the film in 3D.
IMAX theaters, which committed to a two-week all digital run, saw "Afterlife" yield $2.6 million at 141 locations. Officials for the big-screen exhibition chain were more than pleased to enjoy around 10 percent of the film's premiere grosses — the same benchmark "Avatar" achieved last December when it was released chain-wide– without having to bare the expense of striking film prints.
While the post-Labor Day weekend is typically avoided by studio distribution units due to its low overall moviegoer tally, the "Resident Evil" franchise has found its niche during this time period. In 2004, for example, part-two installment "Apocalypse" opened to $23 million on the same weekend.
"(Sony officials) are so excited about what this movie has done, it's as if they're talking about 'Avatar,'" said one executive involved in the studio's email loop.
Among limited releases, Casey Affleck's bizzaro Joaquin Phoenix documentary "I'm Still Here" — focused on the Kaufman-esque actor's transition into a rap-music career — grossed just $98,000, playing at 20 theaters in 18 cities. The $4,900-per-location average fell well short of the movie's ample publicity.