(Updated, 4:19 p.m. PST)
"Restrepo" co-director Tim Hetherington has been killed while covering the political uprising in Libya, his publicist confirmed to TheWrap.
He was 40, according to his publicist.
There are conflicting reports about the immediate circumstances surrounding Hetherington's death, but it is known that he was hit by a rocket propelled grenade early Thursday morning.
The Oscar-nominated documentarian's colleague Chris Hondros was also hurt after they came under fire is the city of Misrata and died hours later from brain trauma.
Also read: Tim Hetherington: 'He Wasn't in It for the Adrenaline Rush'
Hetherington's family released the following statement to Vanity Fair:
" Tim will be remembered for his amazing images and his Academy Award–nominated documentary "Restrepo," which he co-produced with his friend Sebastian Junger," the statement reads. "Tim was in Libya to continue his ongoing multimedia project to highlight humanitarian issues during time of war and conflict. He will be forever missed."
Also read: 'Restrepo' Directors: Why It's All War … No Politics Allowed
Hetherington was tweeting from Misrata shortly before he was killed, and described heavy fighting taking place outside the city.
"In besieged Libyan city of Misrata. Indiscriminate shelling by Qaddafi forces. No sign of NATO," he tweeted.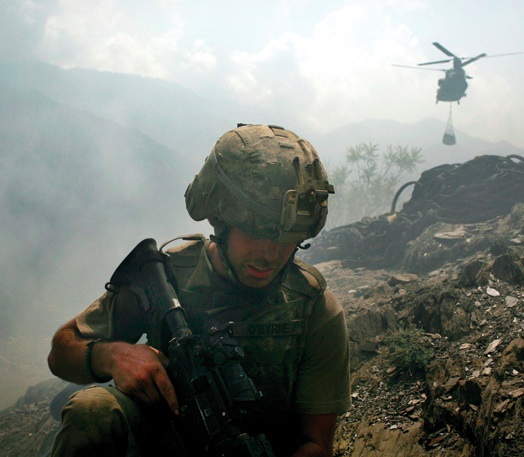 Hetherington regularly contributed his photo-journalism to "Vanity Fair."
Co-directed by author Sebastian Junger and released in 2010, "Restrepo" chronicled the deployment of a platoon of U.S. soldiers stationed at a remote Afghanistan outpost.
The film, his first as a director, emerged from a Vanity Fair assignment.
In an interview with TheWrap last year, Hetherington said he did not want the film to have an overt political message.
"This is a visceral, experiential war film. And we just think there's a massive need, at this critical juncture, for people to put their politics aside in the lobby of the theater, and go into a dark room for 93 minutes to experience and share what these guys go through, and in some ways digest it and honor it," Hetherington said.
In a rave review in the New York Observer, Sara Vilkomerson wrote: "…a documentary so real and unflinching (and at times deeply frightening) that it's hard to watch, but it is one of those film experiences that you'll feel glad about getting through."
In addition to an Oscar nomination, "Restrepo" was awarded the Grand Jury Prize at the 2010 Sundance Film Festival.
Born in Liverpool, UK, Hetherington studied literature at Oxford University and later returned to college to study photojournalism.
Throughout his career, Hetherington reported on international politics, war and global poverty, living in West Africa for eight years.
He turned his experiences in Africa into a 2009 book, "Long Story Bit By Bit: Liberia Retold," which drew on photographs and interviews to convey Liberia's history.
Likewise, Hetherington turned the experience of being embedded with a military unit for "Restrepo" into a book, "Infidel," that was released in 2010.
His move from straight photojournalism to a mixture of photos, video and other media, Hetherington told TheWrap, came in response to a changing media landscape.
"The media is changing now," he said. "The old media idea is very segmented, but we're at a point now where people can move into different forms. Sebastian has written a book, I have a book. We had two Nightline pieces, two Vanity Fair articles.
"I have a set of images that go around the world in an art gallery kind of installation piece. Each of them have different audiences, and they kind of each elucidate the subject in a slightly different way, and ping off of each other. We're entering this new media sphere where those things work, whereas in the past there wasn't the platform to do this kind of work.
"I think inevitably we've reached a point in the media where if you go somewhere, it seems natural that you might take an array of different tools. My kit bag is a field recorder, and a video recorder, and a still camera."
In addition to his work on "Restrepo," Hetherington was a cameraman on "Liberia: an Uncivil War" (2004) and "The Devil Came on Horseback" (2007).
In his conversation with TheWrap, he summed up his (and Junger's) approach simply: "We have covered many, many stories in our time, doing our work. Our job is to report."