If Drew Peterson is innocent, he can always console himself with the fact that Rob Lowe will play him in a Lifetime movie. But if he's guilty, he joins a long line of killers played by Hollywood's beautiful people.
We understand why outwardly gorgeous people gravitate toward playing inwardly hideous ones: Actors like to get dirty, and audiences are titilated by the notion that someone so dreamy could also be so bad.
But we don't have to feel good about it. You hate to see TV and movies (and mostly TV movies) unintentionally inflate the self-worth of megalomaniacs.
Lifetime confirmed Tuesday that Peterson will be played by Lowe, and that his fourth wife will be played by Kaley Cuoco (the casting was first reported by Deadline). Peterson is currently awaiting trial in the murder of his third wife and is a suspect in the death of his fourth.
Of course, if he's convicted, maybe it's better for us regular-looking folks that he be played by the likes of Lowe. We average types have enough disavantages without people thinking we're murderers, too.
Here's our list of killers who don't deserve to be played by people so good-looking:
1. Ted Bundy (played by Mark Harmon, Cary Elwes)
Frustratingly, some killers are good-looking even without actors to portray them. It defies all sense of fairness.
Bundy, one of the most prolific and repugnant serial killers, used his good/scary looks to lure his victims, and for this heinous crime was played by not only Harmon but the dashing Dread Pirate Roberts. Is there any justice? Aside from Bundy finally being dead, we mean.
2. Aileen Wuornos (Charlize Theron)
One of the best-known female serial killers claimed her victims either raped or tried to rape her before she killed them. It's a very ugly story.
So of course it made sense for one of the world's most beautiul women to play Wuornos in "Monster." Theron's somewhat sympathetic portrayal — and physical transformation — won her a best actress Oscar.
3. Scott Peterson (Dean Cain)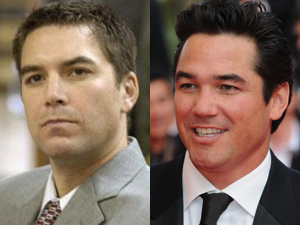 Kill your pregnant wife, get played by Superman. Why not?
(The uncomfortable answer: Because they do kind of look a lot alike.)
4. Karla Homolka (Laura Prepon)

"That 70s Show" star Prepon, soon to appear in NBC's "Are You There, Vodka? It's Me, Chelsea," played against type in a big way in "Karla."
Homolka pleaded guilty to manslaughter after helping her husband, Paul Bernardo, in the deaths of three women, including her younger sister.
Thanks to a plea deal, Homolka was released in 2005 — a year before the movie.
5. Jeffrey Dahmer (Jeremy Renner)

The Wisconson cannibal was played by a young Renner in 2002's "Dahmer," a role with exactly the kind of darkness in which Renner thrives.
Hopefully no one will watch "Dahmer" right before "The Avengers," or they'll have a very weird time.