The crowd outside the Nokia Theater went crazy Monday night as Robert Pattinson, Taylor Lautner, Kristen Stewart and the rest of the "Twilight" gang hit the black carpet for the premiere of "Breaking Dawn — Part 1."
Also read: 'Breaking Dawn' Premiere: Robert Pattinson and Taylor Lautner Steal the Show
Amidst the mania, the tween heartthrobs talked to TheWrap about tying up the pieces on the mega-grossing franchise, the incredible fan support the movies receive from Twi-hards — and filming a certain wedding-night scene.
ROBERT PATTINSON
On getting ready for the big sex scene: "I had to be in shape for like the first time this whole series."
KRISTEN STEWART
On the honeymoon sex scenes: "You really have to rethink your faces. The last thing you want, in building to something you've been building towards for years is to be thinking actory weird stuff."
Also read: 'Breaking Dawn Part 1' Premiere: Honeymoon on the Red Carpet (Sideshow)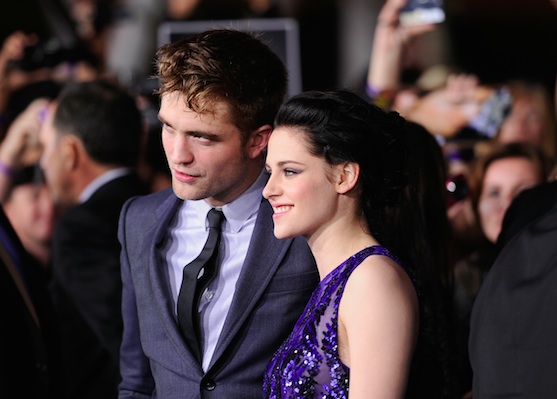 TAYLOR LAUTNER
On wrapping up the franchise: "It was tough, because we had a lot of fun making these movies."
How the franchise has changed his career: "It's been an amazing launching point. When I was 18-19, I was barely surviving in L.A., I was busking on Venice Beach with my guitar and my harmonica, getting any catering job I could. Then I started making it by 20, and then I landed the "Twilight Saga" by 22. And here I get to share this carpet with some of the stars and directors I dreamed of working with."
On the fans: "They keep supporting these movies — you hope they do, but you prepare that they might not. Our films have matured over the years, so it's nice that our fans have grown up with us."
On how important the franchise has been to him: "It doesn't suck, it's alright. It's nice to be in these movies that people are paying attention to. I've done a lot that they're not."
BILL CONDON
On the pressure of coming into a franchise midstream: "You definitely don't want to screw it up. There's the expectations of fans and how much it means to them, so you really want to deliver."
On how he came to the project: "I had seen the movies, but I hadn't read the books. I did read this book, though."
CO-PRODUCER BILL BANNERMAN
How he plans to follow up the project: "You retire."