Clive Got it Right – Again
After 15 years, manager Larry Rudolph still leads the way for Britney Spears.
Left: The two arrive for an encore performance of Spears' "guest host" duties at 102.7 KIIS FM's annual Wango Tango concert on Saturday afternoon.
Clear Channel's L.A. pop station's lineup for the frothy pop festival included three artists Clive Davis tapped as "you heard them here first" at his pre-Grammy party back in February: Miguel, Afrojack, and Brit Emeli Sande.
Veteran acts (a relative term for the pop genre) like Bruno Mars and Avril Lavigne (below) were also on the bill at the Home Depot Center.
Mom's Bentley
Perhaps there are ratings bonuses for every talent on "The Voice"?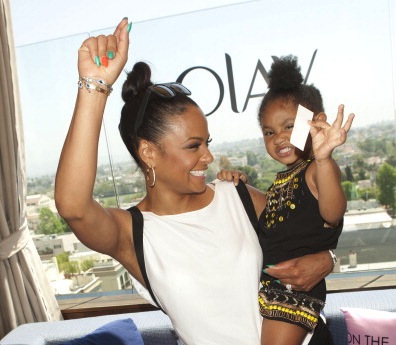 After a week in which "The Voice" beat "Idol" head-to-head, the show's "Social Media Correspondent" Christina Milan rolled up to Joico and Olay's Mother's Day event at the Thompson in Beverly Hills with her three-year-old in a red matte Bentley.
Inside, a surprisingly full house for a Saturday afternoon in the sleepy business district of Beverly Hills took advantage of a beauty day for moms, grandmothers, and even mother-in-laws.
Everybody in Uniform
No VIP wristband. No stamp. The only way in to the "F Cancer" fundraiser on Thursday night, was in the T-shirt that CW's "Arrow" star Stephen Amell sports above. In a refreshing twist, every single scenester homogenized and wore the shirt at the fundraiser inside too-cool Bootsy Bellows (including the famed backroom).
Above, Amell confers "real super hero" status on Julie Greenbaum, acknowledging how the 22-year-old turned her mother's loss into a series of six-figure-grossing fundraisers across the country. Left: Zach Levi arrives in uniform.
Meanwhile at the Beverly Wilshire, the only uniform was "orange," a popular charity color this month following on last week's orange-only Race to Erase MS Gala. Toni Braxton sang her way through the ballroom at the Lupus LA Orange Ball on Thursday night.
Inside the Lupus dinner, "Fruitvale Station" lead Michael B. Jordan and James Lesure. And speaking of "Fruitvale's" Oscar (the character Jordan plays, but also where some analysts say the film is headed)…
'Fruitvale' Buzz, Honoring Roger Ebert
A triple crown of steam continues to thicken behind "Fruitvale Station," two months before it's Weinstein Company release in July.
The double Sundance winner of both the Grand Jury Prize and Audience Award will get a third honor from Sundance here in L.A. The Sundance Institute will dole out a Vanguard Award honor to director Ryan Coogler at the Institute's benefit next month. Unlike most trophies, this one comes with cash (in the form of a grant).
Rookie director Coogler steps in to a highly anointed template with this early award. Last year's recipient was "Beasts of the Southern Wild" director and eventual Best Director Oscar nominee Benh Zeitlin.
On a more somber note, Roger Ebert had been confirmed for a Vanguard Leadership award in recognition of his advocacy for independent film. Robert Redford will now present what sadly becomes Ebert's first posthumous award to his widow, Chaz, at the June 5 benefit in West Hollywood.
Norman Lear, Joseph Gordon-Levitt, Wallis Annenberg and Kerry Washington are expected at what has quickly become, alongside the AFI Lifetime Achievement Award the next night, a top-shelf week in the middle of June.
ADL's 100th Anniversary
"You will note that it's not called the Anti-Jewish Defamation League. It's simply called the Anti-Defamation League," centennial honoree Jeffrey Katzenberg (above, with George Lucas) said at the annual Beverly Hilton dinner on Wednesday night. "For a century, ADL has been looking out for every one of us."
Katzenberg follows Steven Spielberg, Bonnie Hammer, Rob Lowe, and former AEG chief executive Tim Leiweke as the top draw at the industry-heavy dinner.
"The Expendables" franchise producer Avi Lerner and Fox Chairman Jim Gianopulos, who serves on the MPTF board with Katzenberg in extra-curricular, non-studio-competition philanthropy.
Ben Silverman, Dick Cook, Barry Meyer, Jeff Robinov and Toby Emmerich were also in the room.
Sumer Redstone was unavailable for this photo. The other two red headed moguls: Jerry Bruckheimer and past ADL honoree Ryan Kavanaugh.
Mark Burnett and the ADL's Abraham Foxman.