It's hard out here for a contender.
Case in point: Saturday night at the Aero Theater, Michelle Williams sat on the stage for an interview as part of a tribute to her and a screening of her new film, "Blue Valentine." Early in the conversation she started to tell a story about something that had happened earlier in her career in Hollywood.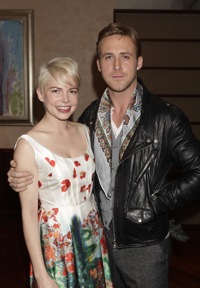 Then she paused, frowned, and looked around.
"What city are we in?" she asked. "Los Angeles?"
Told that she was indeed in L.A., Williams laughed and finished her story.
You couldn't blame her for being disoriented.
Williams had just gotten into town from New York – but she'd only recently gotten to New York from London, where she'd been filming a movie for the past few months. Her "Blue Valentine" co-star Ryan Gosling, (pictured left) meanwhile, had recently arrived in L.A. from the Congo, where he'd been trying to take a vacation between premieres, screenings, Q&As and the string of interviews that fills the schedule of every possible Oscar contender these days.
It is, you could say, the price of making an awards-worthy movie. For actors and directors and writers, it's The S#*! They Put You Through.
"Everywhere I go, I go for two days," said Julianne Moore, who has been working the circuit on behalf of "The Kids Are All Right." "You just slam in and slam out. You're like, 'What time is it?' And then you go back to your regular life."
She laughed. "It's insane, and it's gotten crazier. But it's like developing a callous. You just get used to it."
Publicists and studio execs – you know, the people who put you through it – admit that awards season has gotten crazier, as entertainment journalism has moved to the web, the number of outlets has expanded and the appetite for news of any and all contenders has gone through the roof.
And at the same time, the Academy's move to 10 Best Picture nominations helped reinforce that more movies are in play, that more longshots have a chance. So why not take a little movie like "Frankie & Alice," give it a qualifying run and let Halle Berry tell her story one or two or eight dozen times? It'll cost you some money and Halle every minute of her spare time, but who's to say that's not worth it when it lands her a Golden Globe nomination?
What it means, though, is that awards contenders have to surrender their free time for the duration of awards season. (The ones who don't, like Annette Bening, are the exceptions to the rule.)
So you end up with scenarios like these recent ones:
> On a break from "X-Men: First Class," the 20-year-old "Winter's Bone" Best Actress contender Jennifer Lawrence flew to L.A. for 48 hours. Once she got to town, she went to a reception in her honor, did countless interviews, and appeared at the Hollywood Film Awards, where she received the New Hollywood Award from Jodie Foster.
Then she walked off the stage, went straight to the car, drove to the airport and flew back to London.
And by the way, she was fighting a virus she'd picked up in London the entire time she was in town.
> In November, director Terrence Malick gave Ben Affleck one extra day off so that he could fly from the Tulsa set to Los Angeles for a father/daughter day at his daughter's school.
Enter the awards-campaign crew for "The Town," the film Affleck had co-written, directed and starred in. "They said, 'Would you do some interviews?'" Affleck told theWrap. "When you're an actor in a movie, and your own performance is the thing you've thought about the most, you kind of make calculations about how much talking you can do before you feel talked out. But when you've written and directed and acted in the movie, I don't find myself feeling that I can say no. If you're still being asked to support your movie weeks after it's come out, that's a good problem to have."
> When the AFI Fest initially scheduled a tribute to "The King's Speech," it didn't look as if co-star and Supporting Actor hopeful Geoffrey Rush would be able to attend – after all, he was in Hawaii shooting the fourth "Pirates of the Caribbean" movie. So a tribute reel was prepared for the guests who would be able to attend: director Tom Hooper and actor Colin Firth. (Firth, Hooper and Rush pictured right)
Then, only days before the screening, Rush got a new production schedule that gave him a 48-hour window. A second tribute reel was prepared in a few hours while Rush flew to Los Angeles – where he sat on a panel with Hooper and Firth, and was asked exactly onequestion by moderator Leonard Maltin.
> For "Made in Dagenham" star Sally Hawkins, the problem is that she's has been appearing in the Broadway run of "Mrs. Warren's Profession" during the entire awards season. During previews in early September, she took a weekend off and let her understudy do the role while she made a quick appearance at the Toronto Film Festival.
The next month, she made an appearance at the Hamptons International Film Festival – but she did so on a Monday, the only day that her play was dark on Broadway, and was helicoptered in and out to make the trip more quickly.
And then in November, she did one whirlwind press day. It started with a red-eye flight to Los Angeles after her Sunday evening performance in New York; the flight was delayed, she couldn't sleep and she got into L.A. about two a.m. There, she spent all of Monday doing interviews, then attended the premiere of her film that evening. Afterwards, it was another trip to the airport and another red-eye back to New York, where she arrived in time to catch a few hours sleep before her Tuesday evening performance on Broadway.
"Everything was squashed into 24 hours," she said with a smile. "It is mad, and you feel yourself get overwhelmed by it all. And then you have to go, wait a minute. This is a very rare thing. It's a relatively short period of time, and it all goes a bit mad, and everyone's in the same boat, and everyone has to get that interview or do that interview and get their point across and make sure that their film is heard and gets the attention, and so you're pulled in many different directions. But it's actually good fun, as well. You have to keep remembering that."
Gosling, meanwhile, reportedly came from the Congo for a CAA screening of "Blue Valentine"; Mark Wahlberg did a Q&A after a screening of "The Fighter," then flew straight to Afghanistan to visit U.S. troops.
And even if you can't go anywhere, you're not safe. When Michelle Williams was still in London, playing Marilyn Monroe in the Weinstein Company film "My Week with Marilyn," I spoke to her on what she said was her day off.
But this "day off" also included recording a song, practicing a dance routine, watching some Monroe movies, and doing interviews with at least three other Oscar writers.
"It kind of riles you up and turns your brain on," she said of the schedule. "And I don't mean that in a bad way."
One high-placed executive with a major awards show has insisted to me that the dirty little secret is that all actors and directors hate this game, and there's no question that many do. But it's a necessary trade-off: as Danny Boyle pointed out when I spoke to him before the release of "127 Hours," awards season is a vital marketing tool for small, serious movies.
So they learn to accept the s#*! that people put them through, and endure it with a touch of good humor and grace.
Back when I spoke to an ailing, exhausted Jennifer Lawrence in November, she shrugged off the killer schedule she'd endured for her 48 hours in L.A.
"Yesterday I was running on no sleep and jet lag and the sickness," she said. "Today I'm running on sickness and jet lag, but I've got sleep."
Welcome, I told her, to awards season.
"Yeah," she said, grinning. "That's what everybody's telling me."
She shrugged. "I'm okay now – but if anybody asks me a question on the plane, I'm gonna explode."