"The Hurt Locker" has picked up plenty of high-profile fans over the past year, starting with the critics groups that have named it the best film of the year. Kathryn Bigelow's tense drama about a bomb disposal unit in Iraq has scored a rare trifecta with the three most prestigious groups – the Los Angeles Film Critics Association, the New York Film Critics Circle and the National Society of Film Critics – plus top honors from close to a dozen other critics groups.
And actor Robert Duvall said that the film was "the best movie I have seen in years – one of the ten best movies of my life."
Now you can add another notable fan to the list. "There is no question in my mind that 'The Hurt Locker' is the most significant movie of the year, and probably the most significant in many years," Sean Penn told theWrap Tuesday night at the party that followed the opening night awards gala at the Palm Springs International Film Festival.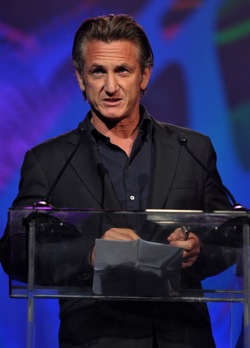 Penn was on hand to give an award to "Crazy Heart" producer and music director T Bone Burnett — but it was "The Hurt Locker" and its star, Jeremy Renner, that he wanted to talk about when "Hurt Locker" writer and producer Mark Boal introduced us at the party.
"It's one of the three greatest war pictures ever made," Penn said flatly, adding that the other two were the 1985 Russian-made film "Come and See" ("Idi i smotri") and Hal Ashby's 1978 drama "Coming Home," which won Oscars for best actor (Jon Voight), best actress (Jane Fonda) and best original screenplay.
"It's not an anti-war film, it's not right or left. It doesn't take sides. It's real life, executed skillfully and powerfully. It trusts that real life is incredibly dramatic, and it says to you, there are times when it might be the right thing to support war – but know this: war hurts. 'The Hurt Locker' hurts."
Penn also compared the film to the emotionally probing work of director John Cassavettes, but said that Bigelow has "a level of technical polish and skill" that Cassavettes didn't have.
"It's dealing with a territory where I spent time," he said. "I am an envious person, and I wanted to criticize it. But I couldn't, because it gets it right."
Jeremy Renner, he added, "is the guy who's got me running. It's very rare to see a performance with that kind of mischief and wit and gravity to it, and that kind of confidence."
After rhapsodizing about the film a while longer, Penn stopped and laughed. "You can sum it up," he offered, "by saying, 'That ass—- Penn is a fan.'"
(Photo of Sean Penn at the Palm Springs International Film Festival Gala by Michael Bucker/Getty Images Entertainment)