There's a great movie about the imminent destruction of the planet and how it affects a group of people and their search for family bonds, sexual thrills and even momentary connections with total strangers. It's called "Last Night," it was directed by Don McKellar in 1998 and you should add it to your queue if you've never seen it.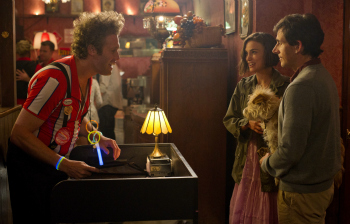 Unfortunately, this review is for "Seeking a Friend for the End of the World," which feels like the studio-notes version of "Last Night." While there are some amusing moments involving the film's stellar cast of second bananas, the "quirky" and utterly artificial love story at its center makes Armageddon feel like the preferable option.
The script by first-time director Lorene Scafaria gives us a lead character who has allowed life to pass him by. This man is named "Dodge," which should give you some idea of the subtlety, or lack thereof, involved in this script. When scientists announce that the planet's demise at the hand of an enormous meteor is unavoidable, Dodge (Steve Carell) sits by helplessly as his wife goes running off into the night.
Over the course of the next few weeks — the last the Earth will enjoy — Dodge gets to know his downstairs neighbor Penny (Keira Knightley), a bubbly free spirit who collects vinyl LPs and unworthy boyfriends. In true indie-movie fashion, the two of them hit the road to take care of some unfinished business before the end of days.
If "Seeking a Friend" presented these polar opposites as people finding respite in each other's arms because they are literally the last people on Earth, their unlikely romance would be easier to swallow. But no, Scafaria wants us to believe that the love between this buttoned-up insurance salesman and this irritating gamine was always meant to be, and that only Ragnarok could bring them together.
The film often feels like a TV pilot that needs to recast its leads, because its episodic vignettes involving other characters are the only parts that work. When Dodge and Penny encounter sexually liberated hedonists (played by Melanie Lynskey and Patton Oswalt), a philosophical trucker (William Petersen), a chain restaurant (T.J. Miller and Gillian Jacobs are among the waiters) where staff and patrons alike are hopped up on Ecstasy, an ex (Derek Luke) of Penny's who's in full survivalist mode or Dodge's estranged father (Martin Sheen), the movie briefly sputters to life, only to fizzle once we're back to the leads (and the adorable, sympathy-milking stray dog they pick up along the way).
Carell's a talented comedian, but based on this film and "Dan in Real Life," his idea of a dramatic performance is to be a lifeless lump. (Whereas his suicidal academic in "Little Miss Sunshine," while hardly a wacky-jokes piece of acting, conveyed both sadness and an indication that someone was home.) As for Knightley, whether it's the sheer artificiality of the character as written or the banality of her performance, she's never been worse.
"Seeking a Friend for the End of the World" seeks to show that for most people, time is only precious when there's a limited amount of it left. It's more successful at illustrating how 101 minutes can feel like a lifetime.