During a decade of devastation for the home-entertainment industry, Shout! Factory has not only survived by selling DVDs and Blu-rays, it has thrived.
The 60-person Los Angeles-based company has increased its annual revenue and profits by trading on pop culture nostalgia for everything from "Leave it to Beaver" to the "My Little Pony" cartoon series.
Instead of the latest releases, it mines the deepest recesses of television and film history to unearth largely forgotten treasures that retain a cult mystique. Now in its 10th year, Shout! Factory is projected to make $50 million in revenue in 2013 and puts out an average of between 15 to 20 new projects a month
Also read: Mel Brooks on 'Blazing Saddles' Musical, 'Pizza Man' Slasher Film
"We're fans first," Richard Foos, Shout! Factory founder and CEO, told TheWrap. "We're deeply embedded in great and cool pop culture, and we try to present it in a curated way that we'd like to see as fans."
Shout! Factory's hottest acts are entertainers like Mel Brooks and Ernie Kovacs, performers of great talent who are nonetheless a few generations removed from getting a guaranteed greenlight from major studios or who have passed on to their extra-earthly rewards. Likewise, its big sellers include episodes of "Mystery Science Theater 3000" not "The Hunger Games."
Instead of hurting Shout! Factory, this retro-focus has allowed the company to take on and make money from projects that fly under the radar of major studios. For the last five years, its profits have jumped 25 to 30 percent each year on average, while revenue has grown between 5 to 10 percent annually, Shout! Factory executives say.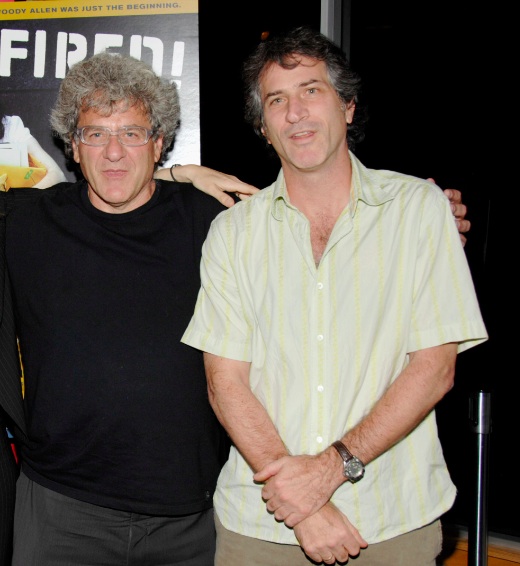 The executive team has enjoyed such robust growth in part by drawing on its experience in the music business. Shout! Factory emerged after Foos sold his stake in Rhino Records to Time Warner in 2001. Like Shout, Rhino spruced up and repackaged the works of older acts, although it was primarily in the music game.
Richard Foos and Garson Foos pictured right.
When the new company formed, Shout's management intended to evenly divide its time between music and DVDs, but the precipitous fall in record sales necessitated a change of plans.
Today, more than 85 percent of Shout's business comes from television, animated content and movies, but those music relationships came in handy. Take "Freaks & Geeks," which Shout released in 2004 and which remains its biggest seller. The Judd Apatow-produced series set in the Reagan-era featured an array of songs from the 1980s. That presented a licensing nightmare.
"Our expertise in our previous life at Rhino, our relationships with music publishers, have given us a huge advantage over other independents," Bob Emmer, Shout! Factory founder and COO, said. "From the studios standpoint, they say, 'the show was good, but it only lasted one season, so why put up six figures to license music for something that didn't have another season?'"
But Shout! Factory executives were able to tap into their personal contacts to clear the rights to some 100 songs in 19 episodes, which allowed the show to get a home-entertainment release.
It's not just its music past. The company has also benefited from being one of the few remaining games in town when it comes to making DVD box sets.
"As DVD sales are declining, the studios are less interested it putting out physical media, so they've become more willing to license out physical rights and to see what we can still milk out of them," Garson Foos, Shout! Factory founder and president, said. "We've become about the top choice in terms of independent companies out there to work with."
Producer Roger Corman is one of the players impressed by the attention that Shout! Factory took with his catalogue of B-movies. He said the reissues of roughly 60 of his movies like "Piranha" and "Battle Beyond the Stars" have sold the best they have since they were first released on DVD.
"The DVD market was slipping when we made the deal, but, on the other hand, the slippage of DVD sales isn't a cliff, it's sort of a slope," Corman said. "The hill is sloping downward, but it's not dead. There's still money to be made and Shout has done just that."
The company is popular with talent, because its small size allows it to lavish attention on the box sets it makes. In an age where many studios are cutting back on bonus features, Shout! Factory has gone to other way — loading its discs with special interviews and outtakes and outfitting packages with exhaustively researched liner notes.
With Corman, that meant enlisting big-name directors like Jonathan Demme and Ron Howard to sit down for interviews about their early years working under the cult movie giant. In the case of Brooks, it meant culling through his decades of show business to assemble a compendium of everything from his appearances with talk show legends like Johnny Carson and Dick Cavett to a PBS Special about the origins of his 2,000 Year Old Man routine with Carl Reiner.
"They were like Sherlock Holmes when it came to hunting for and finding obscure and rare interviews," Brooks said. "They found me singing 'High Anxiety' in French for some French marketing of the film. Every time I meet with them I know they've done their homework."
Although Shout! Factory has its eye on the pop culture past, it would not be able to turn a profit were it not for the Internet, analysts and executives argue.
The Foos brothers and Emmer said their team routinely uses the Internet to look for properties that have active fan sites and followings. Then they use the web to market directly to people with the fondest memories of these movies and shows without having to spend big bucks on expensive print and television advertising.
At least that's how it worked for Joel Hodgson, who entrusted the team at Shout with first untangling a complicated web of licensing issues and then finding an audience for "Mystery Science Theater," the satiric television series about a man and his robot sidekicks who are forced to watch some of the worst B-movies ever made.
"It's more famous now than it ever was on TV," Hodgson said. "Part of it has to do with being a comedy nerd. That happens for most people at 11 or 12 years old and because of the Internet, these episodes are all over YouTube. And Shout! Factory has catered to that and it has just given the show a nice long life."
Before the digital revolution, getting stores to stock up on cult films and shows would have been a losing proposition for Shout. Now, with e-commerce giants like Amazon and Vudu, retailers' capacity has become infinite and so has their tolerance for niche products.
"For Internet retailers, there are unlimited opportunities when it comes to shelf space," Tom Adams, an analyst with IHS Screen Digest, told TheWrap. "Ten years ago a place like Best Buy would only have had room for 5,000 or 6,000 titles. There's no way they would have been stocking up on 'The Many Loves of Dobie Gillis.'"
However, the Shout team recognizes that the Internet generation is a fickle one and that even the most profitable business can find itself undone by digital upstarts. It's moving beyond the Golden Age of television into cartoon shows dating from the 1980s to the present, hoping that it can exploit the childhood memories of a rising generation of consumers.
To combat this demographic's shifting consumption habits, the company has been making a concerted effort to lock up digital rights with more than 80 percent of its new signings including deals for control of those platforms. Last summer, Shout! Factory acquired three entertainment apps, called the Video Time Machine, the Political Time Machine and the Holiday Time Machine, which allow users to access videos from more than a century ago — ranging from movies to music to political speeches. Given Shout's emphasis on entertainment of the past, the appeal of this kind of product is self-evident.
Thanks to this technological push, Shout predicts that digital sales and licensing will rise to 15 percent of its overall business from 10 percent this year.
"We don't have our heads in the sand," Garson Foos said. "We know that we have to focus on revenue streams other than physical."
"How do we get relevant in the digital age?" Richard Foos said. "At a time when all this content is available on YouTube and elsewhere, you still need somebody to be a curator and to help you narrow it all down for you to the stuff you've just got to see. We're those guys."