NBC Entertainment chairman Bob Greenblatt has lured another former Showtime colleague to NBC, naming Len Fogge his new president of marketing Thursday.
Fogge is the former executive vice president of creative, marketing, research and digital media for Showtime Networks, Inc. His new job puts him in charge of "strategy, branding, creative, paid media, digital/social media and partnership marketing initiatives for NBC's Primetime, Daytime, and Late Night dayparts," NBC said in a release.
Also read: Showtime Restructures Marketing and Creative Services Department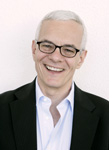 Adam Stotsky will leave as president of marketing "after an appropriate transition," NBC said.
The announcement came soon after Showtime announced Thursday it would replace Fogge by naming Frank Pintauro and Donald Buckley to executive vice presidents and co-heads of marketing.
"I enjoyed a close working relationship with Len during my seven years at Showtime, and I don't believe anyone deserves more credit than him for building the subscription base to record levels or re-branding the company as one of the leading forces in cable television," said Greenblatt.
He added of Stotsky: "I wanted to take this opportunity to say how grateful I am to Adam, who has worked tirelessly since I joined the company to insure that NBC didn't miss a beat."
Fogge said he was "so excited to be re-uniting with Bob."
"He is a visionary leader and the best programming executive in the business — his unique understanding of what audiences want to watch transformed Showtime into one of the most successful networks in the industry. I am deeply honored to be joining the new NBC team, and to being part of turning around the network and restoring the NBC brand to greatness," Fogge said.
NBC announced last week that former Showtime executive VP of corporate communications Richard Licata would join NBC Entertainment in the newly created position of executive vice president of communications.