Ah, France. Where the people smell of red wine at 8:30 in the morning, and where they'll happily charge you $5 for a croissant along the Cannes croisette.
Remember you're in France, so even though half of Hollywood swarms across the town, so does the entire European and international movie industry. So here, Hollywood is in the minority — especially this year with so few American films in competition.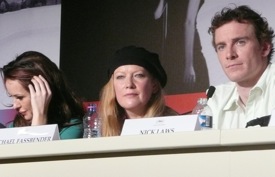 The British film "Fish Tank" screened for the press on Thursday morning, and stars a new-to-the-screen teenaged actress, Katie Jarvis, who plays a 15-year-old. The film is a bleak, verite-inspired story of a young British girl who has a sexual experience with her mother's boyfriend, among other disturbing experiences.
Director Andrea Arnold (pictured at left) has been to Cannes before with her film "Red Road" and came back with the same crew, except for Jarvis. The 17-year-old actress was not at the festival because she's just had a baby. Interesting life; the teen, who had never acted before, was discovered by a producer on a train platform in Tilsbury.
"We found her in the station having an argument with her boyfriend who was on another platform," said Arnold. "She was giving him grief, so she stood out."
Meanwhile, another acquisition happened overnight. Bob Berney, who is rumored to be close to announcing a new and still-unnamed distribution company backed by River Road's Bill Pohald, picked up Jane Campion new film, "Bright Star."
The 19th-century romantic drama is about the love affair between dying poet John Keats and his next-door neighbor, Fanny Brawne. It stars Abbie Cornish and Ben Whishaw and will screen on Friday.
"Bright Star is a tour-de-force from Jane Campion," Berney said in a statement. "She has created a film that's classic, yet uniquely modern."