We all know the scene from "Love, Actually." You know, the scene. The one where the guy goes to Keira Knightley's house and confesses his love via a message written on a bunch of poster boards. We got a send-up of that scene on this week's "Saturday Night Live," except instead of romance it's Hillary Clinton begging members of the electoral College not to vote for Donald Trump when they assemble on December 19. Which is very soon.
It begins with Beck Bennett and Cecily Strong have a chill upper middle class holiday evening when the doorbell rings. Strong answers the door only to find that, standing at her door, is none other than Kate McKinnon doing Hillary Clinton again. And she has an important message to say via a ridiculously lengthy sequence of poster boards. You can see the full bit at the top of this post.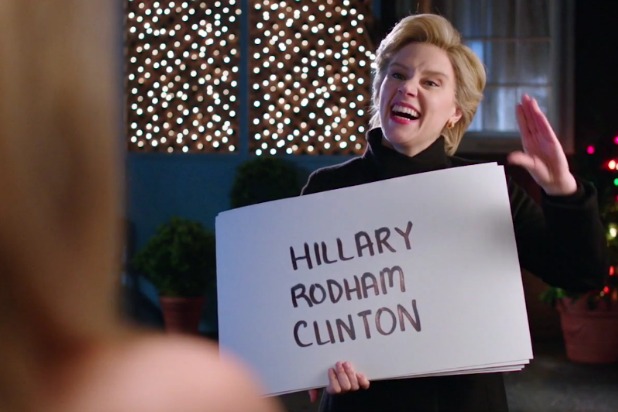 "I know you're an elector," one card reads. "And on December 19th, you're supposed to vote for Donald Trump."
Also Read: 'SNL' Cold Open Brings Back Baldwin's Trump, John Goodman Depresses as Rex Tillerson (Video)
It's an amicable beginning. But then it gets to the point.
"But bish…he cray," the notes continue. Hillary then unveils a long list of ways Trump has already been horrifying since the election. It's really long.
From there, Hillary begs for the elector to pick literally anyone else. Like, one of the cards says "vote for literally anyone else." She suggests a few names, including, John Kasich, Tom Hanks, Zendaya, The Rock or even just a rock.
To wrap it all up, she gave one very simple reason for why the elector should dump Trump, just in case they weren't convinced by the dozens of other cards.
The last "SNL" of the year was, naturally, a politically charged one. Alec Baldwin returned after being absent last week to do his famous Trump impersonation in a sketch that was, well, pretty depressing. We also got musical guest Chance the Rapper performing a rap with "SNL" cast member Kenan Thompson celebrating the last Christmas of the Obama years and, maybe, the last Christmas ever, period.
"SNL" will return on January 14, with "Rogue One: A Star Wars Story" star Felicity Jones as host.