Live! From New York! It's a casting crisis for Lorne Michaels!
When Jason Sudeikis announced his departure this week, "Saturday Night Live" was suddenly bereft of any established crossover talent — its longest-tenured surviving castmember is now Kenan Thompson — and in terms of name-recognition, it drops off steeply from there.
Also read: 'SNL's' Recent Grads: What's Next for Jason Sudeikis, Kristen Wiig, Bill Hader and the Rest?
But "SNL" has been here before. The upcoming 2013-2014 season will not be the first time the long-running sketch comedy series has been forced to prop up its B-team and go headhunting on the fly.
See Photos: Who's the One In That Skit? Meet the 'Saturday Night Live' Survivors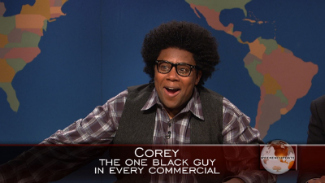 Sudeikis follows fellow cast members Fred Armisen and Bill Hader out the door — unlike those they left behind, all have established film and TV careers. A year earlier, fan favorites Kristen Wiig and Andy Samberg left for the draw of bigscreen comedy. And head writer and "Weekend Update" anchor Seth Meyers departs in November for Jimmy Fallon's desk.
Jon Lovitz, an "SNL" cast member from 1985 to 1992 — who weathered Lorne Michaels' infamous reboot of '86 — knows the toll a long run on the show can take. He also understands the draw of the Los Angeles movie scene over the sketch comedy one in New York.
"Jason Sudeikis has been on the show for 10 years — at some point you gotta go," Lovitz told TheWrap during an online chat on HuffPost Live. "That's a tough show to do for 10 years."
See video: Jason Sudeikis Confirms 'SNL' Exit on 'Letterman'
To give an idea of how key the recent losses are: Only Darrell Hammond has appeared on more episodes of "SNL" than Meyers and Armisen. Sudeikis is 7th on that same list, Hader 9th, Samberg 20th and Wiig 22nd.
Even longtime fans of the show have to ask: Who's even left?
"Saturday Night Live" new senior members are Thompson, Bobby Moynihan, Jay Pharoah, Nasim Pedrad, Taran Killam, Vanessa Bayer and, for now, Meyers. On the JV team (called Featured Players) are Aidy Bryant, Kate McKinnon, Tim Robinson and Cecily Strong (below, right).
Other than Thompson's attempt at a "Fat Albert" movie in 2004, there's hardly a notable screen credit among them.
Also read: 'Project X' Star Thomas Mann Joins Kristen Wiig, Will Ferrell Comedy (Exclusive)
But to give up on the show now would be foolish: Even Adam Sandler, Will Ferrell and Tina Fey were "SNL" scrubs at one point — and in Killam, Strong, Pedrad and Bayer, "SNL" has a number of young players with high upside.
Michaels has constantly retooled the cast since its initial "Not Ready for Primetime Players" took the stage in Studio 8H. Historically, the unknowns have worked out far better than the household names — remember Robert Downey, Jr., Anthony Michael Hall, and Billy Crystal in the cast? Not many people do.
Also read: Damon Vs. Douglas, McCarthy Vs. Wiig, Quinto Vs. Cromwell: 10 of Emmys' Fiercest Face-Offs
Lovitz, who joined with fellow newcomers Downey Jr. and Hall, said some people will welcome new cast members with open arms. Others might not.
"It's competitive," Lovitz said. "It's a very strange show."
So clearly, "SNL" is in a rebuilding year. But with whom will it rebuild? The show historically has favored improv and sketch comedians over stand-up comics, though both are options.
But this year, it's not just about filling a headcount — it's about stocking up with versatile talent that can stand out quickly. Actors from the Upright Citizen's Brigade, Second City and the Groundlings have had great success in the past, and it's likely that Michaels will go back to that well.
The Upright Citizen's Brigade Theater in New York declined comment, citing its relationship with NBC. Phone calls to Second City were not immediately returned. An NBC spokeswoman said that the network does not comment on casting changes.
Also read: Fred Armisen Confirms 'SNL' Exit at Long Last
The "SNL" casting team comes out to scout the Groundlings in Los Angeles a couple times a year, Groundlings Managing Director Heather de Michele told TheWrap. And they've been there recently.
Who they are looking at closely, she wouldn't say. But the Groundlings have recently produced both the aforementioned Killam (left) and Wiig. De Michele, and the rest of the Groundlings, knew those auditions were just a matter of time. What she didn't know is how short that time would be.
Of those already with a seat at the table, Killam seems poised to be the breakout star of "SNL's" 38th season. A promising sign: His "Sloppy Swish" digital short was one of last year's breakout viral hits (see video below).
"He's exceptionally good," de Michelle said. "During his first main stage show he was nabbed by 'SNL.' He didn't even get to open his first show as a Groundling."
Wiig's casting happened with nearly the same speed — but that's not always the case. When one goes through the Groundlings school, the top level make it into the Sunday cast. Only after graduating is an actor eligible to be a "Groundling" and perform on Friday and Saturday nights. And there are never more than 30 Groundlings at a time.
One Groundling to watch is Mikey Day, a star of MTV's "Wild'n Out." Jillian Bell of the Main Company wrote for "SNL" in 2010. Jim Cashman has written for the show as well. Tony Cavalero is a founding member of longform improv group "Robert Downey Jr. Jr." — another "SNL" connection. Kind of.
See photos: 30 of the Emmys' Biggest Snubs and Surprises
Lovitz believes the show will be fine — as it has through thick and thin. As will the new cast members. And they shouldn't worry about it anyway. "The audience picks the hit characters, the audience picks the stars," Lovitz said. "That you have no control over."