Overall, it was a relatively apolitical episode of "SNL" this week — the show's intent was broadcast pretty clearly with a cold open sketch in which members of the cast brought their moms on stage ahead of Mother's Day, and they each complained (jokingly) about how political the show has gotten. But Weekend Update is still Weekend Update.
So, as they always do, co-hosts Michael Che and Colin Jost devoted the first chunk of Weekend Update to slinging zingers at Trump and friends, from Trump's decision to violate the Iran nuclear deal to the ongoing situations with Michael Cohen and Rudy Giuliani.
Below you'll find a transcript of the first portion of Weekend Update, and you can watch it for yourself in the video embedded above.
Also Read: 'SNL' Weekend Update Host Colin Jost: Trump Is Now 'Crowd Sourcing His Legal Strategy' (Video)
Colin Jost: "You know, I gotta admit, President Trump had a pretty good week. He helped secure the release of three American prisoners from North Korea, and when he greeted them at the airport he didn't even say 'Wait, I thought they were Americans.' Trump bragged that him greeting the prisoners was probably the highest ever television ratings for 3 o'clock in the morning. Which is not true. The 3 a.m. ratings record was set on election night by liberals hoping they were being pranked."
Michael Che: "I mean, sure, this has been a decent week for Donald Trump. The same way a decent date with R. Kelly is to go home dry. Personally, I don't like when Trump is this quiet. It's like when I'm babysitting my nephew and he's quiet for too long and I'm like like, 'Oh no, he's eating out of the litter box again, ain't he?'
"According to a report, Michael Cohen was paid $600,000 by AT&T to advise them on their $85 billion merger. AT&T could not be reached for comment because they use A&T."
Also Read: 'SNL' Cast's Moms Wish They Wouldn't Do so Much 'Political Stuff' (Video)
Colin Jost: "It's really funny to me that all these companies were paying Michael Cohen, this guy, for intelligence. He's like if the word 'durr' became a person."
Colin Jost: "This is true — Cohen named his shell company Essential Consultants, which could not sound more fake. It's like a place George Costanza would pretend to work at. Meanwhile, President Trump attacked the Russia investigation and insisted that obstruction of justice is 'a made up phony crime.' Oh, the crime you are accused of? That one's made up? It's funny how when it comes to immigration, Trump is like, 'the law is the law.' When it comes to himself, he's like, 'laws aren't real. They're just stories we make up to scare poor people.' "
Michael Che: "President Trump announced that he would be withdrawing the U.S. from the Iran nuclear deal. And look, I'm not gonna pretend I know anything about the Iran deal, but Trump is. And you know the only part of that deal Trump has read was the signature on the bottom that said 'Barack Obama.' That's all he needed. Trump is undoing so much of Obama's work that Obama's gonna start fading away in pictures like 'Back to the Future.' "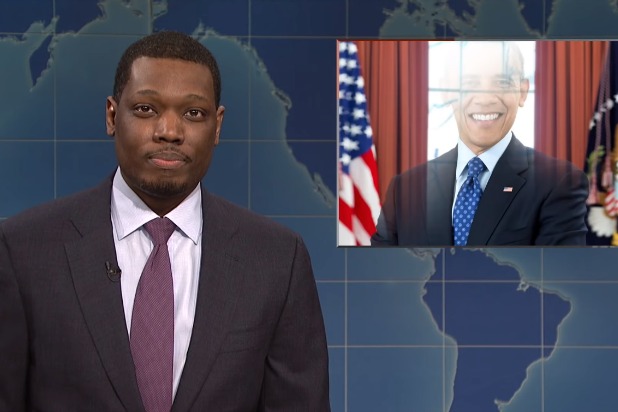 Also Read: Colbert Unleashes Dead-On Eric Trump Impression: 'They Gave Me a Very Important Role Handing Out Bumper Stickers' (Video)
Colin Jost: "Rudy Giuliani has resigned from his law firm to become President Trump's attorney full time. His first task will be to undo the damage he did working part-time.
"Attorney general Jeff Sessions announced that undocumented parents entering the U.S. would be separated from their children unless they can guess that his real name is Rumpelstiltskin."
Michael Che: "First Lady Melania Trump — or as I've been calling her, sexy a– Michael Jackson — launched a campaign to stop cyber bullying called Be Best. As in, it would be best if you got a divorce."
Also Read: Colbert: If Post Offices Are Forced to Put Up Pictures of Trump and Pence, They Should Be the Size of a Stamp (Video)
You can watch this portion of Weekend Update from this week's "SNL" in the video embedded at the top of this post.