In what has been an extremely quiet Cannes Film Festival when it comes to dealmaking, Sony Pictures Classics has reportedly made the first significant acquisition of a film showing in competition at the festival, picking up U.S. rights to Mike Leigh's well-received "Another Year."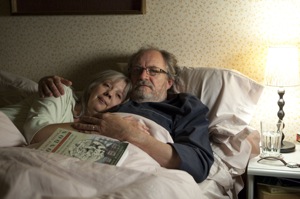 Sony Classics has long been known to be interested in the film, which stars Jim Broadbent and Lesley Manville and is considered one of the current frontrunners for the festival's top prize, the Palme d'Or. The deal was first reported by deadline.com.
The Weinstein Company was also reportedly interested in "Another Year," which currently has a B rating in indieWIRE's survey of critics at Cannes. (No film in competition has received an average grade of A, though Leigh's film had an A- until a recent batch of more negative reviews.)
Roger Ebert called the film "so beautifully sure and perceptive in its record of one year in the life of a couple happily married, and their relatives and friends, not so happy."
With Leigh's film off the table, speculation about upcoming Cannes deals centers on Alejandro Gonzalez Inarritu's "Biutiful," which has also reportedly picked up interest from Sony Classics' chiefs Michael Barker and Tom Bernard, and from Harvey Weinstein.