The South has risen again — on cable.
AMC's Georgia-based "The Walking Dead" is the most-watched cable series and the top-rated scripted show on all of television. A&E's "Duck Dynasty," based in Louisiana, is the second biggest cable show.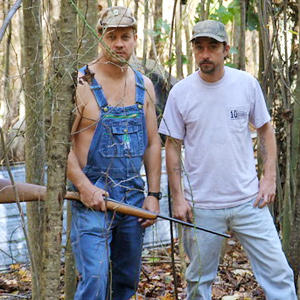 The rest of cable's top 20 includes the Southern-set "Swamp People" on History, "The Real Housewives of Atlanta" (the most popular show in Bravo's "Housewives" franchise) and Discovery's "Moonshiners."
Why the Southern success? Tax incentives have helped, even drawing shows that aren't set entirely below the Mason-Dixon line, like NBC's "Revolution" and Showtime's "Homeland."
And cable's search for new settings and protagonists has made the storied South a popular setting for shows that don't even film there, like FX's Kentucky-set "Justified" and HBO's Louisiana-based "True Blood." Both shoot mostly in Los Angeles.
Also read: Louisiana Keeps 'Hollywood of the South' Nickname by Surviving Assault by Politicians
"I'm glad to see a resurgence of shows taking place there and even more importantly, shows being shot there," said "Breaking Bad" creator Vince Gilligan, a Richmond, Va., native who named his New Mexico-set show for a Southern expression.
"It's the only part of the country that's known defeat, as they say. In the Civil War, it was the side that lost," he told TheWrap. "Which I think is a good thing, because it would be a shame if we had two countries now. But when you're from the South, you grow up with this feeling of loss or having lost, and that breeds some interesting writers. I think of Flannery O'Connor or William Faulker. It breeds an interesting point of view on the world. It breeds an interesting kind of gallows sense of humor.
(Click here to see the full Top 20 cable chart.)
"The South per capita has more than its fair share of eccentric types. And I mean that with all affection," said Gilligan. "The South is full of eccentrics."
The Southern shows drawing the most viewers tend to highlight rural, uncompromising people happy to get their hands dirty. They include the Robertsons of "Duck Dynasty," the alligator hunting "Swamp People" of Louisiana's Atchafalaya Basin and even the rifle and crossbow-wielding survivalists of "The Walking Dead."
Also read: 'Duck Dynasty' Clan Working on Christmas Album (They Already Have the Santa Beards)
"I love the South. I built my career on it," said Discovery executive vice president Dolores Gavin, who grew up near Boston but developed shows including "Moonshiners."
The rise of Southern shows are partly a response to people feeling trapped in city and suburban life, she told TheWrap. "It is a backlash to people feeling constrained. They get up in the morning, and they drive in a box, and then they work in a box, and then they drive home in a box. There's a disconnect from man's connection to the earth and what it really means to get dirt on your bare hands and produce something that you can be proud of."
As Paula Deen has reminded us this summer, the South also has a tortured racial legacy that has provided no shortage of drama. But the most popular Southern shows aren't about race, for the most part. One of the backwoods brothers on "The Walking Dead" is a bigot, but one cagey enough to keep his prejudices to himself when it will help him.
"Duck Dynasty," "Swamp People" and "Moonshiners" all portray self-reliant eccentrics (to say the least) who take care of their own without anyone's help. So do non-Southern shows in cable's Top 20, like "Gold Rush," and "Ax Men."
Also read: 'Walking Dead' Is Top-Rated Scripted Show of Season, in a First for Cable
It isn't hard to find a link between self-reliance and skepticism of outside authorities. The South has a long history of resenting perceived slights by the federal government. But state governments are playing a big role in its rise.
Georgia, home of "The Walking Dead," offers among the most generous tax incentives anywhere, giving qualified productions a 20 percent tax credit on investments of $500,000 or more. Georgia also knows how to advertise: It gives an additional 10 percent credit to productions like "The Walking Dead" that embed a Georgia Entertainment Promotional logo — complete with Georgia peach — in their credits.
Film and TV jobs were responsible for 22.9 million jobs and $1.3 billion in wages in the state in 2011, the most recent year for which the Motion Picture Association of America keeps records.
Only three states earned more wages from film and TV productions — California, which pulled in $17 billion in 2011; New York, which pulled $8.2 billion, and Texas, which earned $1.5 billion. Georgia's $1.3 billion tied it with Florida.
Of the top 20 broadcast shows, NBC's "Revolution" is the only one shot in the South. And broadcast shows shot in the South don't necessarily take place there.
"Revolution" takes place all over a dystopian future United States, and the series, shot in Wilmington, N.C., for most of its first season, is moving to Texas for Season 2.
Wilmington also hosts CBS's "Under the Dome," which takes place in an unspecified region (New England in the Stephen King book of the same name) and Fox's upcoming "Sleepy Hollow," named for a famous town in New York.
ABC's "Nashville" may be the most Southern broadcast show: It is a weekly advertisement for the city where it is filmed.
Once, even shows set in the South weren't necessarily shot there. "The Andy Griffith Show" was filmed on Los Angeles-area soundstages. ("Hee Haw" may have taken place in fictional Kornfield County, but at least it was shot in Nashville.)
As advertisers sought urban big spenders, TV characters moved to big cities. Andy Griffith gave way to Jerry Seinfeld. In the 1990s, Southern-set shows like "Dawson's Creek" stood out.
But reality TV has broadened our horizons. The South no longer seems far away now that "Survivor" has taken us to Borneo. And a northerner named Tony Soprano has made cable shows ever more willing to look for eccentric — to say the least — protagonists.
Gavin says the success of Southern shows isn't about city folk laughing at their country cousins. "Moonshiners" actually does best with Southern audiences. And anyone tuning in to laugh at backward rednecks will be surprised.
The "Duck Dynasty" Robertsons were millionaires even before the show, thanks to their duck calls. Gavin describes Will Hayden, star of Discovery's "Sons of Guns," as "a blue-collar genius." She notes that "Moonshiners" star Tim Smith needs a brilliant scientific and legal mind to make moonshine without breaking laws. Smith's partner, Tickle, is about to get his own spinoff.
"On the one hand he says things that just have you rolling on the floor laughing. And then he'll tell you something about the solar system that is unbelievable," Gavin said. "And then we'll have a researcher on set say, 'He was right.'"