The Scoggins Report is The Wrap's bi-weekly analysis of the feature film development business. To download the PDF of this week's edition and receive early PDF editions in the future, sign up for Jason's mailing list via the form at the bottom of ItsontheGrid.com, a division of The Wrap. You can follow IOTG's Twitter feed here, and the Facebook page is here.
*****
With the Spring selling season behind us and Summer in full-swing, you'd expect the spec market to be completely dead. That's what happened last year, anyway; there were zero spec sales in July 2010 and just one in August.
But that's so 12 months ago. As you can see from the grids on the next pages, the spec business is still going strong. In fact, July may well end up on par with April and May's numbers.
2011's sales numbers in general have been as strong as we've seen since the 2007 WGA strike. Here's a direct comparison of the year-over-year numbers for January through June:

As you can see, the studios' collective appetite for specs (led by two studios in particular) has grown dramatically this year. Here are our favorite highlights from the last month:
• After trailing Columbia since February, Warner Bros. has jumped to the top of the Buyers list, with 2 spec purchases each in June and July. Their total of 8 for the year puts them just 1 shy of their 2010 tally and now 1 ahead of Columbia this year. The Burbank studio has bought 16 specs in the last 13 months; no other studio is even in the double digits over that span.
• UTA and WME are still tied for the lead among sellers, with 9 spec sales each, but expect a change by this time next month: UTA is entertaining offers for what will be its 10th sale of the year as of this writing, and third place CAA's 8th sale of the year happened after the cutoff for this report.
The numbers for 2011 through July 22 are below. Enjoy.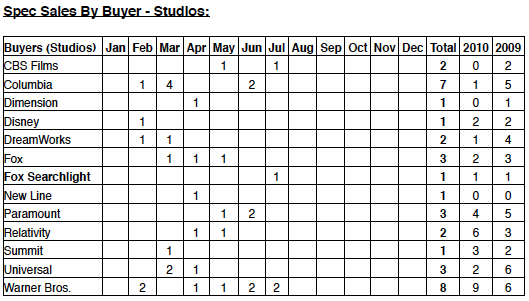 Each of the following production companies has been attached to at least one spec sale so far this year. Companies in bold are new since the last scorecard.
*****
If the above is your cup of tea, you'll love the ItsontheGrid.com blog. We post highlights of recent additions and changes to the database throughout the day, including individual posts on every spec that hits the market and roundups of new open writing assignments.