Hollywood has long been inhospitable to women, and it is only getting worse for those who are also aspiring screenwriters.
According to Suzana Orozco's analysis of recent sales of spec scripts — scripts written with no deal in place (hence speculative) — women make up a smaller percentage of those sales than any time in the last two decades.
While the spec script market as a whole has cooled from its heyday of the mid-1990s, the impact on female writers has been even more severe.
Between 1991 and 2000, women accounted for 14 percent of spec script sales. The numbers remained high in 2001, 2002 and 2003 as women sold more than 20 spec scripts each year.
Also read: Sexist Hollywood?: Women Still Struggle to Find Film Jobs, Study Finds
Since then the bottom has fallen out (see the chart above). Only three times – 2004, 2007 and 2009 – have female scribes sold more than 10 percent of specs. Female writers sold the same number of scripts in 2001 as they did in 2011 and 2012 combined.
Between 2010 and 2012, the last three full years this has been measured, scripts written by women constituted just 9 percent of sales.
Compare that to the ratio of women writers in other areas of entertainment: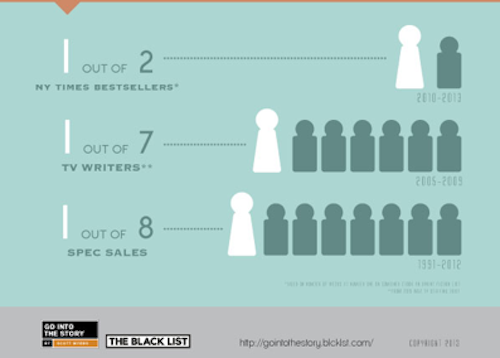 Translation: women have better luck selling books and TV shows than film spec scripts.
The ranks of active duty female soldiers is higher: Women constitute 14.5 percent of soldiers on active duty, well above the 9 percent of female screenwriters with spec sales between 2010 and 2012.