Is Meryl Streep having an even better awards-worthy year than we recognized? And is Alec Baldwin in line for a extremely rare feat? It's possible that she is, and he is, and the "It's Complicated" co-stars could have some nice awards-season complications of their own.
For months, awards-watchers have been talking about Streep possibly having two nomination-worthy roles this year, and of the potential conflict between Sony's best-actress Oscar campaign on behalf of Streep's performance in "Julie & Julia" and Universal's push for the same award for "It's Complicated."
"J&J" seems to be her likeliest bet, though Universal has derided suggestions that they'll soft-pedal their own campaign in deference to the Sony film as "nonsense."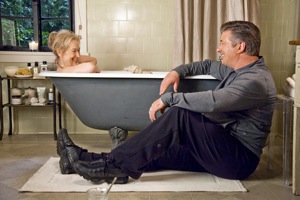 Overlooked in all of this is that she also has a third role that might be in the awards picture – not at the Oscars, mind you, but at the Screen Actors Guild Awards, where Wes Anderson's animated feature "Fantastic Mr. Fox" has qualified in the "outstanding performance by a cast in a motion picture" category.
Of course it's a longshot, though "Mr. Fox" is well-liked and the ensemble cast is starry enough to attract attention, with the likes of Streep, George Clooney, Bill Murray, Jason Schwartzman, Willem Dafoe and Owen Wilson.
It also puts Clooney in the running for a trifecta, given his performances in "Up in the Air" (where he's an almost certain nominee for both the Oscars and the SAG Awards) and "The Men Who Stare at Goats" (where he isn't).
Streep's "It's Complicated" co-star Baldwin, meanwhile, continues to pick up some buzz for his supporting performance in that film, though until the film begins to screen more actively (which it will do imminently), it's hard to tell just how reliable the reports of his fabulousness are.
But assuming that he really is in a position to land a supporting-actor nomination, it got me wondering: with Baldwin co-hosting the Oscar show with Steve Martin, when was the last time an Oscar host was also a nominee?
It hasn't happened often, and not since the 1986 Oscars. That's when Australian actor Paul Hogan co-hosted the show with Chevy Chase and Goldie Hawn, and was also a nominee – not for acting, but for co-writing "Crocodile Dundee."
The last time an acting nominee was also a host was the '75 Oscars, when Walter Matthau was a best-actor nominee for "The Sunshine Boys" and a host alongside Goldie Hawn (again), Gene Kelly, George Segal and Robert Shaw. Two years earlier, Michael Caine was one of four co-hosts, in addition to being a best-actor nominee for "Sleuth."
But when it comes to taking home Oscars on a night when he's also working, the champion is the guy who turned his purported failure to win Academy Awards into a running joke. Bob Hope never won a competitive Oscar, but he was given the Jean Hersholt Humanitarian Award, two honorary Oscars and two "special awards" – and all five presentations came during shows he hosted.
Presumably, Hope didn't use that "the Oscars, or as it's known in my house, Passover" line on those particular shows.