American Media Inc., publisher of the National Enquirer and Star magazines, has struck a deal with Playboy Enterprises to manage major parts of its struggling flagship magazine, according to a knowledgeable individual.
Under the terms of the deal, American Media will handle all back-end functions of the magazine, including marketing, subscriptions, while Hugh Hefner's team will continue to run the editorial.
As recently as last week, Playboy was said to be in preliminary talks with Iconix, the London-based owner of the Candie's and London Fog clothing brands, about a potential sale, according to Bloomberg.
A group led by former Playboy Entertainment chief James Griffiths was also in talks to buy the company for around $300 million, but the price was rejected as too low.
Playboy's total print and digital revenues fell about $10 million during the quarter to $22.9 million, down from $32.7 million in 2008 (this was due, in part, to Playboy combining its July and August issues).
Through September, Playboy's ad pages plummeted more than 35 percent, according to the Publishers Information Bureau.
During a conference call with investors earlier this month, Scott Flanders, Playboy's chief executive, said the magazine "will remain the flagship of this company," but it needs to "operate more efficiently" and more restructuring is needed (read: more layoffs).
Flanders added: "We will remain a magazine publisher. But we cannot continue to lose significant sums of money in this business."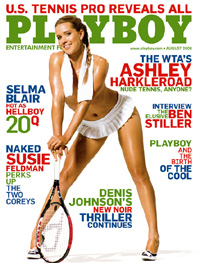 It was once hard to imagine a newsstand without Playboy magazine. But it's getting easier and easier to imagine. The company last month that it will move ahead with plans to cut its guaranteed rate base next year, and will hold its printing schedule at 10 issues per year in 2010 after reducing frequency in 2009.
It's worth noting that AMI, led by David Pecker, has had uneven success in terms of selling ads into the magazines it currently manages – although it has generally fared better than the industry at-large.
Here's AMI's ad page performance, through September:
Country Weekly | 505.71 (+18.0%)
Fit Pregnancy | 378.27 (-7.2%)
Flex | 2,060.49 (+12.3%)
Men's Fitness | 493.41 (-21.5%)
Muscle & Fitness | 1,582.71 (+10.3%)
National Enquirer | 625.13 (-0.4%)
Natural Health | 309.41 (-17.7%)
Shape | 971.48 (-12.1%)
Star | 843.48 (-6.1%)
Source: PIB
MORE TO READ: