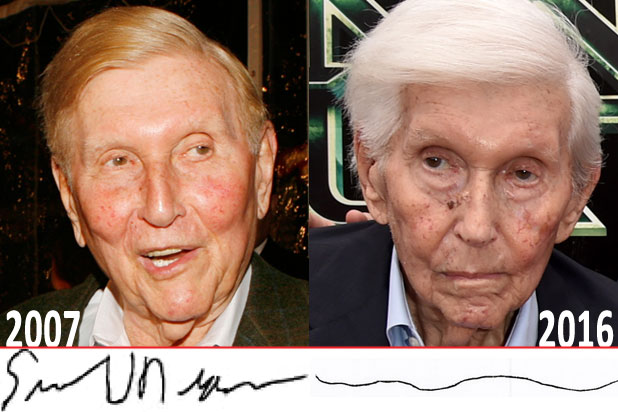 As legal wrangling rages over whether Sumner Redstone has command of his wits, a comparison of his signature on a letter this week with one from a decade ago reveals just how little control he has over his motor skills, TheWrap has found.
A letter on Tuesday from National Amusement to the Viacom board of directors from Redstone provided our first public glimpse in years at the 93-year-old's signature — if you can even call it that. The wavy line appearing above Redstone's printed name looks more like a forehead wrinkle than an autograph (see image).
Most Viacom and CBS filings over the last decade or more have been rubber-stamped with one of two pre-made Redstone signatures. In signatures on official documents surfaced by TheWrap those stamped signatures reflect a clearly legible autograph, and they're all identical.
But an investigation by TheWrap found a rare signature in 2007 that differs from all the other official signatures, and suggests the start of a loss in dexterity nearly a decade before the battle over his empire.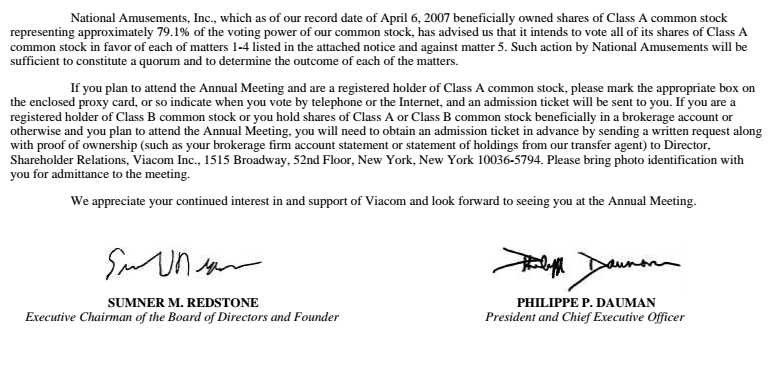 Still, even that signature is nothing like the current squiggle.
Also Read: Viacom Owner Rips Board for Bankrolling Philippe Dauman Lawsuit
For months, Redstone's daughter Shari, along with the rest of NAI's leadership, has been adamant about the sound mental state of the company's chairman and his capacity to continue making decisions concerning Viacom, of which National Amusements owns a majority stake.
In fact, a judge dismissed a hearing on Redstone's mental competency in May with prejudice despite expert testimony that his faculties have been "severely compromised."
Also Read: Here's the New Viacom Board After Dramatic Shakeup Move
Either way, National Amusements reasoned in the Tuesday letter that even if Redstone was not mentally capable of replacing the majority of Viacom's board as he did earlier this month, or Shari manipulated him into doing so — both being the opinions of outgoing board members Philippe Dauman, George Abrams and others — the move would still be perfectly legal.