At least one bidding record fell at this year's Sundance Film Festival, where studios and streaming companies like Netflix and Amazon compete for the right to release some of the best independent films of the year.
Many films are still up for grabs, but here is a list of what has sold so far, and for how much:
Also Read: Sundance Industry Panel: Indie Filmmakers Embrace Streaming Dollars
"Life, Animated" Sells to The Orchard
The Orchard acquired all North American rights to Roger Ross Williams' documentary "Life, Animated" on Feb. 3.
It is a coming-of-age story about Owen Suskind who suffered from autism since the age of three. Through Disney animation, he found a way to speak and make sense of the world.
"The Eagle Huntress" Sells to Sony Pictures Classics
Sony Pictures Classics acquired the rights to the Daisy Ridley-produced Sundance documentary "The Eagle Huntress," according to multiple media reports.
The film, directed by Otto Bell, follows a Mongolian teenager named Ashol-Pan who learns the art of falconry in a remote mountain region of her native country. It also documents her training for an annual competition that sees her competing against 70 male eagle hunters.
"Frank and Lola" Sells to Universal for $2 Million
Universal acquired Matthew M. Ross' psycho-sexual noir love story "Frank and Lola," which stars Michael Shannon and Imogen Poots. The $2 million deal calls for a theatrical release, which Universal is in the process of sorting out.
The studio will either release the film under its Focus Features label or through a third-party distributor. Shannon and Poots play the titular Las Vegas couple whose relationship is threatened when a man from Lola's past (Michael Nyqvist) returns into her life.
"The Hollars" Sells to Sony Pictures Classics
John Krasinski's "The Hollars" was acquired by Sony Pictures Classics ahead of its Sundance premiere Friday night. "13 Hours" star Krasinski leads a cast that includes Margo Martindale, Richard Jenkins, Sharlto Copley, Anna Kendrick, Charlie Day, Josh Groban, Mary Elizabeth Winstead and Randall Park.
"The Hollars" follows John Hollar (Krasinski), a struggling NYC artist who is forced to navigate the small middle-American town he left behind when news of his mother's illness brings him back home.
Also Read: John Krasinski's 'The Hollars' Acquired by Sony Pictures Classics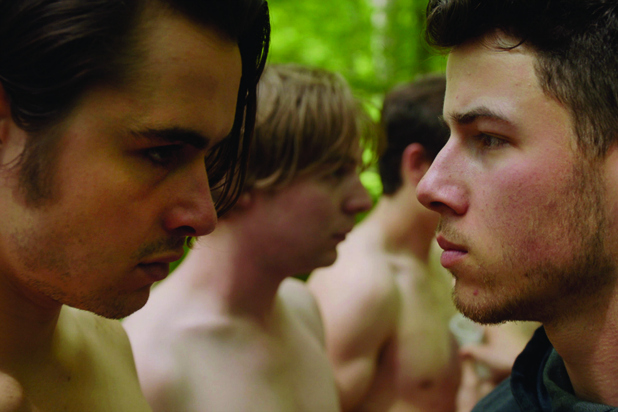 "Goat" Sells to Paramount Home Media for $2.25 Million
Paramount Home Media acquired the worldwide rights to the Nick Jonas fraternity-hazing drama "Goat" for $2.25 million on Friday. 

Based on true events chronicled in Brad Land's memoir, "Goat" stars Ben Schnetzer ("Pride") as young man pledging his older brother's fraternity following a violent assault that left him questioning his own manhood after he didn't fight back.
The drama is directed by Andrew Neel and the cast also includes Virginia Gardner, Austin Lyon and Danny Flaherty.
"Swiss Army Man" Sells to A24 for Low-Seven Figures
The Paul Dano-Daniel Radcliffe movie "Swiss Army Man" sold to A24 on Friday. A24 acquired U.S. distribution rights in a low seven-figure deal, beating out several other distributors.
Music video directors Daniel Kwan and Daniel Scheinert directed the offbeat film, which was produced by Miranda Bailey, Lawrence Inglee, Lauren Mann, Amanda Marshall, Eyal Rimmon and Jonathan Wang.
"The Intervention" Sells to Paramount Home Media
Paramount Home Media acquired worldwide rights to "The Intervention."
The dramedy marks the directorial debut of "Argo" and "American Horror Story" actress Clea DuVall and starsMelanie Lynskey, Cobie Smulders, Alia Shawkat, Natasha Lyonne, Vincent Piazza, Ben Schwartz, Jason Ritter and DuVall herself.
"The Intervention" follows a group of four couples who go on a weekend getaway when it takes a turn that the trip was planned as an intervention for one of the couple's marriage.
"Sleight" Sells to WWE Studios and Blumhouse Productions
WWE Studios and Blumhouse Productions partnered to acquire the worldwide rights to the thriller "Sleight." BH Tilt, a division of Blumhouse run by John Hegeman, will oversee the marketing of the film, as well as its release. WWE Studios is set to use its weekly TV shows, digital and social media platforms as well as the WWE Network to market the film.
"Sleight" is the directorial debut for J.D. Dillard, who also wrote the script along with Alex Theurer. The film stars Jacob Latimore ("Maze Runner"), Dule Hill ("Ballers") and Seychelle Gabriel ("Falling Skies")
"Audrie & Daisy" Sells to Netflix for Low-Seven Figures
Netflix acquired the rights to "Audrie & Daisy" on Wednesday.
The documentary is directed by filmmakers Bonni Cohen and John Shenk and is about the effects of cyberbullying on two different girls in their small towns. They attempt suicide after they are assaulted by boys they considered their friends.
"Audrie & Daisy" went for a low-seven figures and is qualifying for an awards run, an individual with knowledge of the deal told TheWrap. A theatrical partner is yet to be announced.
Also Read: Sundance Deals: Paramount Acquires Clea DuVall's 'The Intervention'
"Lo and Behold: Reveries of the Connected World" Sells to Magnolia Pictures
Magnolia Pictures acquired the worldwide rights to Werner Herzog's "Lo and Behold: Reveries of the Connected World" on Wednesday.
The documentary explores the past, present and future of the Internet. Premiering at Sundance Film Festival this week, "Lo and Behold" features interviews with tech pioneers, like PayPal and Tesla co-founder Elon Musk. The film is looking at a 2016 theatrical release.
"Hunt for the Wilderpeople" Sells to The Orchard for $2 Million
The Orchard acquired the North American rights to "Hunt for the Wilderpeople" for $2 million. With the deal came a commitment for a theatrical release in about 100 markets.
The film is written and directed by Taika Waititi, who is also on board to direct "Thor: Ragnarok" (as TheWrap was the first to report). "Hunt for the Wilderpeople" is about a national manhunt after a rebellious kid and his foster uncle disappear in the New Zealand bush.
"Weiner-Dog" Sells to Amazon
Amazon Studios cannot be stopped when it comes to acquiring hot Sundance movies. On Tuesday, the streaming service picked up the domestic rights to "Weiner-Dog," starring Greta Gerwig, Danny DeVito, Kieran Culkin, Julie Delpy and Ellen Burstyn.
Amazon committed to a significant theatrical release when negotiating the deal, but the film will be available on Amazon Prime somewhere down the line.
Also Read: Sundance Deals: Sam Neill's 'Hunt for the Wilderpeople' Picked Up by The Orchard
"The Fundamentals of Caring" Sells to Netflix for $7 Million
Paul Rudd and Craig Roberts struggle with looking after one another in Rob Burnett's comedy, but Netflix was more than happy to look after the SVOD rights for nearly $7 million. Netflix's deals for "Fundamentals of Caring" and "Tallulah" (below) do not include theatrical rights, meaning the streaming service will have to partner with a distributor that doesn't have an output deal.
"Fundamentals of Caring" stars Paul Rudd as a man who becomes a caregiver to a teenager with muscular dystrophy, played by Craig Roberts. They embark on a road trip and along the way, they become friends and meet a young woman played by Selena Gomez.
"Tallulah" Sells to Netflix for $5 Million
Netflix scooped exclusive SVOD rights to Sian Heder's "Tallulah" to the tune of $5 million, which follows Ellen Page as a nanny gone rogue. An unnamed theatrical partner will release the film in the latter part of 2016.
Page plays a rootless young woman who takes a toddler from a wealthy, negligent mother and passes the baby off as her own. Her decision transforms three very different women, including Janney's character, who mistakenly believes she's the child's grandmother.
"Orange is the New Black's" Uzo Aduba co-stars in "Tallulah" alongside Zachary Quinto, Tammy Blanchard, Evan Jonigkeit and John Benjamin Hickey.
Also Read: Ava DuVernay Rebrands Hollywood Diversity Issue: 'A Belonging Problem'
"Complete Unknown" Sells to Amazon
Rachel Weisz and Michael Shannon seduced Amazon into purchasing U.S. rights to this thriller, in which Weisz plays a mysterious dinner party guest who Shannon swears he's met before. Amazon will seek a theatrical distributor for later in the year.
The company has set a streaming premiere date for the fall, an individual familiar with the deal told TheWrap, and will also seek a theatrical distribution partner later this year.
"Love and Friendship" Sells to Amazon/Roadside 
Whit Stillman's reteaming of Chloe Sevigny and Kate Beckinsale goes from the after-hours life of "The Last Days of Disco" to the sidewalks of Jane Austen in "Love and Friendship." It now belongs to Amazon for streaming and Roadside Attractions for theatrical release.
Set in the 1790s, the film stars Kate Beckinsale, Chloe Sevigny, Stephen Fry, Xavier Samuel and Emma Greenwell.
Amazon acquired the North American rights for "Love & Friendship" in the summer of 2015, and the partnership with Roadside Attractions means that it will also come to theaters, following in the footsteps of Spike Lee's "Chi-Raq," which got a theatrical release in advance of a streaming rollout on Amazon.
"Under the Shadow" Sells to Netflix
The Iranian horror film "Under The Shadow" — which has been compared to "The Babadook" — had its SVOD rights go to Netflix. The film written and directed by Babak Anvari is set in Iran in 1988 during the Iran-Iraq War, and follows Shideh (Narges Rashidi) and her daughter Dorsa (Avin Manshadi) as they start to believe their home is haunted by "djinn," an evil spirit.
"Under the Shadow" will have a day-and-date released on digital and VOD platforms as well as a theatrical release in select territories. The film will debut on Netflix shortly after the theatrical debut, but the actual release date is still unannounced.
Also Read: Slave Revolt Drama 'Birth of a Nation' Sells to Fox Searchlight for $17.5 Million in Record Deal
"The Birth of a Nation" Sells to Fox Searchlight for $17.5 Million
Fox Searchlight closed a record-breaking deal to acquire worldwide rights to Nate Parker's "Birth of a Nation" for $17.5 million, which is believed to be the most paid for any film in Sundance history.
WME Global handled the bidding war, which also included the Weinstein Company, Sony and Netflix. The latter offered $20 million to outbid all of the traditional distributors. In the end, the filmmakers took less money, but went with a proven entity — indie powerhouse Fox Searchlight.
"Birth of a Nation" stars Parker as Nat Turner, who led a 48-hour slave rebellion against his white masters. Armie Hammer and Aja Naomi King co-star alongside Jackie Earle Haley and Jayson Warner Smith.
"Equity" Sells to Sony Classics
Sony Pictures Classics acquired worldwide rights to "Equity," a female-driven Wall Street tale starring Anna Gunn, James Purefoy, Sarah Megan Thomas and Alysia Reiner. The announcement was made hours before the film's world premiere on Monday.
"Equity" follows senior investment banker Naomi Bishop (Gunn), who thrives in the fierce world of big money dealings. When an IPO threatens her fragile balance of power and confidentiality, she becomes enmeshed in politics and deception.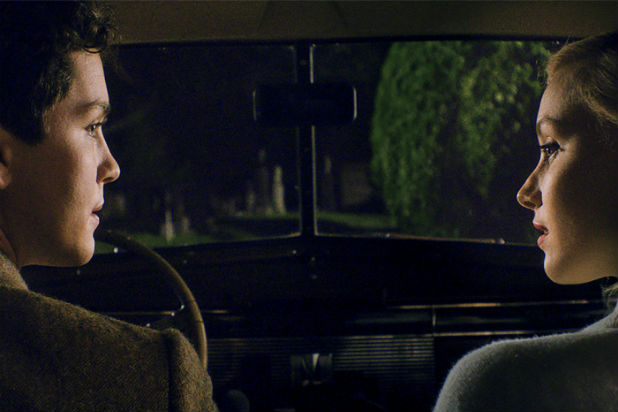 "Indignation" Sells to Summit for $2.5 Million
Lionsgate's Summit Entertainment acquired North American rights to James Schamus' directorial debut "Indignation" for $2.5 million. The coming-of-age drama is based on the novel by Philip Roth about the son of a kosher butcher who leaves his family in New Jersey to attend college in Ohio.
Set in 1951, "Indignation" drew respectful reviews at Sundance, where Schamus spent years on the other side of the negotiating table as the head of Good Machine and later, Focus Features.
Also Read: Sony Classics Acquires 'Equity,' Female-Driven Wall Street Saga
"Morris from America" Sells to A24 for Nearly Seven Figures
A24 acquired domestic rights to Chad Hartigan's "Morris From America," which stars Craig Robinson and newcomer Markees Christmas. The nearly seven-figure deal will fall under A24's pact with DirecTV, which recently released the company's Garrett Hedlund-Oscar Isaac thriller "Mojave."
"Morris From America" follows Morris (Christmas), a 13-year-old African-American boy, and his relationship with his father Curtis (Robinson). They are new residents of Heidelberg, Germany — a city of rich history but little diversity. Morris falls in love with a local German girl named Katrin, and his connection with her takes him on a journey that ends in self-discovery.
"Manchester by the Sea" Sells to Amazon for $10 Million
Amazon has closed a $10 million deal for domestic rights to Kenneth Lonergan's family drama "Manchester by the Sea," which garnered rave reviews following its world premiere at the Eccles on Jan. 23.
Set in the blue-collar Massachusetts coastal city of Manchester-by-the-Sea, the film stars Casey Affleck as Lee Chandler, who is drafted to be his nephew Patrick's legal guardian when his brother Joe (Kyle Chandler) dies.
"Manchester" could prove to be an awards contender, as Affleck and co-stars Lucas Hedges and Michelle Williams give wonderful performances.
"Author: The JT Leroy Story" Sells to Amazon
It's not surprising Amazon would have an affinity for a documentary about a literary sensation. The streaming company, spending freely at Sundance, nabbed rights to a doc about '90s author JT Leroy — who was also a fictional creation of San Francisco Laura Albert. WME negotiated the deal. Courtney Love was among the so-called author's biggest fans.
"Eat That Question" Sells to Sony Classics
Sony Pictures Classics acquired worldwide rights to the documentary "Eat That Question — Frank Zappa In His Own Words," about the legendary composer-musician. The film is told through archival footage assembled from the performer's 30-year career in entertainment, including rare TV interviews and performances from around the world.
"Eat That Question" debuted at Sundance on Monday, January 25 in the Documentary Premieres section.  It has also been pre-selected for Germany's top film awards, the LOLAs, and will next be showcased in the LOLA at Berlinale section of the Berlin Film Festival.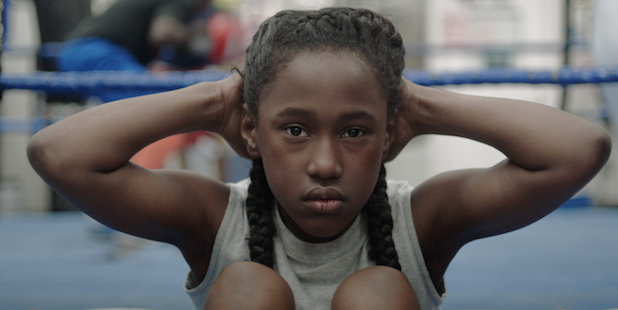 "The Fits" Sells to Oscilloscope Laboratories
Oscilloscope Laboratories acquired U.S. rights to Anna Rose Holmer's debut feature "The Fits" from Mongrel International, just days before the film's Sundance premiere. Oscilloscope will release the film theatrically this summer, when it will first open New York's new Metrograph theater.
Breakout newcomer Royalty Hightower stars as 11-year-old tomboy Toni, who is bewitched by the tight-knit dance team she sees practicing in the same Cincinnati, Ohio, gymnasium where she boxes.
"Resilience" Sells to Brainstorm Media
Brainstorm Media acquired the James Redford-directed "Resilience," which explores Adverse Childhood Experiences (ACES) and the effects of Toxic Stress on children.
It was sold for an undisclosed amount, but the company also simultaneously picked up its predecessor "Paper Tigers" for DVD and Digital release in the United States and Canada.