Eight was enough to fill Paramount's balance sheets this weekend and make a hit out of the mystery sci-fi movie.
"Super 8," produced by Steven Spielberg and directed by J.J. Abrams, grossed $38 million at the weekend box office, according to studio estimates, putting the $50 million sci-fi thriller about $10 million above pre-release forecasts.
"Super 8" also opened in a limited number of international territories, grossing an estimated $6.7 million at 652 foreign runs.
Also read: 'Super 8': Meet the Young Stars of J.J. Abrams' Retro Movie
The film generated $4.4 million playing on 239 IMAX screens for an $18,410-per-location average. IMAX runs accounted for 12 percent of "Super 8's" opening revenue.
The movie with the no-name cast and a 12-year-old-kids-save-the-day story arc was reminiscent to many of Spielberg efforts including "E.T.: The Extraterrestrial." It easily beat out No. 2 film "X-Men: First Class," which dropped about 53 percent from its premiere week and finished with $25 million.
Paramount general manager of distribution Don Harris acknowledged that the studio was nervous in the run-up to "Super 8's" release: Tracking was soft and the Paramount marketing department was somewhat contrained, given that the filmmakers didn't want to reveal key elements about the movie's plot.
Paramount, however, found an elixer in a social media promotion that drove moviegoers to paid Thursday screenings. These screenings — which netted about $1 million in box-office revenue — generated good word-of-mouth for the movie's official Friday launch.
"We concluded that the best tool we had was probably the movie itself," Harris noted.
Here's how the top 10 finished. Report continues below chart: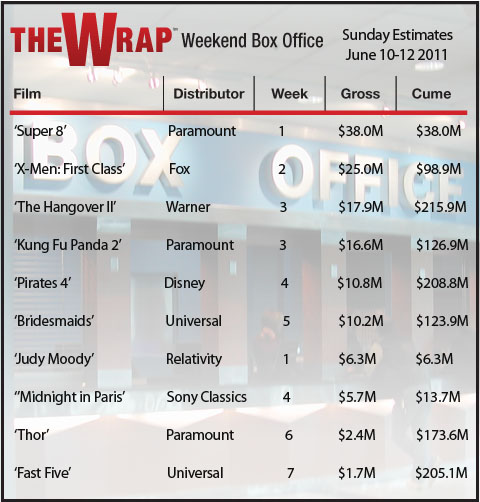 Only one other movie opened wide this weekend, with Relativity's youth-targeted "Judy Moody and the Not Bummer Summer" – distributed under service deal – hitting pre-release forecasts with an estimated $6.3 million for the weekend.
The PG-rated movie, which stars Heather Graham, was produced by Smokewood Entertainment at a cost of around $20 million. Relativity officials say the opening was in line with expectations and put the youth-novel adaptation on track for "modest profitability" across pay TV, Netflix and other post-theatrical channels.
One major expansion occurred this weekend, with Woody Allen film "Midnight in Paris" ramping up to 944 locations and grossing a solid $5.7 million in the process.
Meanwhile, two films hit the magic $200 million mark in North America.
Disney's "Pirates of the Caribbean: On Stranger Tides" grossed $10.8 million in its fourth weekend, bringing its domestic total to $208.8 million. The film has genterated a whopping $886.8 million worldwide and seems to be on pace to hit the $1 billion mark.
And the Legendary Pictures-co-produced "Hangover Part II" grossed an estimated $17.9 million in its third weekend, bringing its domestic total to $215.9 million.
Fox's "X-Men: First Class" just missed the century mark, finishing its second weekend with $98.9 million.
Universal's "Bridesmaids," meanwhile, continued to enjoy its status as an audience-driven hit, declining only 16 percent in its fifth weekend and upping its domestic total to $123.9 million.
But the big story at the box office this weekend was "Super 8."
Opening up in 3,379 locations — some of which ran preview screenings on Thursday, which totaled about $1 million of the film's revenue — "Super 8" garnered a B-plus grade from moviegoer survey firm Cinemascore.
Not surprisingly, considering the retro theme of the film — it's set in the early '80s and has a distinct feel of Spielberg movies of that era — "Super 8" garnered an audience that was 71 percent over the age of 25.
Fifty-six percent of the film's audience was male.
Overall, the domestic box office was down about 7 percent from the same weekend last year.