Super Bowl XLVII was the third most-watched show in U.S. television history with 108.4 milion viewers — but was down from the past two Super Bowls, which each set viewing records.
The news was sure to come as a disappointment to CBS, especially after preliminary numbers — which measure ratings in 56 markets around the country — found that the Super Bowl was the highest-rated ever in those areas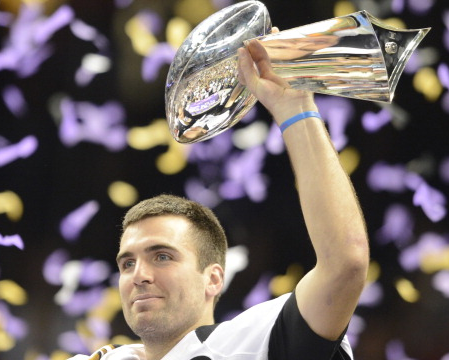 .
Last year's Super Bowl XLVI –won by the New York Giants over the New England Patriots — had 111.3 million viewers and remains the most-watched television event. Super Bowl XLV in 2011– won by the Green Bay Packers over the the Pittsburgh Steelers — had 111.0 million viewers. In both 2011 and 2012, the game broke the previous viewership record. That streak ended with Sunday's game, which was marred by a 34-minute delay in play because of a partial blackout at New Orleans' Superdome.
Sunday's game between the Baltimore Ravens and the San Francisco 49ers was the second highest-rated since the Chicago Bears-New England Patriots game of 1986, CBS said. Super Bowl XLVII had an average fast national household rating/share of 46.3/69. The 1986 game had a 48.3/70.
CBS also pointed to another silver lining: A record 164.1 million total viewers watched at least six minutes of the telecast. That was the most ever viewers to watch at least six minutes, up from the previous record of 162.9 million for the Green Packers-Pittsburgh Steelers game in 2011.
An airing of the freshman drama "Elementary" after the game, meanwhile, was down dramatically from an episode of "The Voice" that NBC aired after the Super Bowl last year. But "Elementary" had a good excuse: It aired later than any previous post-Super Bowl program because of the long delay caused by the power outage in the game.
"Elementary" had a 7.8 rating in the key 18-49 demographic and 20.8 million total viewers. That was enough to make it the highest-rated entertainment broadcast of the year in the demo.
"The Voice," by comparison, had a 16.3 rating and 37.6 million total viewers last year.
CBS initially had reason to believe Sunday's game might continue the Super Bowl's streak of setting a new viewership record each year. In the metered market numbers that came out early Monday, the game scored an all-time high of 48.1/71. But as data came in from the rest of the country, it became apparent a new record was not to be.
The news was a letdown to advertisers, as well. CBS CEO Les Moonves said before the game that his network charged more than $4 million for some ads, up from the $3.5 million NBC charged the year before. That means some of this year's advertisers seem to have paid more money for fewer eyes.