If you can stream it, GIF-it, rant about it, or share it on your phone, it's at SXSW in Austin.
The 31st edition of the SXSW Conferences and Festivals gets underway this weekend (Mar. 10-12).
There is a year's worth of ideas and people pointing the way to the future of interactive, music, sports, comedy and film. From hundreds of invites, we've culled 11 events that caught our eye as choice places to meet, greet, and deplete a cocktail in Texas' unruly, blue-state, stepchild city.
Also Read: SXSW Plans to Remove Immigration Clause, Backs Away From Deportation Threats
This list is non-comprehensive and just a sliver of the scene in Austin.
To even get to the person with the Ipad doing check-in, you need to know two things about Austin:
1. There is no Lyft.
2. There is no Uber.
The city gave the Coke and Pepsi of ride-sharing the heave-ho last May.
As Twitter was the breakout app of SXSW 2007, a suite of upstart ride-sharing apps could win global fans at SXSW 2017 in the age of #DeleteUber.

The Party Report's local Austin event whisperer suggests these app alternatives: Fasten (official SXSW ride sharing app), Fare, Ride Austin, and Wingz (which allows for scheduling rides in advance and is geared heavily towards easy airport transfers.) If all else fails, there are the pedi-cabs.
Also Read: Watch 'Breaking Bad' Star in First-Time Burglar Indie Comedy 'A Bad Idea Gone Wrong' (Exclusive Video)
On to the parties:
An Evening of "La La Land Music"
Sunday March 12
7-10 p.m.
Lionsgate Lounge (Cedar Street Courtyard)
A lifetime of hack, limp, awards show presenter jokes referencing the great Oscar screw-up of 2017 awaits every trophy ceremony for the foreseeable future.
Until then, enjoy an undeniable winner.
Double Oscar winning composer Justin Hurwitz (who wrote "City of Stars" and other tunes from the flick) will do a piano-side Q&A with cocktails to follow. It's at Cedar Street, not "Seb's".
Also, Justin Hurwitz is not Jordan Horowitz.
Lil Wayne and Friends at Stubbs
Thursday night, March 16
Stubbs

Huge star, cool friends (we see you DJ Mustard and Dave East), and a small venue. Line up now.
Also Read: TheWrap's First BE Conference Partners with LinkedIn For Millennial Women Lounge During SXSW
YouTube's Showcases with Migos, James Hersey, Chloe X Halle and More
Wednesday Mar. 15 – Friday, Mar. 17
Coppertank (504 Trinity St.)

In 2017, Migos has had the No. 1 song in the world ("Bad and Boujee").
After winning at the Grammys, the trio was Chance the Rapper's choice to party and sing with at his GQ after-party at the Chateau Marmont (above).
Add in other heat seekers like James Hersey (on his way to being the next James Bay) and self-made teen trendsetting sisters with actual talent (Chloe X Halle) and we see that YouTube culls from the top.
"We're going to have the loudest mics, best lights, best drinks and the best fans in all of Austin, which means we're going to give artists the best time they'll have all week." said Lyor Cohen, YouTube's Global Head of Music.
"Sway in the Morning" will broadcast his SiriusXM show from the venue. At the "YouTube Corner" at 5th and Brazos, the video giant will be showing off their new six second ad format, Daydream VR, and demos on the scale and scope of their daily audience.
Selected Top Shows:
-James Hersey: Wednesday, March 15 (3 p.m.)
-Chloe x Halle: Friday, March 17 (4:10 p.m.)
-Migos, Lil Yachty, Kodie Shane: Friday, March 17 (10 p.m.)
VICELAND Bus
On the Move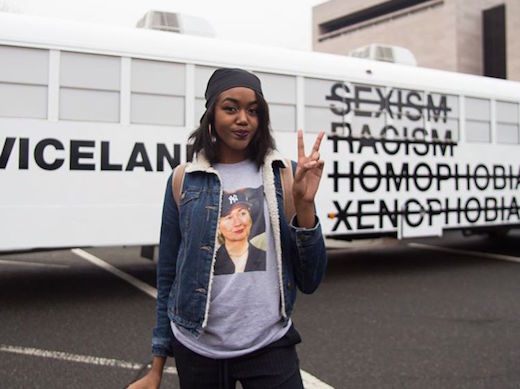 Catch the white converted school bus brimming with as much attitude and perspective as the TV channel and its personalities. The VICELAND bus is not exclusively cocktails in plastic cups and on-board breakdance circles, though the leather benches inside could already tell those tales.
In the past few months the karaoke machine on-board has drawn revelers at the Women's March in D.C., Art Basel, and Outside Lands.

Giphy
Saturday, March 11, 1-4 p.m.
La Barbecue

It's time for BBQ and Brews with the crew who makes the internet laugh. Who wouldn't want to meet these people in the flesh? Lightspeed Ventures co-hosts.
Octavia Spencer's "Small Town Crime" After-Party
Summit Rooftop (Part of the Supper Suite Series)
Saturday, March 11 5 p.m.

After its Saturday afternoon premiere at the Paramount, the recent Oscar nominee hosts a rooftop patio soiree. The plot is based on a murder investigation and has a killer cast: John Hawkes, Michael Vartan, Robert Forster, Clifton Collins Jr., and the hostess herself.
Rooster Teeth & FullScreen: Most Wanted Happy Hour
Sun. March 12, 5 -7 p.m.
Voodoo Doughnut (212 E. 6th Street)

Why is this most wanted?
Burnie Burns and his Rooster Teeth studio put out more content in a week than most Hollywood studios do in a year. Anchored in Austin year-round, trust the locals. Go where they go.
Burns, Barbara Dunkelman, and friends are pairing in-demand Voodoo Doughnuts with pours form Stillhouse Whisky and Rogue Ales & Spirits.
Rachael Ray's 10th Annual Feedback ft. Weezer, De La Soul, Action Bronson and More
Saturday, March 18, 10 a.m. – 4 p.m.
Stubbs (901 Red River St.)



Here's one with a big name celebrity that's free and open to the public.
The TV chef has been throwing her own one-day festival for a decade, known for long lines and a chow down menu.
"I want people to feel like they are in our backyard," Ray told Entertainment Tonight.
Ray is tapped in to Austin's cheese-heavy take on Tex-Mex, a departure from California's less dairy-doused menus. Here are the side dishes for the music: Tater Tot Nachos, hot dogs with queso, and corn with queso. Sorry vegans.
Look out for Ray. She's been known to take the stage herself. Also keep an eye out for Insterscope's foray in to booze. The label will be slinging its disposable single serve wine "Electric Sky." Fans have been stacking the empties in to towers at recent music festivals.
Awesomeness HQ
Friday, March 10 – Sunday, March 12 (Various times)
84 Rainey St.



Amongst the array of performers and formats flowing from the Gen-Z media company, Todrick Hall's documentary premiere and after-party for "Behind the Curtain" (Sat. night, March 11) will be a highlight of Awesomeness' three-day satellite in Austin.
Before the national tour of Hall's musical "Straight Outta Oz" opens at the end of this month, the documentary goes behind the scenes as a "making-of" on the multi-hyphenate talent.
G-Funk Party
Saturday night, March 11, Midnight – 2 a.m.
The Highball (1120 S. Lamar Blvd.)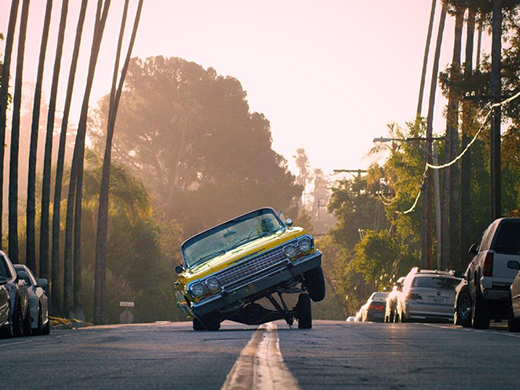 Twenty-two year old documentarian Karam Gill chronicles the rise of Warren G., Snoop Dogg, and Nate Dogg's sound that put them and Long Beach on the map a few years before this director was born. Get to this after-party early and stake out your ground. There will be a performance.
#UKatSXSW
Interactive: Great Britain House, March 11-13 (Speakeasy, 412 Congress Ave.)
Music: British Music Embassy, March 13-18 (Latitude 30, 512 San Jacinto)
Film: British Film at SXSW (March 10-18)
For those of us yet to make good on our promise to leave the U.S. if Hillary Clinton did not win, here's the closest we can get while in Texas' bluest county.
The UK's Department for International Trade has all three areas of the fest covered for networking and showcasing the best in British creativity, aimed at both Brits in Texas and Anglophiles at the fest. Check www.ukinaustin.com for programming and access details.
All events are private and by invite only unless otherwise specified.
Please send invites and updates to the party columnist Mikey Glazer here.