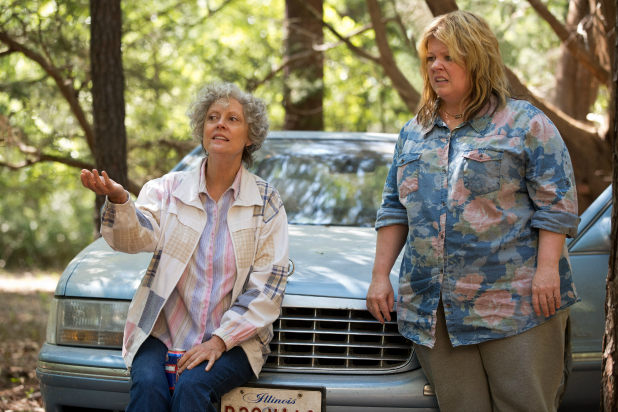 One of the questions that comes up a lot in Screenwriting 101 classes is, "What does the protagonist want?" It's a question that co-writers Melissa McCarthy and Ben Falcone might have considered in "Tammy," since it's never really clear who the title character (played by McCarthy) even is, much less what her drives (and eventual goals) might be.
I certainly wanted to like Tammy, and "Tammy," since I've been a fan of McCarthy going all the way back to her work on "Gilmore Girls," and at Los Angeles' Groundlings improv theater prior to her dynamic, Oscar-nominated turn in "Bridesmaids." But she and her husband Falcone (who also directed) have created a character comedy that's missing both comedy and character.
See video: Melissa McCarthy Gets Away and Gets Caught in New 'Tammy' Trailer (Video)
Tammy opens the film by hitting a deer with her car (not to worry, it's only stunned), which makes her late to her fast-food job. Her uptight manager (Falcone) fires her, her car dies halfway home, and she arrives at her house only to find her husband (Nat Faxon) having a romantic dinner with their next-door neighbor (Toni Collette).
Going home crying to her mother Deb (Allison Janney), Tammy announces she's leaving town, a vow she's apparently made and broken many times before. This time, however, her grandma Pearl (Susan Sarandon) is willing to throw in seed money and a car if Tammy will take her away from Deb and her threats to put Pearl in a nursing home.
The two hit the highway and get into a number of scrapes — "Thelma & Louise," this ain't, Sarandon or no — and along the way we learn that Tammy felt abandoned at the age of 10 when Pearl suddenly packed up and left. We also discover that Pearl is a full-on alcoholic and diabetic who has left all her pills at home. (The prescribed ones, anyway.)
See photo: 'Tammy' L.A. Premiere: Melissa McCarthy, Ben Falcone, Susan Sarandon, Will Ferrell (Photos)
Not that you can't introduce concepts like alcoholism and diabetes into what's supposed to be a raucous road comedy, but "Tammy" is so lackadaisical in its pacing and in its character development that these big issues come crashing down on the movie like a meteor shower.
They're as random and as awkward as the contrived romance between Tammy and nice-guy farmer Bobby (Mark Duplass), which also comes out of nowhere. McCarthy and Duplass have a charming chemistry together, but the screenplay never provides the glue that makes them into a believable couple.
In general, this is a fine cast (Kathy Bates and Sandra Oh pop up later as a pair of wealthy lesbians) giving their all to material that isn't giving enough back. As for Sarandon, she's clearly miscast as a character who's supposed to be a crotchety old granny. At age 67, she's still youthful and spry enough to come off like a teenage actress trying to teeter her way through a high school production of "Arsenic and Old Lace" in a grey wig and fake glasses.
Also read: Melissa McCarthy Allegedly Fires Extra from 'Tammy' Set for Abusing Child
Melissa McCarthy is the kind of singular talent who will have to chart her own course through Hollywood, and she's to be commended for steering her own ship. That said, she and Falcone might be wise to find someone trustworthy enough to take the helm and keep them away from leaky tugboats like "Tammy."