Julie Taymor's Shakespeare adaptation "The Tempest" will be the closing-night attraction at the 67th Venice International Film Festival, which kicks off Sept. 1 with Darren Aronofsky's "Black Swan" and runs through Sept. 11.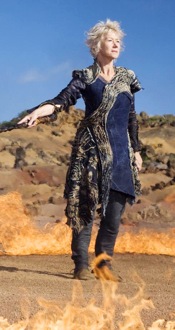 Helen Mirren, Ben Whishaw and Djimon Honsou star in the film from Taymor, the onetime avant garde theater director who had a smash hit with the Broadway adaptation of "The Lion King." She also directed the films "Frida" and "Across the Universe," along with the Shakespeare-derived "Titus."
"Tempest" will be released in December by Touchstone.
On Monday, Venice also announced the makeup of the festival jury, which the festival previously announced would be chaired by director Quentin Tarantino.
The other jurors include one American, composer Danny Elfman, along with Lithuanian actress Ingeborga Dapkūnaitė ("Burnt by the Sun"), and an array of international writer-directors: Guillermo Arriaga ("Babel," "The Burning Plain"), Arnaud Desplechin ("Kings and Queens"), Luca Guadagnino ("I Am Love") and Gabriele Salvatores ("Mediterraneo").
The jury hands out two honors, the Golden Lion and the Jury Award. Previous winners of the Golden Lion include "The Wrestler," "Lust, Caution" and "Brokeback Mountain."