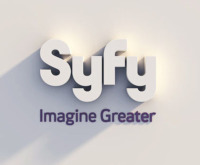 Syfy made a slew of big announcements at the annual TCA summer press tour including a packed development slate, a start date for "Hunting Hollywood," an expanded episode order for "Fact or Faked" and a frightening field trip for the "Real Housewives of Atlanta Cast."
"Hunting Hollywood," a reality show about a pop culture memorabilia auctioneer, will debut Nov. 4. Syfy initially ordered six episodes of the show in June. Another Syfy reality show, "Fact or Faked: Paranormal Files" was picked up for six more episodes in addition to the six already on tap for July.
Both decisions were announced by Mark Stern, Syfy's executive vice president of original content and the co-head of original content for Universal Cable Productions.
Stern also revealed Syfy's development slate, which includes seven new projects:
–"Legendary," which features former "Hercules" star Kevin Sorbo playing a former syndicated action star who finds himself involved in a real-life battle against monsters that attack Los Angeles.
–"Human Relations"– the story of the daily doings at an alien ad agency where some of the employees have a plot to destroy the Earth.
–"Me and Lee" stars Lee Majors as the operator of a high tech lab that gives a young man a bionic body.
–"Ball & Chain" tells the story of a pair of superheroes going through a bad breakup. "Orion" follows a female treasure hunter and the crew of her spaceship.
–"Sherwood" is a 23rd century take on "Robin Hood."
–"Zeros" is a satire about the crew of the Zombie Extermination and Removal Operations company "
Syfy also announced that "The Real Housewives of Atlanta's" Sheree Whitfield, NeNe Leakes and Kim Zolciak will appear on an episode of "Ghost Hunters" filmed at Rhodes Hall in Atlanta. The episode is slated to air sometime this fall.
Previously: NBC Goes 'Undercovers,' Dick Wolf Speaks