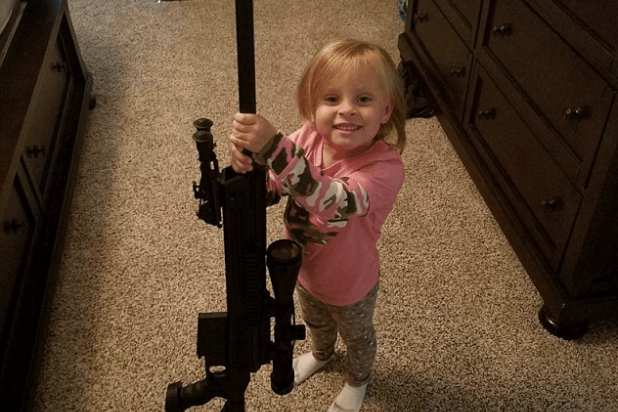 Jeremy Calvert, star of MTV's reality show "Teen Mom 2," defended posting a picture of his 3-year-old daughter with an unloaded rifle, declaring, "NRA all the way."
Calvert got lots of angry responses earlier this week when he posted an image of his daughter Adalynn with a hunting rifle and shared the image online. Late Tuesday, he followed up with a lengthy message in which he explained that he was teaching her about gun safety.
"Okay to all you idiots, I was taught the correct way to handle a firearm at a very young age, and guess what – so will my child," he wrote. "Therefore with all that being said all guns in my house are locked up behind a closed door duh. I check every firearm before I put them up after shooting to make sure they r unloaded also its hard to clean a gun after shooting it if bullets are still in it. So for all you people out there who seem to really think ur opinion matters and you hate guns I honestly don't give sh*t."
Also Read: Donald Trump Quadruple Calls Out NBC's Katy Tur at Rally, Spawns #ImWithTur
Calvert, 27, is the ex-husband of Leah Messer-Calvert and stepfather to twins, as well as the father of Adalynn, the girl who posed with the gun.
He continued: "My child is PROTECTED while in my care clearly :). And to all of you who are against guns and don't have them nor want them I hope no one ever tries to enter your home and bring harm to your family. I think that's more dangerous now days that owning a firearm and knowing the proper way to use it in case of emergency. Unless ur going to wait around and hope the law is super fast getting to you. Good luck….. NRA all the way….."
He captioned the original photo: "She said daddy, lets go hunting and shoot a coyote… lol better watch out boys she wont miss lol haha… p.s. yes people its a gun and its also unloaded get over it…. #daddieshunter #mybaby"
Also Read: Donald Trump Rape Accuser Cancels News Conference Over 'Numerous Threats'
The National Rifle Association did not immediately respond to a request for comment Wednesday on the appropriate age for children to hold firearms.
The second season of MTV's "Teen Mom," which premiered in January 2011, followed ex-cheerleader Leah Messer as she tried to work it out with her ex-husband Corey Simms, the father of her two daughters.
She married Jeremy Calvert in 2012, and Adalynn was born in 2013.
Here's the original photo: