It's official: Telluride is George Clooney's town now. Everyone else — Glenn Close, Tilda Swinton, Jennifer Garner, the dogs, the hippies, even the Lauren and Bush clans up in the mountains — just lives in it.
The 38th annual festival may have peaked at the very outset with its first screening, Friday's world premiere of Alexander Payne's "The Descendants," about which it's been difficult to find a discouraging word. That eerie unanimity hasn't carried over to any other film, though the U.S. debut of Cannes favorite "The Artist" has incited nearly the same effusiveness.
Also read: George Clooney's 'Descendants' Sucks Up All the Air at Telluride Fest
Love for Payne's film would have been undiminished even if Clooney hadn't made it to town. It doesn't hurt that he's effortlessly charmed everyone in the valley, and a weekend that began with the festival's controversial — and soon-rescinded — edict to the press to not photograph him looks to end with the actor-director having spent quality time with everyone but the town dogs (and even they may yet get an audience).
Asked at a panel how he deals with the crush of admirers, Clooney kept his tongue lodged well into the sexiest cheek alive.
"I drink — a lot," he said. "And up here at this elevation, you can get pretty f—ed up" with just one or two shots, he noted. "It's cheap drinkin' up here!"
Also read: Venice Fest: Roman Polanski Gets Mean, Keira Knightley Gets Hysterical
Other actors have been highly accessible at this most relaxed of festivals, including Glenn Close. ("She's in it to win it," remarked one admiring publicist for a rival Oscar hopeful.) But chatter on the gondola has been divided over Close's passion project, "Albert Nobbs," as it has been for David Cronenberg's Freud-Jung-spanking parlor drama, "A Dangerous Method," and especially the unannounced sneak preview of "Butter," a broadly satirical, red-state-baiting comedy co-produced by leading lady Jennifer Garner.
Here's the buzz on 10 key films playing Telluride through the Monday night close:
1. THE DESCENDANTS. How much do audiences and critics adore Alexander Payne's first film since "Sideways"? Let them count the ways, to the probable annoyance of everyone who won't have a shot at seeing it until Fox Searchlight releases it in theaters Nov. 23. By any reckoning, the comic drama is 25 times better than the iffy trailer suggested, with its absentee-dad-reconnects-with-daughters-via-tragedy theme just one of several wrinkles in the screenplay's tonal tightrope walk. Clooney has more heart than he's yet been allowed on screen, and even actors with only two or three scenes, like Robert Forster and Judy Greer, get enough time to do comedy and heartbreak.
Industry bloggers wore their hearts on their sleeves. Wrote Hollywood Elsewhere's Jeffrey Wells, "I for one love the abrupt, subtle tonal shifts between straight drama and whaddaya-gonna-do, throw-up-your-hands, low-key comedy. Perfect." "If Searchlight makes all the right movies, the movie should sail through the award season fray," said IndieWire's Anne Thompson. Only In Contention's Kris Tapley was lukewarm, calling it "a bit Payne-light" and saying he's "not really sure" if it'll "wrangle a Best Picture nomination" — a prediction few others are holding back on.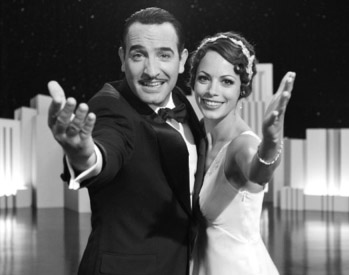 2. THE ARTIST. If the Weinsteins play their cards — and their title and dialogue cards — right, "The Artist" could be the first hit silent film since, well, Mel Brooks' "Silent Movie"… if not since the actual early 1930s. Audiences haven't seemed to mind that its plot — basically, "A Star is Born" with a happy ending — is far cornier than any of the classic silent films whose formal conventions the filmmaker apes so well. It's playing as an across-the-board crowd-pleaser that, judging from the evangelistic zeal of Telluride attendees, may well break out of arthouses into mainstream cineplexes.
3. BUTTER. Hundreds were turned away from Saturday night's world premiere and "sneak preview" of a competitiveness-in-the-sticks comedy that's being compared to everything from "Smile" to "Little Miss Sunshine." Laughter echoed through the Galaxy, but some exited with sour faces, thanks to the film's broad Midwestern stereotypes and condescending attitude toward the flyover states.
Jennifer Garner's production company generated the project, and it's as if she and the filmmakers started with the idea of coming up with a shrill Sarah Palin-like harridan to poke fun at, then worked backward to give her some crowd-pleasing foils — including an impossibly precocious 11-year-old black girl who competes against her for a butter-sculpture championship. Patronizing or not, there were plenty of attendees willing and able to guffaw at Iowans making butter sculptures of the Last Supper and Newt Gingrich. Garner was bold — maybe too bold — in making her right-winger unrelentingly shrewish. But there's some amusement to the myriad supporting turns, including Olivia Wilde being cast against type as Iowa's most stunning stripper, and finally playing a human being (sort of) after "Tron: Legacy" and "Cowboys & Aliens."
Awards Daily's Sasha Stone gave the picture high marks, but other bloggers didn't melt for it. "The Galaxy ate up this political comedy," tweeted Thompson, "but it left me cold. Laughter, but will be tough sell for TWC." Wells was more up-front about the festival-worthiness of the film, tweeting, "Why did the Telluride Film Festival, a mecca for quality, screen a socio-political satire as thin, silly and haphazardly written as 'Butter'?"
4. ALBERT NOBBS. Telluride is famous for launching one gender-bending hit, "The Crying Game," so hopes were high that Glenn Close's turn at doing drag throughout this period piece would result in another popular success. Her title character is a woman in 1890s Dublin who's lived most of her life disguised as a man, thanks to being a butler and waiter, professions that lend themselves to invisibility. With the help of makeup and minor prosthetics, Close plays Nobbs as a sort of sexual and social naif with a perpetual look of servitude, naivete, and surprise, in a bravura acting turn that's stunning in its simplicity and reserve. But reaction at Telluride has mostly been along the lines of "love the performance; (merely) like the film."
Wrote Tapley, "It's an intriguing character, but one that feels somewhat closed off to the audience. That works, given the circumstances, up to a point, but before long it becomes of a piece with the film's claustrophobic nature." Wells called the film "moderately affecting" and cited the audience's "somewhat muted reaction, while adding that Close gives "a classic minimalist performance." But he had even higher praise for Broadway veteran Janet McTeer, another woman posing as a man, predicting an additional Oscar nom for McTeer and saying her supporting performance "has the dignity, heart and heat."
5. A DANGEROUS METHOD. If Olivia Wilde was cast against type in "Butter," double that for "Method's" Keira Knightley, whose spanked bottom, exposed nipples, and borderline-psychotic tantrums provide filmgoers not inherently fascinated by psychoanalytic theory a reason to check out David Cronenberg's otherwise pretty academic Freud/Jung biopic. In the opening scenes, she's being transported for treatment while acting out in almost Linda Blair fashion, sticking out her jaw more than any film actor since Billy Bob Thornton graced Telluride with "Sling Blade." "Her jaw is the fourth character in that movie," joked one festival staffer.
Characters two and three are Michael Fassbender (also seen at the festival in "Shame") and Viggo Mortensen, as competing pioneers of psychoanalysis who play their cards close to the vest, even when one of them is wielding a powerful paddle. It's dry stuff, the few sex-and-punishment scenes notwithstanding. But where else but Telluride would you find patrons on bicycles riding the streets at 1 a.m. arguing about how well the film portrays the genesis of theories of "individuation"?
Having already premiered in Venice a few days ago, "Method" arrived in Telluride with diminished expectations for its Oscar chances — which allowed some Colorado admirers to argue that it'd been prematurely dismissed overseas. The most appreciative tweeting came from Anne Thompson, who wrote, "'Dangerous Method' is intellectual catnip for smart-house crowd, or anyone who's ever been in love, likes S+M, or in therapy… Brave Knightley performance divides reviewers, like movie, which may be too kinky for Oscar voters." Too dry for the Academy, then, or too raunchy … or both?
6. IN DARKNESS. Director Agnieska Holland has described this as her "third Holocaust movie, and hopefully last. 'Trilogy' sounds good." She saved the best for last, with this grim but gripping true-life tale of dozens of Polish Jews who spent 14 months hiding from their hunters in a sewer system. Most of the movie takes place in the underground darkness, which may not sound like ideal lighting for a two-and-a-half-hour sit. But Holland stages dank action and suspense sequences as terrifically as she does the character interaction, among terrified refugees who — it's worth pointing out — can be just as horny hiding amid the smell of human waste as they were above ground.
Most of the industry bloggers haven't caught "In Darkness" yet, but Movie City News' David Poland has already put it up as its choice for foreign-language Oscar nominee. And although nothing about that category's nominating process is predictable, Holland has a strong chance of awards contention bringing a difficult sell that has strong payoffs for the audience into the light.
7. SHAME. Steve McQueen's psychosexual drama got strong notices out of Venice over the weekend, and it's getting its first U.S. showing in Telluride on Sunday. Audiences that didn't get enough of the fleeting naughty scenes in "A Dangerous Method" apparently have a lot more coming to them when this very, very NC-17 film unspools Sunday and Monday.
8. INTO THE ABYSS. Werner Herzog is the oft-returning patron saint of Telluride, so praise for his nearly annual films here have to be taken with a slight grain of salt. But those who've caught the initial screenings of this capital-punishment documentary swear it's one of the director's recent finest. "Best of the fest so far," blogged Tapley.
9. LIVING IN THE MATERIAL WORLD. Martin Scorsese launched his brilliant Bob Dylan biopic "No Direction Home" at Telluride, so it was little surprise when his three-and-a-half hour George Harrison documentary premiered here Friday, in advance of an early October TV bow on HBO. Festival guest Greil Marcus promised that the Dylan pic "pales against" Scorsese's followup, but audiences haven't necessarily been in agreement, with complaints that it feels like a great collection of film clips and interviews but not necessarily an actual narrative. Still, Beatlemaniacs will be over the moon, not just about the fresh anecdotes and unheard demos, but a 5.1 audio remix of dozens of included Fab Four and Harrison tunes, overseen by Giles Martin.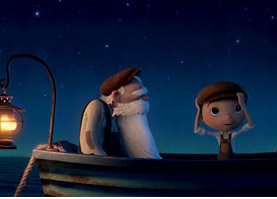 10. LA LUNA/PINA. Pixar showed off one of its most magical shorts to date, "La Luna," a 3D quickie that demonstrates just how two men, a boy, an anchor, and a rake keep up the maintenance on the moon's ever-changing shape. The short preceded a terrific 3D feature, Wim Winder's "Pina," 100 minutes of modern dance performances brilliantly captured on stage, on beaches and cliffs, and even on traffic medians. It immediately joins Herzog's "Cave of Forgotten Dreams" in the very short pantheon of art-house documentaries that require those special glasses — and might even convince Roger Ebert to convert to the cause.
Audience praise has also been high for "Le Havre" and the documentary "The Island President" as well as Cannes imports "A Separation" and "The Kid With a Bike," which are gradually rolling out over the weekend.