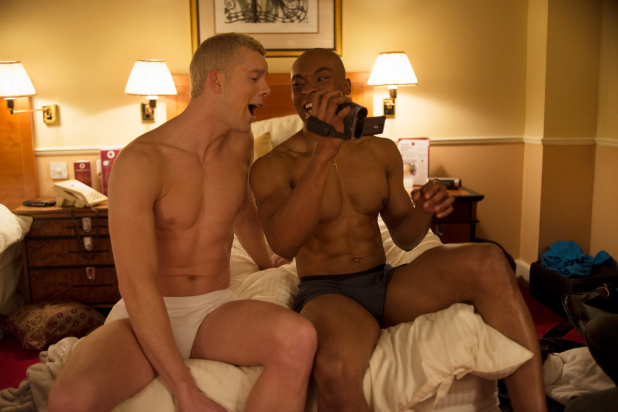 Russell Tovey appeared as a closeted football player in John Donnelly's play "The Pass" at London's Royal Court Theatre in 2014. The mostly well-reviewed play is divided into three sections, and this structure has been retained in director Ben A. Williams' film version, which just had its North American premiere at the NewFest festival in New York City. The play has not been "opened up" for this movie and keeps the focus on the drama between the main characters in enclosed spaces.
Williams utilizes fast editing and graceful hand-held camerawork for the first sequence, set in 2006 in Bucharest, where we see young footballer Jason (Tovey) sharing a hotel room with his friend, Ade (Arinzé Kene). They jump rope and tease each other and engage in lots of physical horseplay that treads a very thin line between homo-social and homosexual, and there's lots of British slang to take in here, such as "dipping his willy" and "all-consuming hunt for minge."
Tovey is wearing only tighty-whities in this first part of the film, while Kene is nude until he puts on black underwear. Williams keeps his camera mainly above-the-waist as Jason and Ade josh with each other so frenetically that you finally begin to wonder if both of them are on drugs of some sort. Jason makes fun of Ade's very proper and religious father and he keeps mentioning his attraction to Ade's sister, which Ade takes good-naturedly. But when Jason puts on black make-up to continue mocking Ade's father, Ade is very insulted briefly before joining in the "fun" and putting on white make-up to mock Jason.
See Video: Russell Tovey Plays Closeted Soccer Star in First Trailer for 'The Pass'
That Ade doesn't punch Jason but instead tries to keep their kidding dynamic going by putting on whiteface tips us off that Ade is attracted to him. And Jason feels the same way about Ade, but they are athletes in 2006, and so this cannot quite be verbalized. Ade says that Jason is "posh," which is his way of asking if Jason is gay without actually saying the word. They wrestle some more until Jason feels that Ade has an erection, and then they share a very brief but sweet kiss.
This "underwear" part of "The Pass" lasts about 25 minutes, and then the camerawork settles down considerably for the second part, which takes place five years later in London. Jason has become a star player, and we see him with a girl named Lyndsey (Lisa McGrillis) in his swank apartment, which looks exactly like what a guy like Jason might think of as "fancy." Lyndsey says that Jason is not what she expected, and when he asks her to elaborate she says that he is "vulnerable," which acts as another code word for "gay."
Also Read: Is Colton Haynes Getting an LGBT Visibility Award 'Just for Showing Up'?
The role of Jason is ideally suited to Tovey and to both his strengths and weaknesses as an actor. On the TV series "Looking," Tovey was saddled with an unsympathetic part that he never knew quite how to play, but the part of Jason in "The Pass" is tailored exactly to fit his extreme self-consciousness, dramatizing the tension between what Tovey projects and what he feels he should be projecting. In the second and especially the third section of "The Pass," Tovey often plays Jason in an extremely unsympathetic way, but there is an emotional through-line that the actor has set up from the first scene to the last so that we know exactly why Jason is behaving badly.
In the last third of the film, set in the present day, Jason has invited Ade to his hotel room. Jason is now an institution in sports, but his ex-wife gives him very little access to their children. Ade has not prospered as Jason has professionally, but he is an out gay man with a boyfriend, leading to a bit of jealousy: Ade has the personal happiness that Jason is lacking while Jason has some of the glory that Ade wouldn't mind having for himself. When a young bellboy (Nico Mirallegro) enters the room, Jason displays his contempt for both his fans and himself.
Also Read: Michelle Rodriguez Denies Transphobia Claims After Posting Beard Photo: 'Chill Out'
In the last 10 minutes or so of "The Pass," Tovey allows himself to be emotionally naked, which is clearly much more difficult for him than to be physically naked, and he manages to make Jason's plight fairly touching even after all the cruel behavior we have witnessed from him.
"The Pass" is finally nothing more than a modest stage adaptation and a vehicle for Tovey, but on that level it is focused and skillful.