Seth Meyers is a busy man. This summer, the former "Saturday Night Live" head writer will spend lots of late nights at NBC's "Late Night" while also finishing postproduction on Season 3 of "The Awesomes" and the first run of IFC show "Documentary Now!"
Not that he's complaining.
"It's not terrible. You learn to balance your schedule pretty well when you work at someplace like 'SNL,'" Meyers told TheWrap. "Obviously, 99 percent of what I'm busy with is ['Late Night'], and that's the way it should be. The side projects I'm working on are now at the part of production where I have very little to do."
Also Read: Jerry Seinfeld on Political Correctness: 'There's a Creepy PC Thing Out There' (Video)
The better-known of those side projects is the Hulu animated series "The Awesomes," which truly lives up to its name.
The cast is a legitimate comedic all-star team, with Meyers, Ike Barinholtz, Taran Killam, Bobby Lee, Paula Pell, Kenan Thompson, Rashida Jones and Emily Spivey comprising the titular superhero squad. Other current or former "SNL"-ers — such as Bobby Moynihan, Bill Hader, Rachel Dratch, Will Forte and Cecily Strong — are also common voices on the series, as is Seth's brother Josh.
With such a talented and diverse group, TheWrap asked Seth who he finds the easiest, hardest and most awesome to write for.
The easiest, Meyers said, is Thompson's conjuring-powered Impresario. "You just give Kenan a regular line and he puts so much Kenan sauce on it that it just turns into comedy," he said.
Also Read: 'Entourage' Movie-Goers in Queens Get Mocked by 'Late Night With Seth Meyers' (Video)
The hardest, Meyers told us, is Prock, portrayed by the co-creator himself. "I don't actually like how my own voice sounds, so it's a lot less fun knowing that I'm eventually going to have to hear it," Seth said.
The most fun Awesome was no surprise: Gadget Girl. Meyers loves the conceit of Pell's character, the elderly, original member of the team who was zapped into a young, attractive version of herself early on in the series. The old-timey banter that results — from the mouth of a youthful-looking female cartoon character — is hilarious.
While "The Awesomes" is heading into its third year, it took twice as long to get off the ground. For six years, Meyers and co-creator Mike Shoemaker shopped the idea around before Hulu finally gave them money to develop it. That's something he simply wouldn't have time for today.
Also Read: Seth Meyers Congratulates Caitlyn Jenner on 'Late Night': 'I Don't Have Any Jokes About This, I'm So Happy' (Video)
"'Late Night' is the one that is the love of your life … and you have to put so much energy into it, so anything that would take too much focus away wouldn't be worth it," Meyers explained.

As for that main gig, the job he inherited from current "Tonight Show" super-host Jimmy Fallon, Meyers has been consciously adding video and remote elements while writing more day-of, ultra-topical material. Expect more of that last kind of material as the 2016 election heats up, Meyers promised.

So far, Meyers' version of the show has been a success. He regularly beat CBS' "The Late Late Show" when Craig Ferguson was the host, and since James Corden has taken over that vehicle, Meyers' show hasn't lost a step.
That said, the new rivalry is a friendly one, which isn't surprising since both 12:30 a.m. hosts are  considered two of the nicer gentlemen in the business.

"We're sort of text friends and I feel like he's doing a great job," Meyers said of Corden. "I'd love to have him back on the show."

Despite sharing a timeslot and similar reputation, the two hosts' shows are definitely different — and Meyers sees plenty of room for both.

"I really, truly believe that it would be hard to not have one of these shows provide what you're looking for in a late-night show," he said of the overall late-night landscape.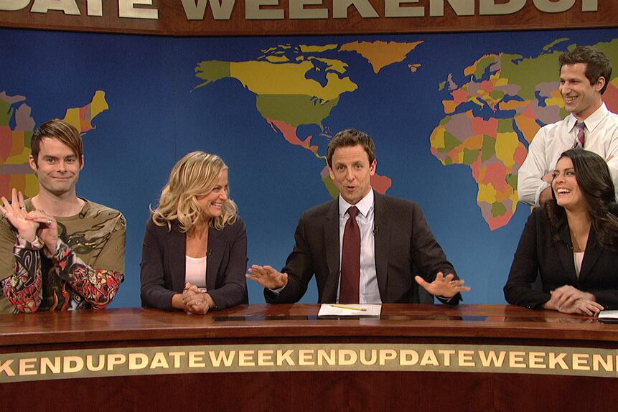 At "Late Night," Meyers is just a few steps down the hall from his old "Saturday Night Live" stomping grounds, a spot for which he has great reverence, but "no regrets" over leaving when he did.

"You miss it less every day that passes. If there's anything I miss, it's the people I work with," Meyers said, adding: "I [also] mostly just miss not knowing everything about every sketch that airs … did the host like it, did they not like it? Was it better at dress (rehearsal), was it worse at dress? Did you save it, did you fix it, did you blow it?"
And Meyers is very complimentary of Colin Jost, essentially his replacement as head writer and "Weekend Update" lead anchor.

"He's done fantastic," Meyers said. "When you start with a totally new chemistry like [Jost and co-'Weekend Update' anchor Michael Che] did at the beginning of the year — the difference between what they did at the end of the season compared to what they did at the beginning of the season was … a lot more loose and fun."

He continued: "I really look forward to seeing them just continue to get better."

Meyers' other show, "Documentary Now!" premieres Aug. 20 on IFC. Fellow "SNL" alums Fred Armisen and Hader are the primary actors on the faux documentary series.

"We're all kind of looking for ways to collaborate with the people we've worked for so long at 'SNL' with," Meyers explained.

"Documentary Now!" is a true collaboration among the three talents. The main inspiration was Armisen's Ian Rubbish character from Meyers' writing days on "SNL," while it was Hader's idea to make a TV show out of it. The six-episode series will share a half-dozen fake docs from the "past," celebrating an equally ersatz 50 years of non-existent TV series, "Documentary Now!"

"It's a real specific kind of show, but I think for the … very thin amount of people that are looking for a very accurate fake documentary show, this is right up their alley," Meyers said.

Yet another old "SNL" pal of Meyers', Andy Samberg, is taking over hosting duties on Fox's Emmy Awards in September, as Meyers did last year.

Does he have any advice for the "Brooklyn Nine-Nine" star? "We've already talked a little bit, but someone like Andy is not someone who needs a ton of advice for things like this," Meyers said.

He did have one practical suggestion, though. "Make sure Jorma [Taccone] and Akiva [Schaffer] are available," Meyers said, referring to Samberg's Lonely Island collaborators. "They're very helpful."