When is a gimmick not a gimmick? When it underscores strong storytelling rather than distracting from a bad script. It was easy to think of the selling points behind "Boyhood" (actors age in real time during a production spread out over a dozen years); "Locke" (movie centered around one man in a car making phone calls) or "Birdman" (camera and editing tricks employed to make the film look like one continuous take) as mere hoopla – and then we saw the movies.
Not all of the year's best films employed such razzle-dazzle, but it was heartening to know that in an age where tiny cameras and natural lighting free up directors from the bulky equipment of yore, there's creativity to be found in both the physical production of movies and in the heart and soul of their narratives. As in any year, plenty of movies inspired boredom, disgust, anger, and irritation, but there was also lots to enjoy.
The Wrap's Reviews Editor Alonso Duralde joined forces with reviewers Inkoo Kang and James Rocchi to reveal their favorite films of the year — from big budget blockbusters to film festival gems that you may have missed.
See photos: Golden Globes 2015: The Nominees (Photos)
Alonso Duralde
Look, you live in Los Angeles long enough, you get to know people who make movies. Sometimes, your friends who do other jobs wind up going into the business as well. When I know the filmmaker, I make it a point not to review the movie (or, at least, to provide a disclaimer), and when I like films made by people I know, I don't feel that I'm allowed to include them on my Top 10 list.
All of which is to say that "How to Train Your Dragon 2," "Space Station 76," "Dear White People," and "Still Alice" would certainly have been in the running, but I'm disqualifying them because of potential conflict of interest. You should still see them all. (My friend who co-wrote "Dumb and Dumber To" knows I laughed, but he also knows his movie isn't in contention here.)
10. "Selma": Despite a few flaws — the film's final act meanders briefly before finding its way to a powerful climax – director Ava DuVernay's all-too-timely portrait of Martin Luther King Jr.'s influential (and dangerous) civil rights march in Alabama contains some of the most powerful moments I saw in any movie this year. David Oyelowo's human-scale portrayal of King perfectly fits the film's technique of making history immediate and relatable.
9. "A Most Violent Year": Writer-director J.C. Chandor ("Margin Call," "All Is Lost") goes three-for-three with this chilly exploration of an ambitious married couple who seem to have no limits when it comes to eliminating everything and everyone in the way of their pursuit of the American dream. In another busy year for the actress, Jessica Chastain gives one of her most indelible screen performances as a mobster's daughter who uses everything she knows to support her husband (Oscar Isaac).
8. "Obvious Child": Yes, this comedy deserves credit for allowing abortion to be a valid topic of conversation when so many other movies handle the topic with tongs. That's just part of what's so special about this exploration of a young comic (played with grace by Jenny Slate). The tone intelligently goes from raunchy to wry and back again, and the powerhouse ensemble — including Gaby Hoffman, Jake Lacy, Polly Draper, Richard Kind, David Cross, and Gabe Liedman — create characters who are fascinating in and of themselves while also reflecting various facets of the film's multi-dimensional heroine.
7. "The Raid 2": Does for action and martial arts movies what "Singin' in the Rain" did for musicals, reminding you of everything you love about the genre while (literally) kicking things up a notch and raising the bar for other films to follow. That more genre fans in this country didn't see this movie merely because it had subtitles is a sad state of affairs indeed; there wasn't a more energetic, adrenaline-packed blitzkrieg of excitement and mayhem on screen all year. Or all decade.
6. "The Trip to Italy": A meditation on mid-life masculinity in crisis disguised as a funny, foodie road picture, this reteaming of writer-director Michael Winterbottom with Steve Coogan and Rob Bryden (as "themselves"). Yes, the meals and the sightseeing were lovely, and Coogan and Bryden's Michael Caine impersonations are hilarious as ever (they up the ante by doing the entire cast of "The Dark Knight Returns"), but there's a palpable melancholy to the proceedings, as well as provocative and honest ruminations about friendship, ambition, aging, and family ties.
5. "The Babadook": Writer-director Jennifer Kent was one of the year's standout newcomers, with this chilling Australian horror film that touches on the terrors of both childhood (there's a thing in the closet; your parents will stop loving you) and adulthood (I'm a lousy parent; I'm never going to get a full night's sleep again). A mysterious pop-up book insinuates itself into the lives of a harried single mother and her troubled son, and both parent and child must fight their own inner demons before they can conquer their would-be boogeyman.
4. "Under the Skin": "Interstellar" got lots of comparisons to "2001" this year, but the film that really connects the dots to Kubrick is "Under the Skin," the long-awaited return to filmmaking by writer-director Jonathan Glazer ("Birth," "Sexy Beast"). Scarlett Johansson, in her best work to date, stars as an enigmatic young woman who drives around Scotland in a van, picking up men for nefarious purposes. Is she an alien? What is her mission? Why does it apparently change? This gorgeous, challenging film makes the audience piece together the clues, and this puzzle remains compelling throughout.
3. "We Are the Best!": Three teenage girls in 1982 Stockholm form a punk band, even though only one of them can play an instrument. Adapting his wife Coco's graphic novel, director Lukas Moodysson ("Together," "Show Me Love") crafted one of the year's most joyous screen experiences, a celebration of outsiderdom and rebellion that also embraces fun and friendship and adolescent angst and the liberating power of an angry anthem. Screen it for your young daughter, then buy her a guitar.
2. "Locke": The life of this film's hero is taking a turn, veering off course, at a crossroads, so how appropriate that he spends the duration of the movie driving a car. Writer-director Steven Knight gives us everything we want in a movie (suspense, stakes, humor, backstory, relationships), all with just one actor behind a steering wheel, with everyone else in the film just a voice on his speakerphone. It helps greatly, of course, that the one actor in question is Tom Hardy, giving a master class in holding the camera's attention without ever taking off his seatbelt.
1. "Boyhood": Believe the hype. Richard Linklater's portrait of an American family over the course of 12 years — filmed so that we watch them all age in real time — could have scored points simply for being a cool idea. But to dismiss it as the sum of its concept is to ignore the richness of its characters, the depth of its performances (by Patricia Arquette and Ethan Hawke, and newcomers Ellar Coltrane and Lorelai Linklater), and the cumulative power of its storytelling. This film left me speechless at its Sundance premiere back in January, and with each successive viewing over the course of the year, I find it richer and even more accomplished.
See photos: 19 Biggest Box-Office Bombs and Bummers in 2014: From 'The Giver' to 'Winter's Tale' (Photos)
Inkoo Kang
To say that 2014 was a bad year for movies sounds ridiculous, given the continued proliferation of indie filmmaking and all the access we now have to the best that international cinema has to offer. And yet the fact remains that I saw a great deal of movies this year and loved very few of them, in part because so many of the prestige pictures ("Boyhood," "Birdman") left me cold, and in part because it was such an excruciatingly paltry year for films about girls and women.
Before getting to the official Top 10 (well, technically 11), I'd like to give a few shout-outs to the films that just barely missed the cutoff. "Whiplash" impressed me with its tale of folie à deux and percussive magic, as did "Under the Skin" with its stunning production design and fascinating gender-reversal experiment.
"Zero Motivation" and "The Babadook" herald the arrival of two enormous directing talents (who happen to be female), while "Laggies" distinguishes a largely by-the-numbers arrested-development story with extraordinary wisdom and compassion. Finally, the crowd-pleaser "Pride" and the purposefully grating "Listen Up Philip" take important looks back at history to see how we've come to be where we are today.
Also Read: Hollywood's Boldest Moves of the Year: TheWrap's Best & Worst 2014
10. "Beyond the Lights"/"Le Week-end": We need both the honeyed warmth of romance and the sour realism of relationships in our love stories. "Beyond the Lights" radiates the former while exploring vital questions about identity and performance, while "Le Week-end" pickles in the latter while uncovering a lifetime of utterly identifiable grudges and resentments.
 9. "The Homesman": Director Tommy Lee Jones upends an entire movie genre in this honest and ever-surprising Western, which lends heaps of empathy to its main characters without ever falling for their easy charms. The devastating loneliness and perilous freedom of the frontier are woven into an important tragedy that still feels mighty pertinent today.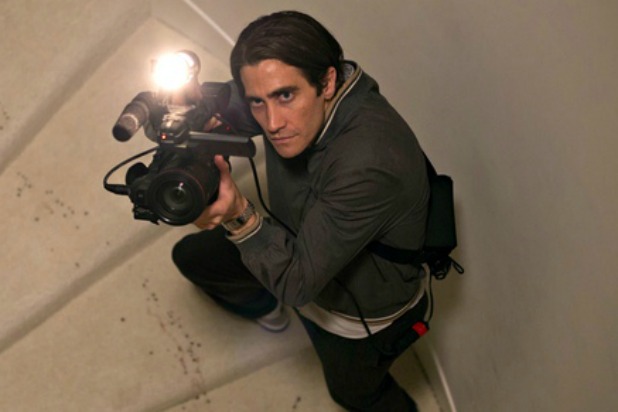 8. "Nightcrawler": Los Angeles plays itself (beautifully) in a brutal but necessary satire about the stories we tell and why we tell them. Jake Gyllenhaal's rapacious cameraman is one of the year's scariest villains – and the inevitable result of the voyeurism, ratings pressures, and race/class biases that govern TV news today.
7. "Neighbors": The year's best comedy is also a deeply humanistic exploration of the lies we begin to tell ourselves when we haven't yet realized we no longer like who we've become. Seth Rogen generously shares the spotlight with Rose Byrne, Zac Efron, and Dave Franco, who all turn out to be as comic revelations.
 6. "Belle": As intellectually ambitious as an intersectionality textbook and as pleasurably familiar as the Austen-esque romance can get, this rare combination of smarts and swoon is anchored by luminous newcomer Gugu Mbatha-Raw (who also stars in "Beyond the Lights"). It's the only film that's made me cry out of happiness this year (and maybe any year) — its emotional journey is turbulent but worth the heartbreak.
 5. "The Tale of the Princess Kaguya": Studio Ghibli's penultimate film is a hand-drawn wonder, a passion project from legendary director Isao Takahata that spins a universal folktale about rebelling against societal dictates while staying true to its 10th-century Japanese roots. An extraordinary visual splendor from the princess' birth inside a lotus blossom to her mysterious demise, it's an enthralling reminder of what really matters in life.
Also Read: 'Top Five' Review: Chris Rock's Comedy Is Funny But Flawed
4. "Selma": Ava DuVernay's biopic of Martin Luther King, Jr. couldn't be more relevant during these painfully unjust times — nor more full of heart. DuVernay's rigorous search for King's humanity overcomes the film's conventional structure and explores with political bluntness and dramatic urgency how history is usually made behind back doors.
3. "Only Lovers Left Alive": Sexy, funny, gorgeous, curious, and deservedly world-weary, Jim Jarmusch's hipster-vampire romance is a lovely and insightful rumination on decay, history, fame, and how to stay cool when you're bored with youth culture. It's also an ardent love letter to Tilda Swinton, one of the most glorious actresses working today.
2. "The Boxtrolls": Chipped and cracked in all the right places, Laika's third feature looks — and feels — like no other animated film on the market. A fleet allegory about genocide, produced for children (yes, really), it also thrives in all the wonderful grossness of our bodies while featuring one of the most original and hilariously morbid girl characters in years.
1. "We Are the Best!": 2014's best movie is also the most defiantly joyful. A Swedish coming-of-age story about three 13-year-old girls who form a punk band despite only one of them knowing how to play instruments, it's a rowdy delight that reaches rare levels of emotional honesty and sensitivity, as well as an achingly real portrait of friendship at a crossroads.
Also Read: Top 5 Media Winners of the Year: TheWrap's Best & Worst 2014
James Rocchi
At this point in the discussion of 2014's movies, Awards prognosticators may be lamenting an Oscar race with no clear front-runner, but translate that phrase from "pundit" to "moviegoer," and it's actually good news — it means that there's a lot of great films that hit theaters this year. Below is proof of all the riches that spilled out of the full cornucopia of cinema we got to enjoy this year.
10. "The LEGO Movie": What could have been just a toy commercial wound up being more like "The Princes Bride" than many originally expected — big meta laughs wrapped around a touching meditation on play, imagination and connection.
Also Read: Wrap Screening Series with 'Birdman's' Michael Keaton: 'We Knew We Were Onto Something Risky' (Video)
9. "The One I Love": A small-scale short, sharp shock of an indie re-invents the rom-com by taking it to new places while staying true to its heart. Mark Duplass and Elisabeth Moss are great as a couple whose marriage-saving weekend retreat turns strange … yet speaks real truths.
8. "Edge of Tomorrow": Brilliantly edited and conceived, this sci-fi action film is the year's most invisibly incredible blockbuster — and Tom Cruise's work as a heroic version of Wile. E. Coyote, trying and dying and trying again, is a sly, funny riff on his own on-screen image.
7. "Blue Ruin": A startling, impressive throwback of a film, a revenge-thriller that counters every expected cliché with dramatic invention, gorgeously threatening cinematography, stunning silences and directorial savvy — plus Macon Blair in a breakout lead performance as an unlikely avenger.
6. "Dear White People": Justin Simien's debut film sputters and sizzles with energy, making for comedy that says something and drama that finds the humor in human fallibility; it's been a long time since a debut by an American writer-director showed so much coordination between its ambitions and execution.
5. "Force Majeure": A panicked split-second decision on a family's getaway demands lengthy discussions of all the things they can't really get away from; Ruben Östlund's white-knuckle comedy of manners and marriage plays out in wickedly crisp shades of winter.
Also Read: Read 'Nightcrawler's' Brilliant Original Screenplay by Dan Gilroy (Exclusive)
4. "Nightcrawler": Dan Gilroy and Jake Gyllenhaal — aided by the incomparable cinematography of Robert Elswit — craft an unforgettable trip into darkness. Too many have called this a "media satire," but it's not; it's really an economic horror story, with Gyllenhaal's freelance crime-scene cameraman dragging himself, and us, to hell by his own bootstraps.
3. "Gone Girl": A scarlet-spattered sublime pleasure, with bravura direction from David Fincher, brilliant writing and plenty of social commentary to go with the thriller mechanics like the poison that truly kills you smeared on the shining knife that stabs deep.
2. "Boyhood": Richard Linklater's masterwork, and a piece of cinema as superb as it is unique, with one boy's step-by-step trek through the years brought to meaningful, beautiful life in a film made up almost entirely of the kinds of real, wrenching and funny scenes other, lesser movies either cut or never include in the first place.
1. "Selma": A film about the past, but also about our present moment; a film about what a man and a movement did, but also a reminder of how much there is left to do. A smart, human-scale procedural about working for change, "Selma" is both real and impressively cinematic, full of facts and feelings both — and a much-needed reminder of what America is capable of in the face of what seem like immovable forces of injustice and inertia.