It's a jungle out there.
With almost no video-store shelves left to browse, making sense of the myriad streaming choices now populating the web can be daunting. From established players like Netflix to specialty indie sites like SnagFilms, how do you find the film you want?
Also read: Streaming Confusion: What's a Movie-Lover to Do?
To cut through the confusion, TheWrap has waded into the world of streaming to break down the pros and cons of the top options. Here's a guide to the services currently revolutionizing the way we consume movies in the home and on the go.
THE BIG THREE
NETFLIX
Type of Service: Subscription streaming service, DVD by mail.
Cost: Variety of plans, but streaming-only service costs $7.99 a month. Adding DVDs or Blu-rays is additional.
Description: Netflix revolutionized DVD by mail, and then it kicked off the next big thing in home entertainment with streaming — even though a few hiccups at the beginning infuriated customers. They've been ironed out, leaving Netflix the biggest player in the space. A deal with Epix gives it rights to films from Lionsgate and Paramount, and it has exclusive partnerships with Disney and DreamWorks Animation in its pocket. It offers premium original content like the Kevin Spacey political thriller "House of Cards" and the upcoming "Arrested Development" revival. Past-season TV episodes and seasons also are available.
Pros: Its early deals have given it a huge collection of films (reportedly 60,000) available for streaming, and the Disney and DWA deals make it especially strong in the family space. And as is true with most of these services, it has an app that allows you to stream on mobile devices and notebooks.
Cons: A blockbuster deal with Disney will grant Netflix access to "Star Wars" and Marvel movies, but despite the size of its streaming catalogue, it's selection can be a mixed bag. You have to sift through lots of C-grade films to find the more recent gems.
AMAZON
Type of Service: Subscription and à la carte streaming.
Cost: $79 a year for Amazon Prime members, who also get free shipping on anything in the store. For non-Prime streamers, buying a film can cost up to $15.99, depending on the movie; 24-hour rentals go from $3 up.
Description: E-commerce is still where Amazon's head and its profits are at, but it is quickly building up its streaming catalogue It doesn't have the selection that Netflix has, but because its a hybrid service, if Prime doesn't have a film, users can always just shell out a few bucks to rent it from Amazon's regular service. Past-season TV episodes and seasons also are available.
Pros: Convenient in terms of one-stop shopping. Television content that Netflix lacks, such as exclusive streaming rights for shows like "The Closer" and "Falling Skies."
Cons: Lots of overlap with Netflix's offerings, without the exciting original programming.
HULU PLUS
Type of Service: Subscription streaming plan.
Cost: $7.99 a month.

Description: Most people are already familiar with ad-supported Hulu, which almost entirely comprises TV shows available the day after broadcast, plus a small supply of feature films. Hulu Plus also has a large supply of TV, but it has been bolstering its growing film catalogue by adding films from the Criterion Collection, which includes the prestigious Janus Films library.
Pros: The Criterion/Janus collection are a must for cinephiles, offering seminal works from the likes of Akira Kurosawa and John Ford.
Cons: The rest of Hulu's movie offerings are lagging behind. Both Amazon and Netflix spend more on content, and it shows.
THE NEWCOMERS
REDBOX INSTANT
Type of Service: Subscription streaming with free disc rentals
Costs: Between $6 to $9, depending on whether you opt to get four free DVD or Blu-ray rentals from Redbox kiosks or decide to stick to streaming-only.
Description: After much hemming and hawing, Redbox decided to enter the streaming game. Its new service, part of a partnership with Verizon, launched last week.
Pros: It's the cheapest player in the game.
Cons: Despite deals with MGM and Epix, Redbox Instant lags behind the competition when it comes to building a film library. Its 4,600 titles can't match the reported 60,000 films and shows currently streaming on Netflix. The service is in its nascent stages and it could be an attractive, cost-efficient option, but it's not there yet.
VIMEO
Type of Service: À la carte streaming.
Cost: Between $2 and $9.
Description: Vimeo announced its entrance into video-on-demand this week at the SXSW Film Festival. "Vimeo on Demand," the newborn extension of the video-sharing website, enables Vimeo Pro users to charge a fee to watch their videos.
Pros: A destination to watch independent cinema. About 90 percent of the fee goes directly to the team behind the film project, while just 10 percent goes to Vimeo, making Vimeo on Demand a great tool to both exhibit and support the indie community.
Cons: It was just launched, and there are currently only seven feature films available. But when it gets up to speed it will be a hot spot for discovering new and unique cinematic voices.
THE RETAIL GIANTS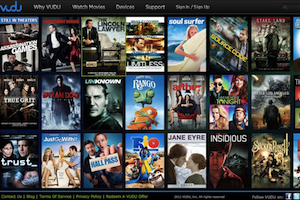 VUDU
Type of Service: À la carte streaming.
Costs: Renting a movie costs between 99 cents and $6 for HD. Buying a digital copy usually will set you back $14 to $15.
Description: Think of it as Blockbuster with better service. All the latest releases, available digitally. The site is sleek and easy to navigate, and there are no monthly fees. Unlike with Netflix, you don't have to wait 28 days for access to many of the latest movies (a delay many studios have mandated), and current as well as past TV episodes are available for purchase.
Pros: That interface is a thing of beauty, and there are scads of new movies. Plus, for pack rats, Vudu allows you to upload your old DVDs and store them in the digital cloud.
Cons: You can do a lot of credit-card damage. Without a monthly subscription fee, it's pretty easy to shell out a nice chunk of change if you go on an impulse-buying spree.

iTUNES
Type of Service: À la carte digital download.
Cost: Movie rentals start at $2.99, while digital copies cost between $9.99 and $19.99.
Description: iTunes isn't a streaming service. Any purchases are downloaded and available to watch on Apple devices, which are all connected by iCloud. The downside: Because it's not a "streaming" service, you can't just hit a button and watch; you have to wait until the movie downloads to your computer, which can take several hours. Still, it's got a huge, huge catalogue of not just new but older films. Rentals stay on your computer for a month, but once you start watching a film, you only have 24 hours to finish it, or it disappears. Current as well as past TV episodes and season's passes are available.
Pros: iTunes is easy to browse, and in true Apple fashion, it's also visually stimulating. Trailers are available for every selection, while a combination of critic reviews aggregated by Rotten Tomatoes and user reviews make it easy for customers to make an informed decision. A variety of categories and a search bar make it easy to find whatever your looking for. And since some movies are available before or during their theatrical run, there's a lot worth looking for.
Cons: No free movies or dollar deals. Come here and you're going to pay.
YOUTUBE
Type of Service: À la carte streaming.
Cost: Movie rentals start at 99 cents; purchases can cost up to $19.99.
Description: Thousands of film and television titles, available on Android devices and Google TV. Like all of the content on the video-sharing giant, the offerings are organized in "channels," including the standard genre choices, as well as a few alternatives like "LGBT movies," "short films," "classic movies" or "Indian cinema".
Pros: Compared to iTunes, television episodes are cheaper (but only because they aren't in HD) and customers are allowed 48 hours (instead of iTunes' 24 hours) to watch a rental once they press play. YouTube also offers more free content — particularly on the "classic movies" channel, which contains a plethora of lesser-known Hitchcock films, D.W. Griffith's "The Birth of a Nation" and "Nosferatu," to name a few.
Cons: No easy method of searching for the free titles, no premium cable content and very little HD content. Worst of all, search results bring up a lot of the site's user-generated video content, so navigating the site can be frustrating.
THE NICHE PLAYERS
SNAGFILMS
Type of Service: Ad-supported streaming site.
Costs: Free.
Description: SnagFilms is specialized, but it's currently the curator of record when it comes to documentaries and indie titles. Bookmark it. At its best, it can fill the same role your local arthouse theater once did, by directing you to the kind of compelling movies that often get drowned out by the sound of sequels and big-budget confections.
Pros: You can lose a day kicking back with thought-provoking documentaries or challenging low-budget fare, many of which have been deprived of a mainstream release by risk averse Hollywood.
Cons: If you're a superhero film and raunchy comedy partisan, you'd best move along.
HITBLISS
Type of Service: À la carte streaming service.
Cost: Movie rentals range from $1.99 to $3.99.
Description: HitBliss gives users the option of paying for rentals with either their credit card or their time by utilizing HitBliss Earn — a program which allows users to earn a "cash balance" in exchange for watching advertisements.
Pros: A money-saving solution for those who can't afford to splurge on subscription or à la carte streaming services.
Cons: There are only 742 titles currently available. And since the service is still in the beta stage, only a limited number of memberships are available.
CRACKLE
Type of Service: Ad-supported streaming service.
Cost: Free.
Description: This service is free, but it's a far cry from the best. No registration is required, but it's recommended if users want to take advantage of features like creating a "watchlist" (which is another way to describe Netflix's "queue") or bypassing an annoying age verifications.
Pros: Crackle offers a variety of original series like Jerry Seinfeld's "Comedians In Cars Getting Coffee" or the Milo Ventimiglia drama "Chosen" on top of an eclectic — but limited — mix of movie titles. Even if you don't find exactly what you're looking for, chances are you'll find something worth watching that you may not have thought of otherwise. "Metropolis," "El Mariachi," "30 Days of Night" and "Gattaca" are a few currently available. But stream 'em quick, because they all expire on April 1.
Cons: Only 381 titles are currently available, which shows you don't get a lot for nothing. The majority of content consists of movies, leaving only a few television titles — like "Seinfeld" and "Rescue Me" — for your perusal. But don't expect to watch the entire series from the beginning. What little television is offered is only available in small chunks of episodes.
POPCORNFLIX

Type of Service: Ad-supported streaming service.
Cost: Free.
Description: The easy on the pocketbook site offers independent feature films featuring big stars like Brad Pitt and Kristen Stewart in lesser-known roles. Their free app is on iOS devices, Roku, and Sony Bravia, among others.
Pros: Cost. Nothing beats free. Plus it's on a rapidly expanding number of platforms and with 650 films, it had roughly double what Crackle and other free services offer.
Cons: These are strictly B movies. Think of it as sort of the anti-Criterion Collection.
CABLE KINGS
HBO GO

Type of Service: Premium cable subscription service.
Cost: $15 to $20 a month depending on your cable provider
Description: Unlimited access to all the episodes of HBO shows like "Boardwalk Empire" and "Girls" and documentaries, not to mention its suite of top shelf studio films like "Tower Heist" and "Sherlock Holmes: A Game of Shadows." Its available on a variety of devices like Android, iPhone, iPad, Kindle Fire and Xbox 360.
Pros: The old tagline "It's not TV, it's HBO" still applies. There's hours of compelling content — including every episode of such seminal programs as "The Sopranos" and "Sex and the City" — to meet binge watching needs.
Cons: HBO doesn't offer HBO GO as a standalone. To access it, users must sign up for the premium channel. It's additive, not an excuse to ditch those monthly Time Warner Cable bills without sacrificing "Game of Thrones."