Movieline.com recently got some web attention by writing about how the Weinstein Company was hurting its films' awards chances by not sending out screeners to the membership of the Writers Guild of America. "Over the past few years," Kyle Buchanan wrote, "it's been near-impossible to score a WGA nomination without sending its membership a screener."
Movieline ran the story. Defamer picked it up and did its own item. The Envelope linked to the Gawker item. Everybody took Buchanan at face value when he concluded that "though Harvey Weinstein is an awards veteran," he has curiously chosen not to send out screeners to his company's four awards contenders, "Inglourious Basterds," "Nine," "A Single Man" and "The Road," all of which could use the exposure to land WGA nominations. (Although the first of those films, he said, was probably "a lock for a nomination" regardless.)
Ahem.
See, Movieline is right when it says that Harvey Weinstein is an awards veteran. And awards veterans understand how awards work – better, apparently, than some journalists.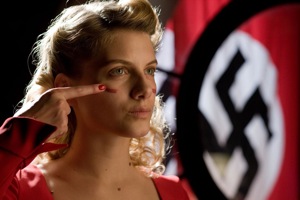 So here's the real story:
The Weinstein Company didn't send out "Inglourious Basterds" screeners because "Inglourious Basterds" isn't eligible for the WGA Awards.
Neither is "A Single Man."
And neither is "The Road."
"Nine," written by WGA member Michael Tolkin and the late Anthony Minghella, a member of the WGA, East during his lifetime, is the only Weinstein film that's eligible, according to a spokesperson for the guild. And "Nine" plays much better on a big screen, it's still in theaters, and it doesn't really have much chance for a writing nod anyway.
So Harvey Weinstein didn't send out screeners to the WGA not because he dropped the ball, but because he understands how the guilds work and didn't feel like wasting money.
The Writers Guild is perhaps the most restrictive of the guilds when it comes to awards. You don't have to be a WGA member to receive a nomination, but your film must have been written under the guild's Minimum Basic Agreement, or under a collective bargaining agreement of one of several international guilds.
(The Directors Guild, on the other hand, allows non-DGA productions to be nominated.)
Quentin Tarantino is not a member of the WGA or the DGA, and his films are not made under those guilds' agreements. "A Single Man" and "The Road," written by Tom Ford and Joe Penhall, were likewise not the work of WGA members and not covered by applicable agreements.
I don't have anything against Movieline – hey, I wrote their "Soundtracks & Scores" column for years back when they were an actual magazine, not a website – but they probably could have checked into this a little before running it.
We'll know which films did make the cut with the WGA on Monday, January 11.