On Day 10, it was time to turn to "Page Eight."
The last major film to premiere at this year's Toronto International Film Festival, David Hare's spy thriller deals with a British MI5 officer (Bill Nighy) whose world is shaken when his boss dies and leaves behind an explosive file.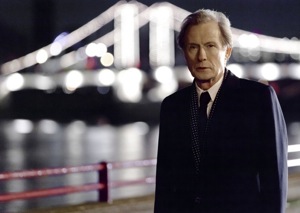 The closing-night slot at Toronto is generally not filled by a movie that goes on to have much visibility. "Page Eight," which was made for BBC television by the playwright/director Hare, was criticized in some circles for being talky and mannered, though most reviewers also showed respect to a cast that in addition to Nighy (left) includes Rachel Weisz, Michael Gambon, Judy Davis and Ralph Fiennes.
Kevin Jagernauth at the Playlist: "[W]hile it's structurally accomplished and delivers a movie that has clearly benefitted from a nearly perfectly honed and built script, its clinical coldness makes it a pictures easy to admire but hard to like."
Added Meredith Brody at Thompson on Hollywood: "I like the settings – London streets, country houses, secret service offices, an art gallery, stylish restaurants – and for a while the rapid-fire dialogue, until it becomes increasingly clear that everybody is speaking in David Hare's voice."
Clearly, the festival's final film won't place in the top rank of critics' favorites at TIFF. Additional evidence of this comes from indieWIRE – which, as it does at all festivals, has been surveying a group of critics, assigning letter grades and picking the fest's best-liked films in its criticWIRE feature.
A few days ago, Steve McQueen's adventurous and sexually explicit "Shame" topped the list. Midday Saturday, criticWIRE has updated its list again – and once again, "Shame" is in the top spot. It's one of five films to receive an average grade of A-; two of the others, "A Separation" and "The Turin Horse," were also in the top group the first time criticWIRE compiled results.
Two other films now ranked A-, "Miss Bala" and "Take This Waltz," are newcomers to the top group: the latter wasn't ranked at all the first time around, while the latter moved up from its earlier B+ average. "Martha Marcy May Marlene" and "Pina," meanwhile, fell from their midweek grades of A- down to B+ averages.
Speaking of the best of TIFF, the National Post posted its own list of the festival's best and worst on Saturday, though they don't much care about the usual categories. Instead, they give us "best man-locks" (Gerard Butler over Val Kilmer, Viggo Mortensen and Brad Pitt), "best handshake" (Michael Fassbender), "best rumor that we all sadly wanted to believe" (that Madonna asked volunteers not to look at her when she walked down a hallway before a press conference, a rumor quickly denied by Madonna's camp) and "most annoying use of cellphones during screenings" ("Every. Single. One.").
At Hitfix, meanwhile, Gregory Ellwood runs down the stars he thinks got Oscar boosts at the festival, and the ones who didn't. In the former category he places Fassbender, Robert Forster in "The Descendants," Philip Seymour Hoffman in "The Ides of March," Albert Brooks in "Drive," Brad Pitt in "Moneyball" In the latter, Gerard Butler in "Machine Gun Preacher" and Abbie Cornish in "W.E."
And in one additional bit of list-making, Scott Feinberg comes up with 10 TIFF films that have yet to find a distributor, even though they've been the subject of some Toronto buzz. His slate includes Sarah Polley's "Take This Waltz," Fernando Meirelles' "360," Fred Schepisi's "The Eye of the Storm," Oren Moverman's "Rampart," Francis Ford Coppola's "Twixt" and Bruce Beresford's "Peace, Love and Misunderstanding."
(Look for a handful of them to land deals before the dust clears.)
Finally, after seeing TIFF's barrage of pre-screening ads several times a day for a week, with by far the most obnoxious being a breathless pitch for an upcoming Toronto exhibit of clothes, jewelry and artifacts from Grace Kelly ("before there was Diana … before there was Kate … "), I wholeheartedly agree with a Saturday tweet from Variety's Justin Chang:
"Believe it or not, #TIFF's mandate is to change the way you see the world through film, not to make you hate Grace Kelly."