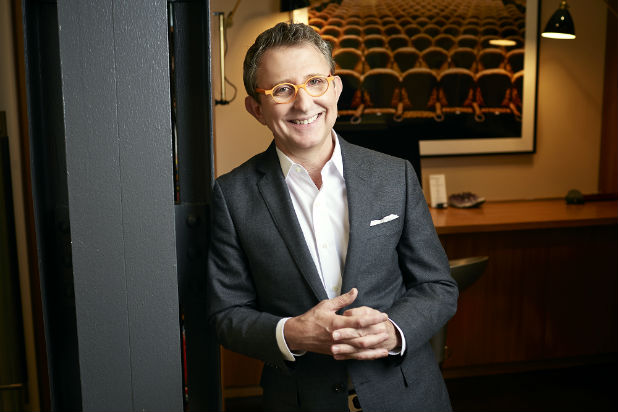 Thomas Schumacher, the longtime Disney executive in charge of adapting the studio's hit movies for Broadway and other stage venues, has been accused of sexual harassment by at least two former employees.
According to a report by the Wall Street Journal Wednesday, the New York-based Schumacher made lewd sexual comments to a male employee in story development and also made inappropriate remarks about the son of a female assistant.
Schumacher is the man behind massive stage adaptations like "The Lion King," widely reported to be the highest-grossing Broadway show of all time, as well as the imminent and anticipated live version of "Frozen."
Also Read: Jeffrey Tambor Out at 'Transparent' After Sexual Harassment Investigation
The Disney Theatrical Group, of which Schumacher is president, did not return TheWrap's request for comment. An email to Scuhmacher was not immediately returned.
Jane Buchanan, the former female assistant, said Schumacher made inappropriate remarks  about "the sexual prowess of black men" when her biracial son visited the office in 2006. She escalated that complaint, among others, to her superiors and was eventually paid a severance, signed a nondisclosure agreement and left the company, the report said.
The male employee, identified as Bruce Williams, complained of "salacious and inappropriate" remarks as well as "compliments on my ass" while doing physical tasks like climbing a ladder. Williams reported Schumacher to two superiors in 1994, the story said, and human resources got involved.
Also Read: 94 Percent of Women in Hollywood Have Experienced Sexual Harassment or Assault, Survey Says
"We've spoken to Tom and he apologizes," Williams recalled being told, "this time I think he's heard us."
Disney told the Wall Street Journal it had no knowledge of a complaint. Spokespeople for Schumacher's boss, Walt Disney Studios Chairman Alan Horn, did not return TheWrap's request for comment on the matter.
Preview performances for Schumacher's latest effort "Frozen" begin tomorrow night at Manhattan's St. James Theatre.
Also Read: 'Frozen': First Look at Broadway-Bound Musical That Just Won't Let It Go (Photos)
This is not the family entertainment company's first brush with accused harassment in the #MeToo era. In November, Pixar head John Lasseter took a self-imposed leave for "missteps" in his interactions with staffers that he said made some "feel disrespected or uncomfortable."
Lasseter announced that his leave of absence would provide an opportunity for him to take "better care of myself, to recharge and be inspired, and ultimately return with the insight and perspective I need to be the leader you deserve."
The announcement followed the publication of accusations from "former Pixar insiders" who said Lasseter made a habit of "grabbing, kissing, making comments about physical attributes" of women at the company.