Is it too early to try to figure out what the Toronto International Film Festival means for the Oscar race?
Roger Ebert doesn't think so. After the first weekend of the fest, Ebert announced that Ben Affleck's "Argo" was going to win Best Picture at the next Academy Awards show. His reasoning: The last five Oscar winners had all screened in Toronto, and "Argo" was "the audience favorite coming out of the top-loaded opening weekend."
I think Ebert's conclusion might be shortchanging "Silver Linings Playbook" and "The Master" and a few others, but on Thursday Kris Tapley chimed in with a more reasoned defense of Ebert's stand, arguing that Affleck's film might just capture the zeitgeist with its 30-year-old story that happens to center on current concerns like tensions between Islamic countries and the United States, and attacks on an American embassy.
"It's [a] film about the world tearing itself apart while simultaneously trying to mend itself," Tapley wrote. "And given that it's also about, well, Hollywood saving the day? That could be a formidable equation indeed."
Without disputing the effectiveness of "Argo" as a film, I do wonder if its second half isn't too much a straight thriller – with its string of nail-biters and narrow escapes – to win over an Academy audience usually looking for weightier fare.
Also read: Toronto Film Fest Day 2: Ben Affleck Flies Commercial, Paul Thomas Anderson Gets Creepy
Of course, the weightier fare on display in Toronto has its own Oscar problems – though Sasha Stone, for one, is already preparing to participate in the it-didn't-deserve-to-win backlash: "I … have to say that I pity the film that will win Best Pic against 'The Master,'" she tweeted after seeing that Paul Thomas Anderson film on Thursday. "History will not be kind."
While "Argo" and "The Master" are among the crop of mostly well-received films that had gala debuts during the first few days of the festival, critical opinion has shifted as the fest goes into the homestretch.
Thursday's biggest premieres were Billy Bob Thornton's family story "Jayne Mansfield's Car" (right) and Xavier Dolan's "Laurence Anyways" – and while both films had their admirers, neither got anywhere near the kind of consensus praise enjoyed by "Argo" or "Silver Linings Playbook" or "The Master."
"Unmissable for its Robert Duvall-on-acid sequence alone, Billy Bob Thornton's 'Jayne Mansfield's Car' is a crazy-quilt patchwork delight of a movie, a southern-fried intergenerational family melodrama that veers in and around brilliance often enough that you can forgive it for never quite having all its quacking ducks neatly lined up," read an unsigned review in The Globe and Mail.
On the other hand, Leora Heilbronn tweeted this immediately after the premiere: "Give 'Jayne Mansfield's Car' a Razzie now."
And Tom Carson from GQ called the film "the kind of crackpot-Southern-family drama that will make Tennessee Williams glad he's dead and all eight people who pay to see it wish they were."
Then again, Carson's latest dispatch from Toronto makes a pretty good case for the critic as the grumpiest person in Ontario. He also says that he hated "Arthur Newman" and "Thanks for Sharing," though he reserved his most extensive vitriol for an earlier TIFF debut, the Wachowskis and Tom Tykwer's "Cloud Atlas."
Wrote Carson, "You may have learned from the Interwebs that Mr. Nice Guy himself, Tom Hanks, threw a rare public hissy fit at his press conference here on Sunday. He started out by comparing himself to a bull being driven to slaughter, and then — well, then things got kind of nasty. But maybe he was just trying to distract everybody from what an overstuffed mish-mosh his new movie is."
And if "overstuffed mish-mosh" isn't descriptive enough, Carson goes on: "this clogged, interminable (almost three-hour) movie drives straight into the metaphysical equivalent of the La Brea Tar Pits on a bicycle built by filmmakers with ADD."
The thing is, "a rare public hissy fit" is a spectacularly inaccurate description of Hanks at that press conference (right). The actor joked about the narrowness of some TIFF corridors that the stars are herded down – hence the bull reference – but did so with what was clearly mock outrage. And for the rest of the panel, he not only defended the movie passionately and articulately, he was his typically good-natured and entertaining self.
As for "Laurence Anyways," the third and most ambitious feature from young French-Canadian director Xavier Dolan was the subject of a spate of tweets offering free tickets and berating TIFF audiences for not making the film a sellout. But the word-of-mouth after its Thursday night premiere was largely positive, with a couple of first-responders immediately saying they'd found the fest's best movie in Dolan's near-three-hour drama about a high-school teacher trying to get his longtime girlfriend to embrace his cross-dressing.
Eric Kohn at indieWIRE, though, found that Dolan's ambitions outstripped his subject matter: "[T]he movie contains an epic scope that feels out of sync with the smallness of its plot; you get the idea by the first act and then Laurence's world simply hangs there for another two hours like a slo-mo shrug … Dolan clearly has the chops to make another great movie, but he needs to find a great editor first."
Other TIFF-watchers who took a turn for the negative include Brad Brevet from Rope of Silicon, who has reviewed 20 movies in the first week of the festival and finally gave out his first grade of F. It went to "Aftershock" (left), a gruesome film from Nicolas Lopez starring Eli Roth as one of a group of friends dealing with the horrific, lawless aftermath of an earthquake in Chile.
"'Aftershock' is a travesty of a film and one I recommend you stay as far away from as you can," Brevet said of the upcoming Dimension Films release.
And Brian De Palma's "Passion," which was not particuarly well-received in Venice, isn't faring much better in Toronto. Tweeted Nicolas Billon: "#TIFF12 dubs 'Passion' a 'fiendishly clever erotic thriller'; I think 'steaming turd of utter nonsense' is closer."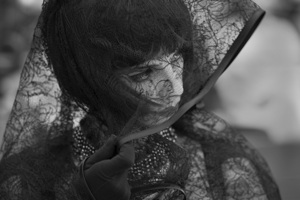 In a much better mood at Thompson on Hollywood, Meredith Brody raved about "Blancanieves," a black-and-white silent film that reinterprets "Snow White" as the story of a female bullfighter who travels with a troupe of matador dwarves.
But she wasn't a fan of Harmony Korine's "Spring Breakers," which has been winning a modicum of favorable word-of-mouth for the one-time art-movie enfant terrible (who's now 40).
"The movie," Brody says, "is vulgar (way beyond its vulgar subject matter of beer, tight bodies, grass, gangsta rappers, guns, money, and humiliation), disjointed, noisy, ugly … I stay put while three different people occupy the seat next to me (there are some overflow stalwarts that wait patiently outside overbooked theaters to be let in when someone exits, as they inevitably do); they all fall asleep."