The Toronto International Film Festival put the spotlight on its home country on Tuesday, announcing more than two dozen Canadian films and 43 shorts to its lineup.
The Canada First! section consists of seven films, including "Leave It On the Floor," an indie musical set in the world of drag balls and featuring songs by Beyonce's music director, Kim Burse; "The Odds," Simon Davidson's murder mystery set in the world of illegal teenage gambling; and the opening-night film, Guy Edoin's "Wetlands" (Marecages"), about a family living on a dairy farm in the drought-stricken Eastern Townships.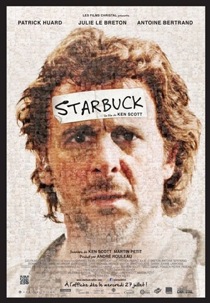 Other Canadian films include "Starbuck," from director Ken Scott, which joins the lineup of TIFF galas; the film deals with an immature man in his 40s who learns that he is the biological father of 533 children.
Eight new Canadian entries join TIFF's Special Presentations lineup, including "Afghan Luke," with Nick Stahl; "Goon," a hockey-themed comedy with Seann William Scott and Jay Baruchel; Guy Maddin's "Keyhole," with Jason Patric and Isabella Rossellini; and Mary Harron's "The Moth Diaries," with Lily Cole and Scott Speedman.
Four Canadian films have been added to the Contemporary World Cinema program, including "388 Arletta Avenue," which shows a couple (Nick Stahl and Mia Kirshner) entirely through the perspective of hand-held and surveillance cameras.
The Masters section will feature veteran Canadian director Bruce McDonald's "Hard Core Logo II," a followup to his punk-rock documentary that captured the on-camera suicide of singer Joe Dick. The original "Hard Core Logo" will be screened as part of the Canadian Open Vault program.
Additional Canadian films have been added to the Real to Reel and Vanguard sections.
In addition, 43 short films will be presented in the Short Cuts Canada program. The shorts include a documentary about a lost Fellini film, "Derailments"; "Ora," a dance film using 3D thermal imaging; and "A Yodeling Farmer," about a legendary yodeling cowboy from Manitoba.
The full list of shorts can be found at the TIFF website.
The festival also announced three awards that will be presented to Canadian filmmakers at the TIFF Awards Reception on September 18. Prizes of $30,000 and $15,000 will be presented to the Best Canadian Feature Film and Best Canadian First Feature Film, respectively (those two awards sponsored by the city of Toronto and by SKYY Vodka), while a $10,000 award will go to the Best Canadian Short Film.
Feature film jury members are actor Liane Balaban, director Sturla Gunnarsson, journalist/producer Denis Séguin and producer Gabriella Martinelli. The short film jury is Sundance programmer John Korn, filmmaker/artist Srinivas Krishna and Hot Docs Programming Manager Karina Rotenstein.
New additions to the TIFF lineup:
CANADA FIRST!
"Wetlands"("Marécages"), Guy Édoin, North American Premiere
"Amy George," Yonah Lewis, Calvin Thomas, Canadian Premiere
"Leave It On The Floor," Sheldon Larry, Canadian Premiere
"Nuit #1," Anne Émond, World Premiere
"The Odds," Simon Davidson, World Premiere
"The Patron Saints," Brian M Cassidy, Melanie Shatzky, World Premiere
GALAS
"Starbuck," Ken Scott, North American Premiere
SPECIAL PRESENTATIONS
"Afghan Luke," Mike Clattenburg, North American Premiere
"Breakaway," Robert Lieberman, World Premiere
"Café de Flore," Jean-Marc Vallée North American Premiere
"Edwin Boyd," Nathan Morlando, World Premiere
"Goon," Michael Dowse, World Premiere
"Keyhole," Guy Maddin, World Premiere
"Monsieur Lazhar," Philippe Falardeau, North American Premiere
"The Moth Diaries," Mary Harron, North American Premiere
CONTEMPORARY WORLD CINEMA
"388 Arletta Avenue," Randall Cole, World Premiere
"Billy Bishop Goes to War," Barbara Willis-Sweete, World Premiere
"I'm Yours," Leonard Farlinger, World Premiere
"Sisters&Brothers," Carl Bessai, World Premiere
MASTERS
"Hard Core Logo II," Bruce McDonald, Toronto Premiere
REAL TO REEL
"Pink Ribbons, Inc," Léa Pool, World Premiere
"Surviving Progress," Mathieu Roy and Harold Crooks, World Premiere
VANGUARD
"Doppelgänger Paul," Dylan Akio Smith and Kris Elgstrand, World Premiere
"i am a good person/ i am a bad person," Ingrid Veninger, World Premiere
CANADIAN OPEN VAULT
"Hard Core Logo," Bruce McDonald