President Donald Trump's approval ratings might be underwater, but that's not the case for most investors who bought stocks when he was elected: The stock market just concluded its best four-month period since the 2009 housing crisis recovery.
The benchmark Dow Jones Industrial Average (DJIA) closed at 18,589.69 on Nov. 9, 2016 the day Trump won the election with 304 electoral votes. Today, it ended the day at 20,860.05, marking a 12.2 percent gain since Hillary Clinton conceded. That's the best 120-day stretch since March 13, 2009 through July 13, 2009, when the index soared 22.9 percent.
Here's a snapshot of the recent four-month growth:

Also Read: Dow Jones Hits 20,000 for First Time Ever
And here's the aforementioned one from 2009: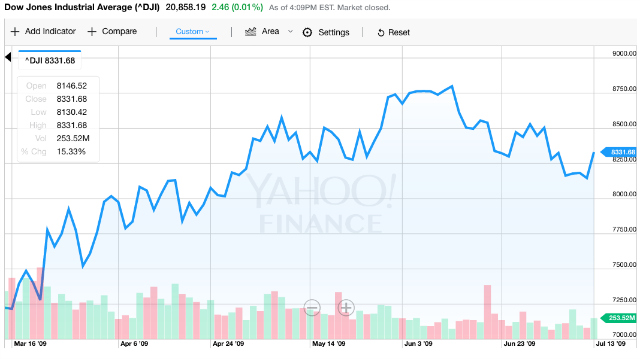 The Dow hit 20,000 for the first time ever on Jan. 25, 2017, which Trump called "Great!" in a tweet. And his adviser KellyAnne Conway was quick to point credit his way, saying it was a result of the "Trump Effect." While there's some policy-related optimism helping to lift stocks — several CEOs have spoken about the likelihood of decreased regulations under a Republican-controlled government — the actual impact a president can have on the market is actually more muted.
Also Read: Snapchat Stock Keeps Falling as Big Investors Lash Out at Death-Defying Power Structure
Former George H.W. Bush economic adviser Michael Boskin wrote a March 2009 op-ed titled "Obama's Radicalism Is Killing the Dow," saying the president's policies were "designed to radically re-engineer the market-based U.S. economy." Plenty in the financial industry opposed the heightened regulations the Obama administration passed in the wake of the crisis, but that didn't stop the Dow from rising 232 percent from the time of Boskin's op-ed until President Obama left office.
And even though Trump is promising a much more business-friendly climate, his most significant move on that end might have been a February executive order that rolled back regulations preventing coal mines from dumping waste in nearby streams. It's unlikely that's had much of an effect on the "Trump rally" — but don't expect the administration to stop taking credit for the bull market.
However, not every Trump-era stockholder is a winner — including some of the newest. Snap Inc. had an IPO last week priced at $17, and opened trading at $24. At this afternoon's closing price of $22.63, anyone who bought stock in the Snapchat parent its first day on the open market remains in the red.